Commoditized Wisdom: Metals & Markets Update (Week Ending May 28, 2021)
Posted: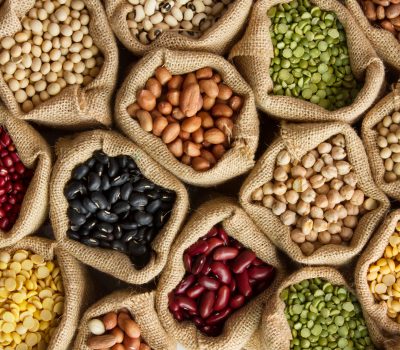 Key points
Energy prices all moved higher last week with WTI crude oil prices increasing the most. WTI prices increased 4.3% and Brent prices increased 2.5%.  Gasoline prices rose 3.2%.  Natural gas prices increased slightly, gaining about ¼ percent. 
Grain prices were mixed with wheat and corn prices lower and soybean prices slightly higher. Wheat prices fell about 1.5%, corn prices lost ½ percent and soybean prices rose 0.3%.
Base metal prices were all sharply higher. Nickel prices jumped 8%, aluminum and copper prices increased 4.5% and zinc prices rose 3%.
Gold and silver prices moved higher while platinum prices fell. Gold prices rose 1.3%, silver prices increased 2% and platinum prices decreased 2.3%.
The Bloomberg Commodity Index increased 2.1%, supported by higher energy and base and precious metal prices.
Over $1.75 billion inflows into commodity ETPs last week, overwhelming from inflows into broad commodity ETPs.   Broad commodity ETP inflows were almost $1.7 billion, followed by gold ETP inflows of $129 million.  Small silver ETP outflows of $77 million.
Commentary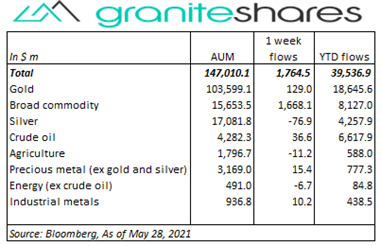 All three major indexes moved higher last week, downplaying inflation concerns and instead focusing on continued post-Covid economic growth. An as- expected GDP release, soaring house prices and a historically high PCE release had little negative effect on stock markets and actually resulted in 10-year U.S. Treasury rates falling 5bps on the week.  President Biden's $6 trillion budget proposal released Friday also had little effect on markets. At week's end, the S&P 500 Index increased 1.2% to 4,204.11, the Nasdaq Composite Index increased 2.1% to 13,748.74, the Dow Jones Industrial Average rose 0.9% to 34,529.45, the 10-year U.S. Treasury rate fell 5bps to 1.58% and the U.S. dollar  (as measured by the ICE U.S. Dollar index - DXY) was unchanged.
Oil prices moved higher last week benefitting from strong U.S. economic data, a larger-than-expected drawdown in U.S. inventories and reports of setbacks regarding the removal of Iran sanctions.   Increased demand optimism resulting from a strong post-Covid recovery also supported oil prices.
Gold prices moved higher last week, closing just under $1900 per ounce and pushing year-to-date returns into positive territory.   Expectations the Fed will continue its aggressively accommodative monetary policy while downplaying inflation - potentially forcing very short-term yields below zero and perhaps undermining the strength of the U.S. dollar - lent strong support to gold prices.    Continued cryptocurrency volatility also may have supported gold prices.
Base metal prices moved higher last week supported by strong demand and questions surrounding supply.  After falling last week following China's dictum that it would work to prevent "unreasonable" price increases, copper prices recouped losses in the wake of strikes debilitating Chilean copper mine production while questions of supply loom.   Nickel prices moved sharply higher with talks of EU tariffs on Indonesian and Indian stainless steel products increasing demand expectations for both stainless steel and nickel.
A volatile week for grain prices.  Corn prices fell over 5% through Wednesday reeling from forecasts of favorable weather in South American and in the US and from reports China would roll a decent amount of its corn orders into the new crop, cancelling current orders.   Thursday saw corn prices go limit-up following news of increased buying from China with lower than expected cancellations and after forecasts of a hot, dry July and August in corn growing states.  Wheat and soybean prices mirrored corn prices.
Coming up this week    
Decent holiday-shortened data-week with PMI and ISM Manufacturing, Composite and Services index releases Tuesday and Thursday and the payroll report on Friday.
PMI and ISM Manufacturing Indexes on Tuesday.
Jobless Claims, Productivity and Costs, PMI Composite, and ISM Services Index on Thursday.
Jerome Powell speaks, Employment Situation Report and Factory Orders on Friday.
EIA petroleum status report on Thursday and Baker-Hughes rig count on Friday.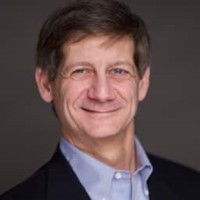 Who is Jeff Klearman in our research team? Jeff has over 20 years experience working as a trader, structurer, marketer and researcher. Most recently, Jeff was the Chief Investment Officer for Rich Investment Services, a company which created, listed and managed ETFs. Prior to Rich Investment Services, Jeff headed the New York Commodities Structuring desk at Deutsche Bank AG. From 2004 to 2007, he headed the marketing and structuring effort for rates based structured products at BNP Paribas in New York. He worked at AIG Financial Products from 1994 to 2004 trading rates-based volatility products as well as marketing and structuring. Jeff received his MBA in Finance from NYU Stern School of Business and his Bachelors of Science in Chemical Engineering from Purdue University.
More Research Related to
COMB