Commoditized Wisdom: Metals & Markets Update (Week Ending September 22, 2023)
Posted: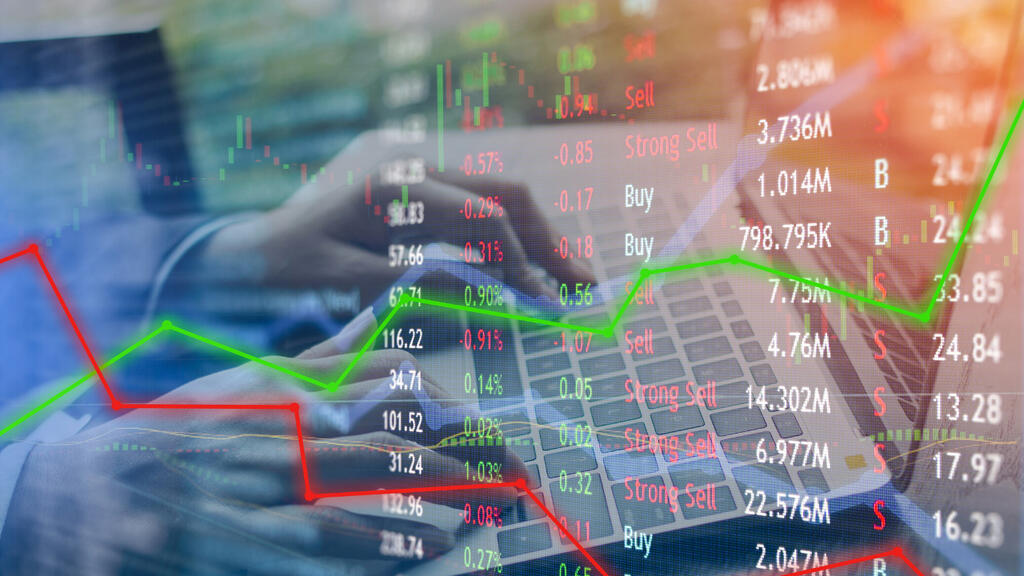 Key points
Energy prices were mainly all lower though WTI crude (November futures contract) finished the week unchanged. Brent crude oil, natural gas and heating oil prices fell 2%. Gasoline prices dropped 5%.
Grain prices were also mainly lower with corn prices only slightly higher on the week. Wheat prices fell 4% and soybean prices decreased 3%.
Spot gold prices increased less than ¼ percent. Spot silver prices rose 2% and platinum prices gained 1%.
Aluminum, copper, nickel and lead prices fell between 2% and 3%. Zinc prices rose 2%. 
The Bloomberg Commodity Index decreased 1.1%. Most of the loss can be attributed to the energy and grains sectors.
Small net outflows with gold and crude oil ETPs primarily responsible. Good inflows into silver ETPs.
Commentary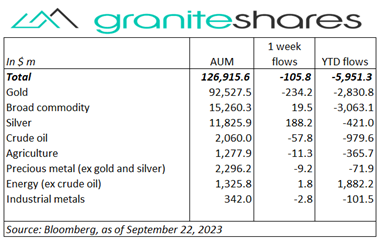 A down week for U.S. stock markets, pressured by higher rates and a resilient economy.  Markets were subdued prior to Wednesday's FOMC announcement, moving slightly lower on uncertainty surrounding the Fed's projections and monetary "tone".  Wednesday's as-expected announcement of no change to the Fed funds target rate was accompanied, however, by hawkish overtones including prospects for another rate hike before year-end and the signaling that rates could very well remain higher for longer than previously expected, adding to downward price pressures.  Thursday's lower-than-expected initial jobless claims seemed to topple the giant, pushing the 3 major stock indexes down over 1% and sending the 10-year Treasury rate to 16-year highs.  Markets ended the week on a downbeat with risk-off sentiment setting the tone.     For the week, the S&P 500 Index fell 2.9% to 4,320.06, the Nasdaq Composite Index dropped 3.6% to 13,211.81, the Dow Jones Industrial Average decreased 1.9% to 33,964.44, the 10-year U.S. Treasury rate rose 11bps to 4.44% and the U.S. dollar (as measured by the ICE U.S. Dollar index – DXY) strengthened 0.2%.
WTI crude oil prices were unchanged last week moving off intraweek highs set Tuesday following Wednesday's FOMC announcement.   Supply concerns, stemming mainly from OPEC+ production/export cutbacks, were increased after a larger-than-expected fall in U.S. oil inventories, Russia's implementation of high export duties on oil products and a decline in shale oil production.   Demand concerns, however, seemed to dominate the week spearheaded by hawkish messages from the Fed, BoE and ECB and exacerbated by high oil prices themselves increasing expectations of global recession.   Brent crude oil prices finished the week 2% lower.
Spot gold prices edged higher again last week, giving up most of Monday's gains following hawkish messaging from the Fed Wednesday.  Prices moved higher Monday ostensibly on strong physical Chinese demand only to move markedly lower Thursday in a delayed reaction to the Fed's "higher-rates-for-longer" signaling.   Prices moved higher Friday, recouping a portion of Thursday's loss, seemingly on renewed recession fears prompted by weaker-than-expected U.S. manufacturing and services activity.
Copper and other base metal prices moved lower last week, hurt by the Fed's "higher-rates-for-longer" signaling and, for copper, by growing inventory levels.  Concerns over weak economic activity in China but also in the U.S. and euro zone also contributed to lower price levels.
Wheat prices gave up last week's gains and more, hurt by increased U.S. planting and harvesting, weak exports, Russian price discounting and Ukraine grain shipments.   Corn prices, almost unchanged on the week, were supported by Brazil weather concerns and reported short covering.  Soybean prices moved lower affected by a large Brazil crop, weak exports and good U.S. production.
Coming Up This Week
PCE Price Index, GDP, Consumer Confidence and Durable Goods Orders headline this week's data releases.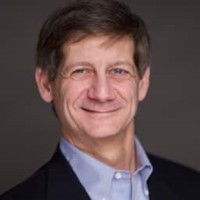 Who is Jeff Klearman in our research team? Jeff has over 20 years experience working as a trader, structurer, marketer and researcher. Most recently, Jeff was the Chief Investment Officer for Rich Investment Services, a company which created, listed and managed ETFs. Prior to Rich Investment Services, Jeff headed the New York Commodities Structuring desk at Deutsche Bank AG. From 2004 to 2007, he headed the marketing and structuring effort for rates based structured products at BNP Paribas in New York. He worked at AIG Financial Products from 1994 to 2004 trading rates-based volatility products as well as marketing and structuring. Jeff received his MBA in Finance from NYU Stern School of Business and his Bachelors of Science in Chemical Engineering from Purdue University.
More Research Related to
COMB