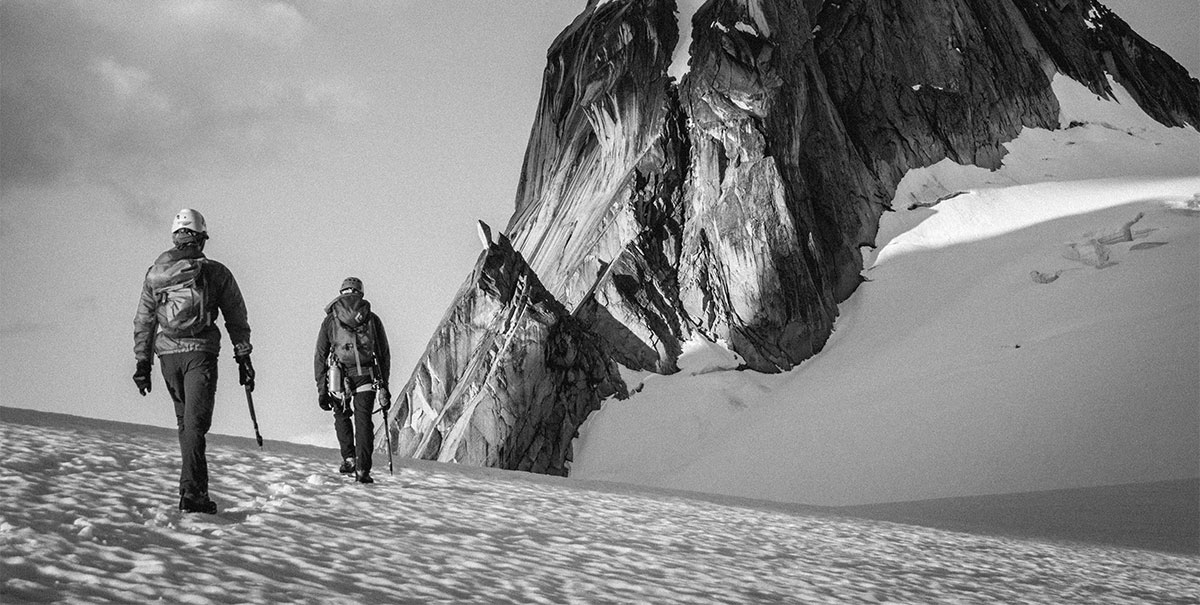 Gli ETP sono progettati per offrire agli investitori un'esposizione con leva finanziaria ai movimenti di prezzo giornalieri di un singolo titolo o paniere di azioni, sia al rialzo che al ribasso, di società quotate alla Borsa di Londra, al NYSE e su altre principali borse.
Gli ETP utilizzano la leva per fornire un multiplo della variazione giornaliera del prezzo dell'azione sottostante, ad es. 3 volte. Questo è indicato come il "fattore di leva".
Prendendo l'esempio dell'ETP GraniteShares 3x Long Vodafone Daily, se Vodafone Group Plc aumenta dell'1% in un giorno, l'ETP aumenterà del 3%, escluse commissioni e altri aggiustamenti. Tuttavia, se Vodafone Group Plc scende dell'1% in un giorno, l'ETP scenderà del 3%, escluse le commissioni e altri aggiustamenti. Ciò è illustrato nella tabella di seguito, che mostra anche l'andamento del prezzo di GraniteShares 3x Short Vodafone Daily ETP escluse commissioni e altri aggiustamenti.

Il tipico profilo utente è un investitore sofisticato, che comprende la leva finanziaria e come il ribilanciamento quotidiano porti a rendimenti composti.
L'obiettivo dei prodotti è replicare la performance giornaliera di un titolo sottostante moltiplicata per un fattore di leva. Per raggiungere tale obiettivo, l'"esposizione di mercato nozionale" dei prodotti viene ribilanciata alla fine di ogni giornata in modo che corrisponda al valore del prodotto moltiplicato per il fattore di leva.Ad esempio, se un ETP giornaliero long 3x vale 100 sterline alla fine di una giornata, la sua esposizione di mercato nozionale verrà rettificata (o ribilanciata) a 300 sterline.Il processo viene svolto giornalmente come illustrato nella tabella sottostante, escluse commissioni e altri aggiustamenti.
Questo riequilibrio quotidiano porta a rendimenti composti.
Per qualsiasi periodo di detenzione più lungo di un giorno, i rendimenti composti divergeranno dal fattore di leva giornaliero. Prendendo l'esempio di un'esposizione lunga 3x, osserviamo come potrebbe svolgersi in diverse condizioni di mercato:
Mercati di tendenza: performance simulata, escluse commissioni e altri aggiustamenti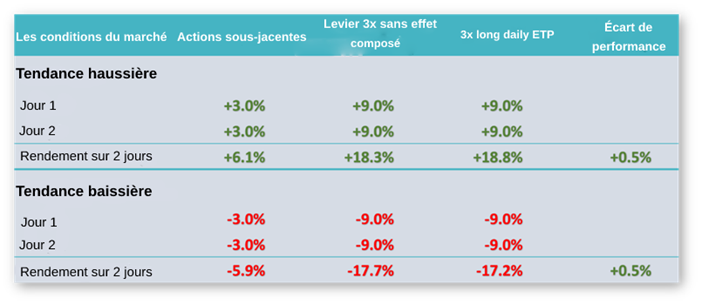 ---
In condizioni di volatilità, la deviazione della performance sarà esacerbata da un aumento della volatilità del titolo sottostante.
Nota. Questi grafici servono a scopo illustrativo per mostrare il potenziale impatto del ribilanciamento giornaliero sui rendimenti per periodi di detenzione più lunghi di un singolo giorno di negoziazione. Ulteriori dettagli sul compounding e sui suoi effetti sono disponibili nel Prospetto relativo agli ETP.
I dividendi pagati dalle azioni sottostanti sono direttamente reinvestiti nella strategia soggetta a qualsiasi ritenuta d'acconto applicabile.
Di conseguenza, il valore degli ETP garantiti non sarà influenzato quando il titolo sottostante andrà ex dividendo (soggetto a eventuali adeguamenti fiscali).
Il meccanismo di stop loss è progettato per limitare la perdita di valore di un ETP durante periodi di movimenti di mercato avversi ed estremi. Ad esempio, se un 3x Long Daily ETP o 3x Short Daily ETP scende del 50% intraday a causa di un movimento nell'indice sottostante, verrebbe attivato lo stop loss e il livello dell'indice verrebbe ripristinato a un nuovo livello base.
Lo stop loss serve quindi a preservare il capitale dell'investitore e ridurre le possibilità che il valore dell'ETP scenda a zero intraday. Per contestualizzare, per un ETP giornaliero long 3x senza stop loss integrato, un movimento intraday superiore al 33,3% nel sottostante comporterebbe la perdita totale del valore dell'ETP.
Gli investitori possono negoziare ETP garantiti tramite piattaforme e app di investimento online, agenti di borsa di consulenza e gestori patrimoniali, in breve, qualsiasi servizio di investimento che offra accesso a strumenti quotati in borsa.
Gli ETP collateralizzati sono idonei per SIPP e ISA (solo Regno Unito).
No, non è necessario compilare un W8-BEN nello stesso modo in cui non è necessario compilarne uno per negoziare un ETF o ETP quotato in Europa su un indice statunitense.
I costi dei prodotti sono dettagliati nelle schede informative dei prodotti pertinenti e nei KID disponibili su ciascuna pagina prodotto.
Su base giornaliera, il costo di detenzione complessivo è generalmente inferiore allo 0,01%.
Inoltre, commissioni di negoziazione verranno generalmente addebitate per gli acquisti e le vendite degli ETP.
Sì, il capitale è a rischio, ma a differenza di altri tipi di strumenti con leva finanziaria, gli investitori non possono perdere più del loro investimento iniziale.
I vantaggi includono:
Possibilità di sfruttare le esposizioni lunghe e corte su popolari azioni quotate
Quotazioni in borsa con prezzi competitivi e indipendenti
Garanzie reali detenute con BNY Mellon
Trasparenza, replica indici calcolati da Solactive
Convenienza
Nessuna richiesta di margine e le perdite non possono superare l'importo investito
Meccanismo di stop loss intraday
Esistono diversi modi in cui un investitore può utilizzare gli ETP, dalle applicazioni tattiche a breve termine all'implementazione strategica a lungo termine.
Volatilità:: i trader attivi possono catturare e amplificare i movimenti intraday.
Swing-trading: tipicamente una strategia a breve termine, da due a cinque giorni, in cui gli investitori assumono posizioni in relazione a un range tecnico identificato.
Hedging: per gli investitori che desiderano coprire il rischio su una posizione azionaria o un paniere di azioni, che detengono direttamente o tramite un fondo di terze parti o un ETF indicizzato.
Seguire gli eventi: in una situazione di acquisizione, ad esempio, un investitore può andare long sulla società che viene acquisita e andare corto sull'acquirente.
Valore relativo: situazioni in cui un investitore gestisce contemporaneamente una posizione long e short, che potrebbe essere long su un'azione rispetto a un'altra azione o un indice, o viceversa.
Tilt di portafoglio: un investitore può cercare di sovrappesare o sottopesare l'esposizione di singoli titoli per trarre vantaggio dal fatto che i rendimenti dell'indice possono essere guidati da un numero limitato di titoli.
Momentum: amplificare i rendimenti quando le azioni sono guidate dal momentum.
Tendenze a lungo termine: assumere posizioni in titoli o panieri di titoli che sono in prima linea nel cambiamento tecnologico o sociale con lo scopo di apprezzarsi in modo significativo su periodi pluriennali.
Alcune delle principali differenze sono evidenziate nella seguente tabella: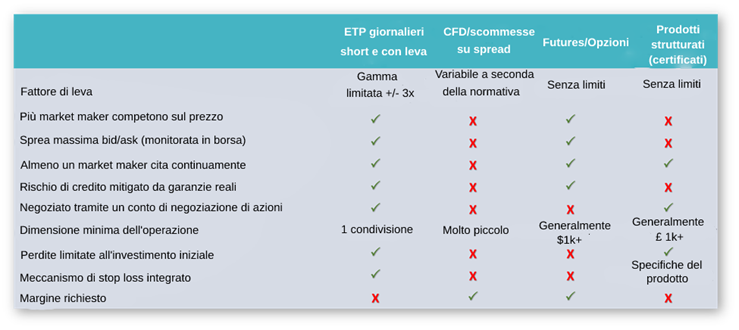 Le seguenti entità svolgono i seguenti ruoli in relazione agli  ETP:

Gli ETP sono titoli di debito collateralizzati.
La struttura di titolo di debito viene utilizzata in Europa per dare esposizione a classi di attività tradizionali, in genere quando non possono essere inserite in un fondo OICVM, ad es. oro fisicamente garantito, indici non diversificati.
Nel caso di ETP collateralizzati, lo scopo della garanzia è fornire protezione all'investitore in caso di inadempimento dello Swap Provider, Natixis.
La struttura ETP è a tempo indeterminato e, a seconda della giurisdizione, i titoli di debito possono essere idonei per l'inclusione in fondi UCITS.
GraniteShares Financial Plc è uno Special Purpose Veichle (SPV) domiciliato in Irlanda. L'Emittente è un'entità autonoma, separata da altre entità GraniteShares, il cui unico scopo è emettere ETP collateralizzati come indicato nel prospetto di base, insieme a eventuali supplementi e relativa documentazione.
Gli ETP sono garantiti per mitigare il rischio di credito per l'investitore. Gli ETP sono garantiti da garanzie detenute dallo Swap Collateral Custodian, The Bank of New York SA/NV. La banca depositaria è responsabile di assicurare che la garanzia fornita corrisponda almeno al valore degli ETP in circolazione. L'idoneità alla garanzia è stata progettata per tenere conto di vari fattori, tra cui la qualità del credito e la liquidità. Il prospetto delle garanzie idonee è mostrato nella scheda informativa sulle garanzie e le garanzie attualmente pubblicate sono mostrate su ciascuna pagina del prodotto.
In caso di inadempimento della controparte dello Swap e mancato pagamento di qualsiasi importo di rimborso degli ETP GraniteShares, BNY Mellon Corporate Trustee Services Ltd, l'ETP Security Trustee, sarebbe in grado di far valere il titolo e di vendere la garanzia al fine di riscattare gli ETP GraniteShares in circolazione.
Non dovrebbe esserci alcun impatto sugli ETP in quanto l'Emittente, GraniteShares Financial Plc, è un'entità autonoma, separata da altre entità GraniteShares.
Gli indici sono creati, calcolati e forniti da Solactive AG.
Questo sito Web e il suo contenuto sono stati forniti da GraniteShares.
Avviso generale
GRANITESHARES PORTUGAL, UNIPESSOAL LDA è un agente collegato di Premium Catara Capital, Lda., società regolamentata con numero di registrazione CMVM 419, nominata suo agente collegato ai sensi dell'articolo 29 della direttiva 2014/65/UE (MiFID II), conferendole il potere di fornire, per e per suo conto, servizi di prospezione degli investitori. Nell'esercizio della propria attività di agente collegato, GRANITESHARES PORTUGAL, UNIPESSOAL LDA: i) non è autorizzata da Premium Catara Capital, Lda. fornire servizi di consulenza in materia di investimenti in relazione a strumenti finanziari, in particolare quote o azioni di organismi di investimento collettivo; ii) non può agire in nome e per conto di alcuna impresa di investimento diversa da Premium Catara Capital, Lda. ; iii) impegnarsi esclusivamente con investitori classificati come controparti qualificate o investitori professionali, come definiti nella MiFID II; iv) non può ricevere ordini in relazione ad alcuno strumento finanziario consigliato agli investitori; v) non può esternalizzare, delegare o trasmettere in altro modo a terzi, in tutto o in parte, i poteri che gli sono stati conferiti da Premium Catara Capital, Lda. ; vi) non può detenere, ricevere o consegnare denaro o strumenti finanziari ao da investitori; vii) non può ricevere alcun tipo di remunerazione finanziaria o non finanziaria dagli investitori; viii) non può agire o prendere decisioni di investimento per e per conto degli investitori. Premium Catara Capital, Lda. è responsabile del monitoraggio delle attività di GRANITESHARES PORTUGAL, UNIPESSOAL LDA.
Questo documento non costituisce un'offerta di acquisto o vendita o una sollecitazione di un'offerta di acquisto di titoli in alcuna società. Questo documento non è destinato alla distribuzione in altri paesi in cui tale distribuzione o utilizzo sarebbe contrario alle leggi o ai regolamenti locali. In particolare, questo documento non è destinato alla distribuzione generale negli Stati Uniti o in Canada.
Investire nei mercati finanziari comporta un notevole grado di rischio. Nulla di quanto descritto nel presente documento intende implicare che un investimento sia "sicuro", "conservativo", "senza rischi" o "avverso al rischio". Questo documento non considera l'obiettivo di investimento specifico, la situazione finanziaria o le esigenze particolari di qualsiasi potenziale investitore ed è destinato solo a quegli investitori che sono in grado di comprendere il rischio di perdita di tutto o di una parte sostanziale del proprio denaro. Si ricorda ai potenziali investitori nel Regno Unito che non beneficeranno del sistema di compensazione degli investitori del Regno Unito.
Nulla di quanto contenuto nel presente documento costituisce consulenza di investimento, legale, fiscale o di altro tipo né si deve fare affidamento su di esso per effettuare un investimento o altra decisione. Non viene fatta alcuna raccomandazione positiva o meno riguardo a singoli titoli o investimenti qui menzionati. Qualsiasi elenco riassuntivo dei fattori di rischio non pretende di essere un'enumerazione completa o una spiegazione dei rischi coinvolti in un investimento in prodotti short e con leva. I potenziali investitori devono consultare i propri consulenti legali, fiscali e finanziari prima di decidere di investire.
Questo documento contiene le opinioni dell'autore e tali opinioni sono soggette a modifiche senza preavviso. La fonte dei dati è GraniteShares, salvo diversa indicazione. Non viene fornita alcuna garanzia per l'accuratezza delle informazioni fornite che sono state ottenute da fonti ritenute affidabili. Questo documento e le informazioni in esso contenute sono destinati esclusivamente all'uso delle persone (o delle entità che rappresentano) a cui è stato fornito.
Fattori di rischio
Un investimento in un Exchange Traded Product (ETP) short e con leva finanziaria di GraniteShares potrebbe non essere adatto a tutti gli investitori. Sono destinati agli investitori che desiderano avere una visione a brevissimo termine dell'attività sottostante e non sono intesi come acquisto e mantenimento di investimenti.
Performance e perdita di capitale: la performance passata non è un indicatore affidabile dei risultati futuri. Il valore di un investimento può diminuire o aumentare e può comportare perdite, fino a una perdita totale dell'importo inizialmente investito.
Rischi generici: gli investimenti in ETP comportano numerosi rischi tra cui, tra gli altri, rischi aziendali, rischi generali di mercato, rischi di credito, rischi di cambio, rischi di tasso di interesse, rischi geopolitici e rischi di liquidità.
Rischi specifici del prodotto: l'Indice è costruito per replicare la performance di un'esposizione aumentata (con leva)  e/o corta all'attività sottostante. Un calo (o un aumento in caso di esposizione corta e con leva) del valore dell'attività sottostante può comportare una maggiore riduzione del livello dell'Indice. L'Indice è progettato per fare ciò solo su base giornaliera, il che non dovrebbe essere equiparato alla ricerca di una posizione con leva finanziaria per periodi più lunghi di un giorno. La performance dell'ETP su periodi superiori a un giorno non sarà correlata o simmetrica con i rendimenti dell'attività sottostante. I potenziali investitori devono fare riferimento alla sezione intitolata "Fattori di rischio" e "Panoramica economica degli ETP Securities" nel Prospetto relativo agli ETP GraniteShares per ulteriori dettagli su questi e altri rischi associati a un investimento in ETP short e con leva e consultare i loro consiglieri secondo necessità.
Rischio di controparte: un investimento in un ETP corto e con leva GraniteShares comporta il rischio di controparte. GraniteShares Financial plc ha stipulato un contratto di swap con una controparte, Natixis, assistita da garanzia. Il mancato pagamento da parte della controparte può comportare una perdita per un investimento in un ETP.
Indice Esclusione di responsabilità
L'Indice è creato, calcolato e pubblicato da Solactive AG. Nessuno strumento finanziario è sponsorizzato, promosso, venduto o supportato in altro modo da Solactive AG né Solactive AG offre alcuna garanzia o assicurazione espressa o implicita in merito ai risultati dell'utilizzo dell'Indice e/o del marchio dell'Indice o del livello dell'Indice in qualsiasi momento o per qualsiasi altro aspetto.