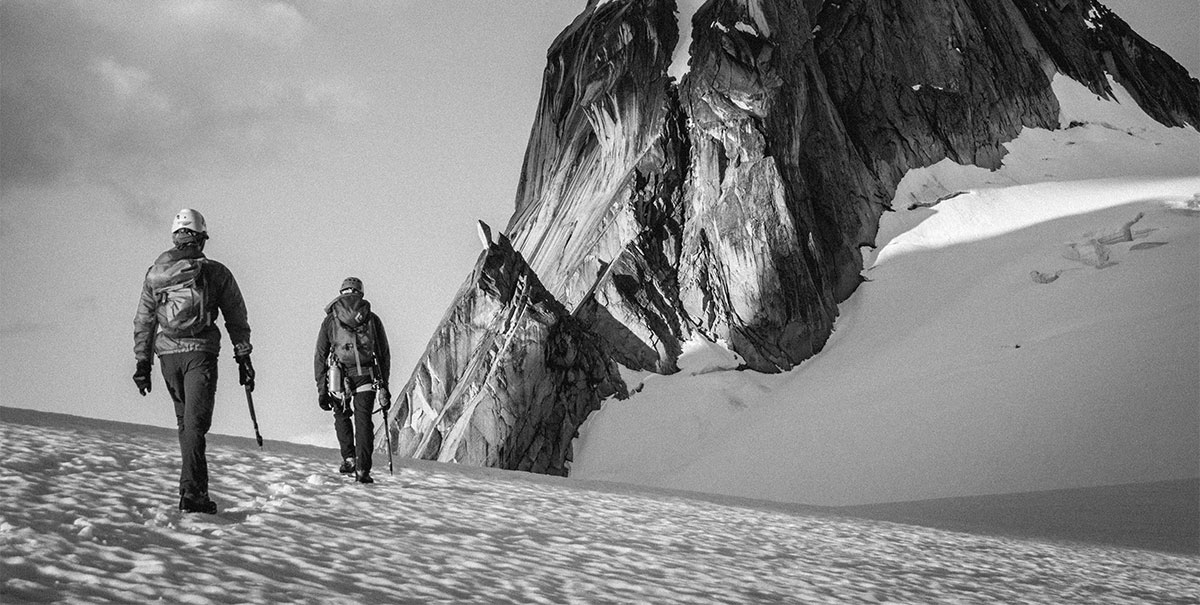 Coinbase, One of the Biggest Cryptocurrency Platform
Presentation of the company
Coinbase (NASDAQ: COIN), is an American company that operates a cryptocurrency exchange platform. It is a distributed company; all employees operate via remote work. The purpose of the company is making digital currency accessible and approachable for everyone by becoming the most trusted company in the domain and create user-focused products that are easier and more intuitive to use. Coinbase reportedly has users from more than 100 countries. Coinbase also suffered from a number of allegations, including overcharging customers for trades and not making currency available on time. It also was forced to give details of traders which owned high amounts of cryptocurrency in the United States to the IRS. 
Coinbase's main competitors are Robinhood, Binance, and Crypto.com.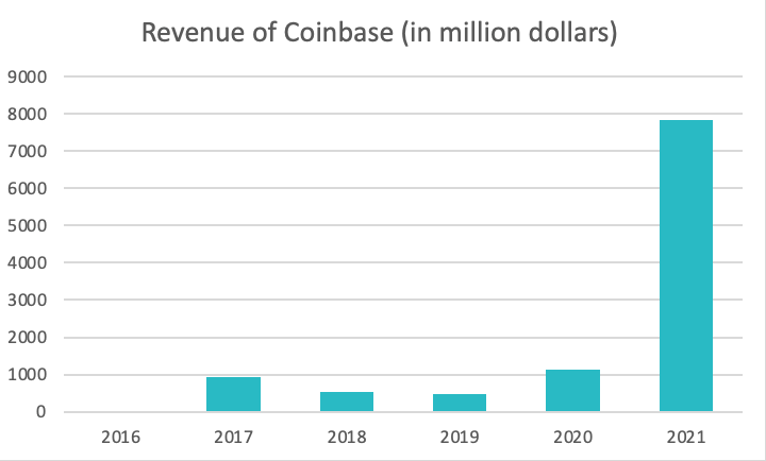 Source : businessofapps.com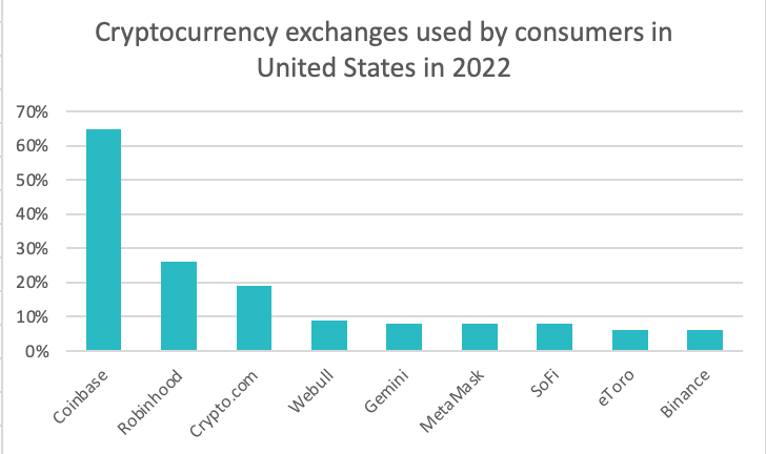 Source : statista.com
=
History of Coinbase
Coinbase (NASDAQ: COIN) was founded in June 2012 by Brian Armstrong. In October 2012 the company launched the services to buy and sell bitcoins through bank transfers. In 2013, they hired their first employee.
2017 was seen as a pivotal point for cryptocurrencies and Coinbase, which added several new coins to the exchange and reached almost $1 billion in revenue. 50 percent of Coinbase revenue in 2017 came during December, when the price of Bitcoin rose from $6,540 to $14,782 (https://www.businessofapps.com/data/coinbase-statistics/).
In 2020, the company launched Coinbase Card, its own Visa card that allows customers to spend cryptocurrency and Coinbase Commerce, a payment service for merchants.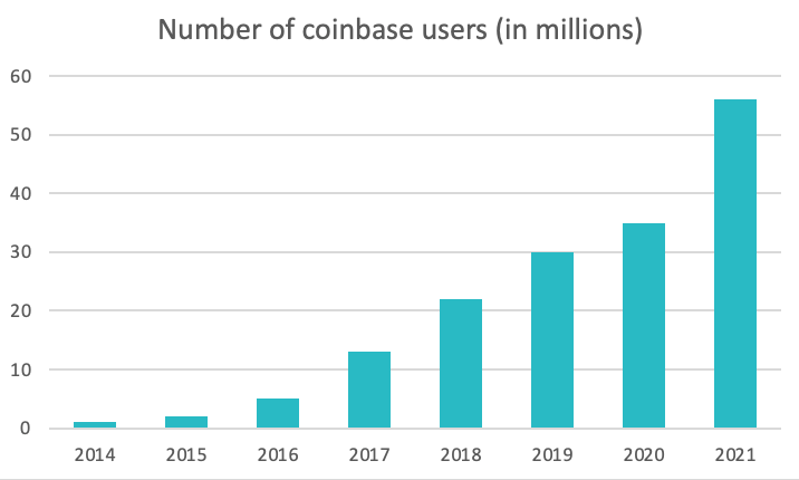 Source : businessofapps.com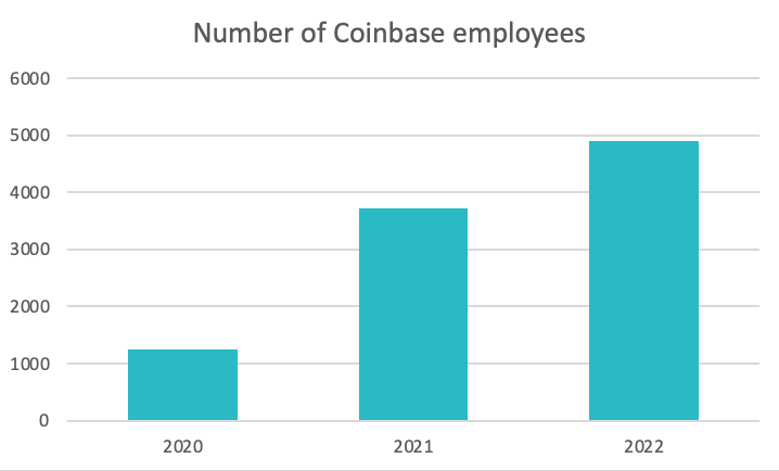 Source : macrotrends.com
The market
Coinbase (NASDAQ: COIN) is a cryptocurrencies exchanger and wallet. The first cryptocurrency to ever exist was the Bitcoin in 2009, and it was first used only in 2010, (https://techjury.net/blog/cryptocurrency-statistics/#gref) which shows how young the market is. Cryptocurrencies, through time, became more and more considered as a trusted and reliable way to store or use people's money. Nowadays, cryptocurrency is known all around the world, the market is growing exponentially for years, banks and governments are getting really interested in it and the public opinion has switched sides. Nevertheless, it remains a very unstable, volatile market.
It is a market that still has huge potential, in which investors look closely. Analysts expect it to grow to $23.3 billion by 2023 blockchain market worth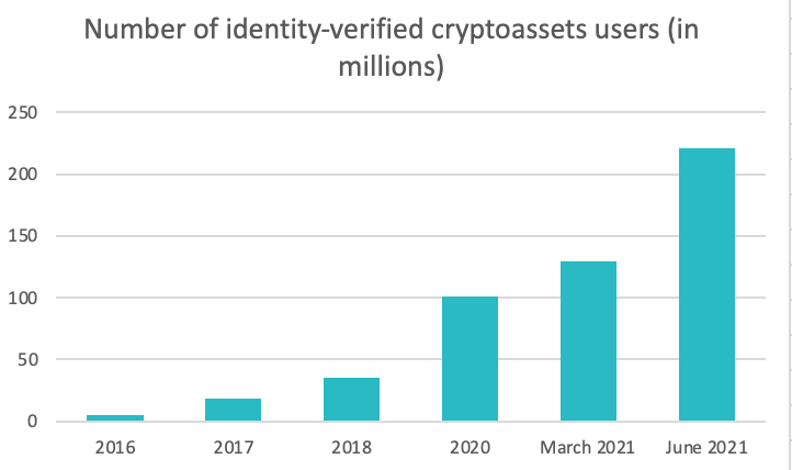 Source : statista.com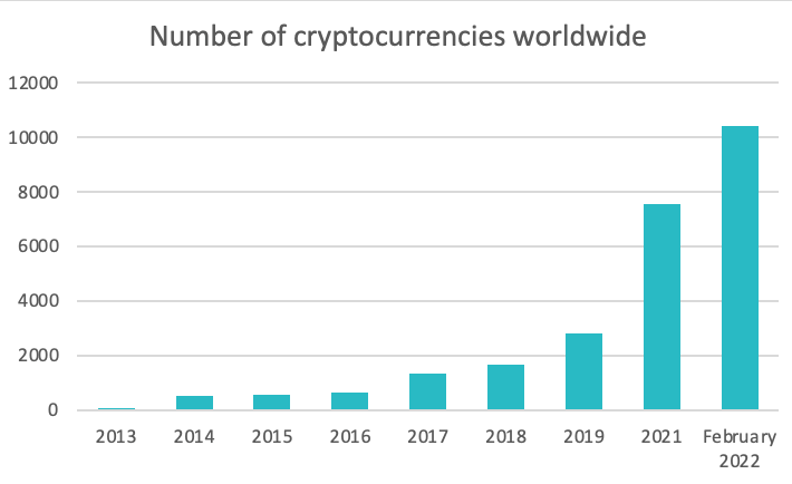 Source : statista.com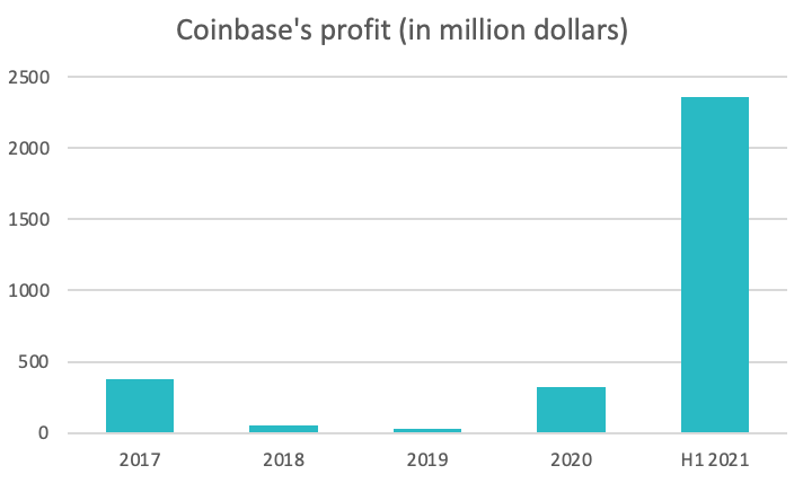 Source : businessofapps.com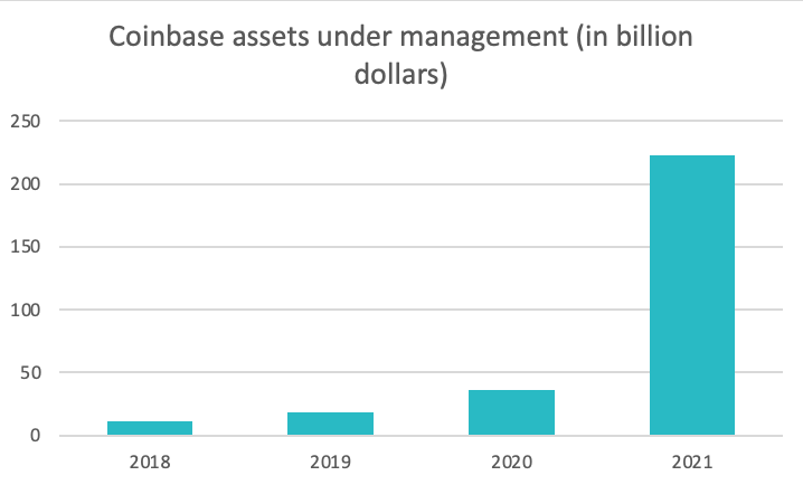 Source : businessofapps.com
Graniteshares Offering Products
COINBASE
Sources
DISCLAIMER
Please note that GraniteShares short and leveraged Exchange Traded Products are for sophisticated investors. 
This is a disclaimer stating that all trading and investing comes with risks. Always do your research and do not invest more than you can afford to spend. 
GraniteShares accepts no responsibility for any loss or damage resulting directly or indirectly from the use of this blog or the contents. Graniteshares Limited is an appointed representative of Messels Limited which is authorised and regulated by the Financial Conduct Authority.
This blog does not constitute an offer to buy or sell or a solicitation of an offer to buy securities in any company. Nothing contained herein constitutes investment, legal, tax or other advice nor is to be relied upon in making an investment or other decision. No recommendation is made positive or otherwise, regarding individual securities or investments mentioned herein. Any summary list of risk factors does not purport to be a complete enumeration or explanation of the risks involved in a particular investment. Prospective clients must consult with their own legal, tax and financial advisers before deciding to invest. This email contains the opinions of the author, and such opinions are subject to change without notice. The source of data is GraniteShares unless otherwise stated. No guarantee is made to the accuracy of the information provided which has been obtained from sources believed to be reliable. This email and the information contained herein is intended only for the use of persons (or entities they represent) to whom it has been provided. Past performance is not a reliable indicator of future results.  The value of an investment may go down as well as up and can result in losses, up to and including a total loss of the amount initially invested. Investments may involve numerous risks including, among others, company risks, general market risks, credit risks, foreign exchange risks, interest rate risks, geopolitical risks, and liquidity risks.