AMD Securities Earnings Q3 2023
Posted: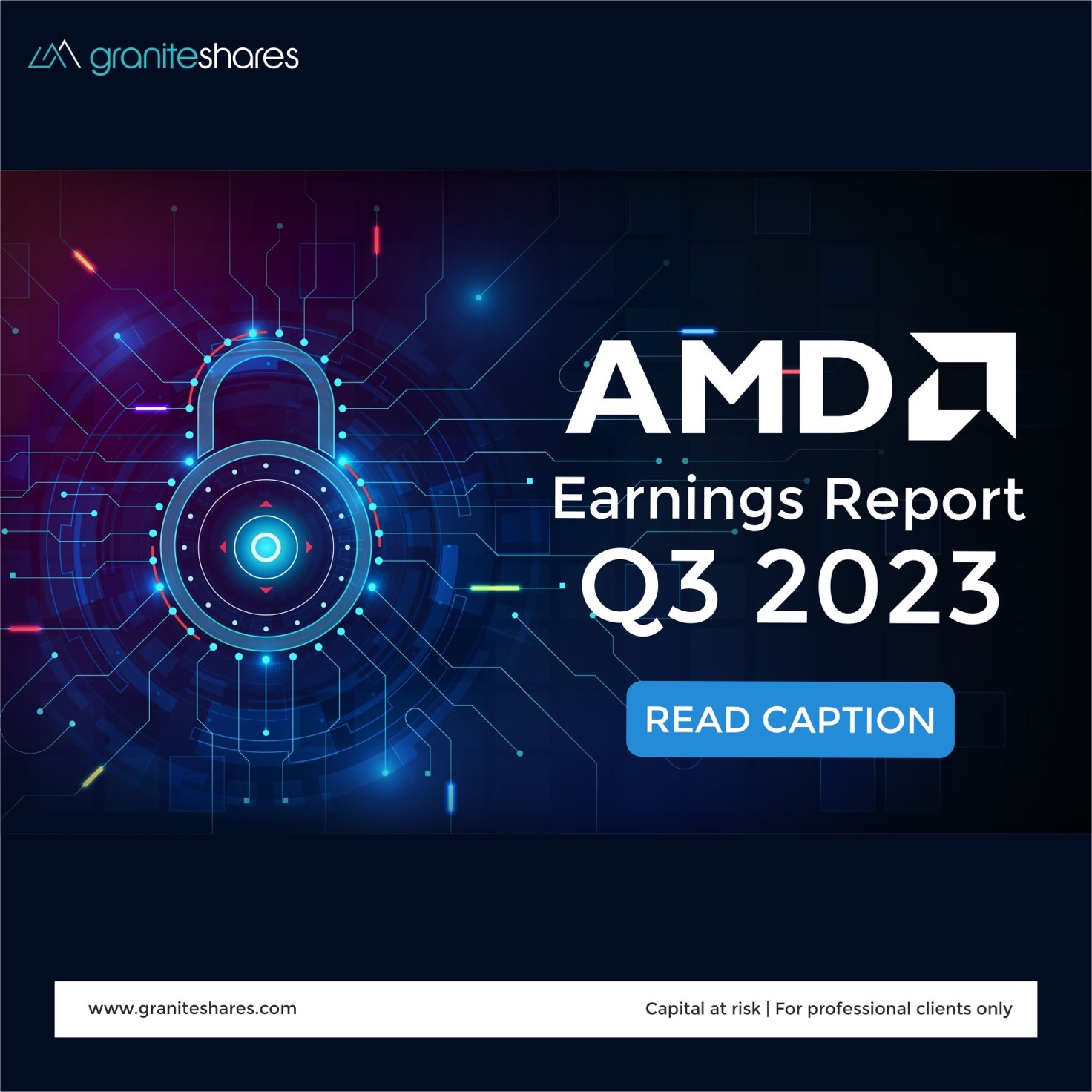 The stock fell as the Fourth Quater Outlook by the Company Disappoints Investors
Advanced Micro Devices (AMD) for Q3 FY23 reported revenue of $5.8 billion, up by 4% YoY. (Source: AMD)
On a Segmental basis, Data Center segment revenue for the third quarter stood at $1.6 billion, flat YoY, as growth in the company's 4th Gen AMD EPYC CPU sales was offset by a decline in adaptive System-on-Chip (SoC) data center products. Moreover, AMD's client segment revenue was up by 42% YoY at $1.5 billion, driven primarily by higher Ryzen mobile processor sales. The company's gaming segment revenue fell by 8% YoY, primarily due to a decline in semi-custom revenue, partially offset by an increase in the company's GPU sales. (Source: AMD)
For the third quarter, AMD reported a net income of $299 million up by 323% YoY. After four back-to-back quarters of declining earnings due to a downturn in personal computers and traditional servers. The company reported robust earnings this quarter. (Source: AMD)
AMD's Chief Executive Lisa Su mentioned that the strong revenue was attributed to robust sales of Ryzen 7000 series PC processors and record server processor sales. (Source: AMD)
Moreover, the company's gross margins for the quarter stood at 47% and operating income of $224 million. (Source: AMD)
In the fourth quarter, the company's CFO Jean Hu said that they expect strong growth in the Data Center and continued momentum in the Client, partially offset by lower sales in the Gaming segment and additional softening of demand in the embedded markets. Moreover, the company forecasts revenue in the range of $5.80 billion - $6.40 billion in Q4. (Source: AMD)
The AMD stock fell by 4.5% to 94.10 after its fourth-quarter revenue estimate on October 31st. (Source: CNBC)
Visit Us: https://graniteshares.com/institutional/uk/en-uk/
Capital at Risk | For Professional Clients Only
#AMDStock #AdvancedMicroDevices #TechInvesting #SemiconductorStocks #AMDInvesting #AMDShares #AMD
AMD ETPs by GraniteShares
Leverage AMD ETPs by GraniteShares
DISCLAIMER
This is a disclaimer stating that all trading and investing comes with risks. Always do your research and do not invest more than you can afford to spend.
GraniteShares accepts no responsibility for any loss or damage resulting directly or indirectly from the use of this blog or the contents. GraniteShares Limited ("GraniteShares") (FRN: 798443) is an appointed representative of Messels Limited which is authorised and regulated by the Financial Conduct Authority.
This blog does not constitute an offer to buy or sell or a solicitation of an offer to buy securities in any company. Nothing contained herein constitutes investment, legal, tax or other advice nor is to be relied upon in making an investment or other decision. No recommendation is made positive or otherwise, regarding individual securities or investments mentioned herein. Any summary list of risk factors does not purport to be a complete enumeration or explanation of the risks involved in a particular investment. Prospective clients must consult with their own legal, tax and financial advisers before deciding to invest. This email contains the opinions of the author and such opinions are subject to change without notice. The source of data is GraniteShares unless otherwise stated. No guarantee is made to the accuracy of the information provided which has been obtained from sources believed to be reliable. This email and the information contained herein is intended only for the use of persons (or entities they represent) to whom it has been provided. Past performance is not a reliable indicator of future results.  The value of an investment may go down as well as up and can result in losses, up to and including a total loss of the amount initially invested. Investments may involve numerous risks including, among others, company risks, general market risks, credit risks, foreign exchange risks, interest rate risks, geopolitical risks and liquidity risks.  Please note that GraniteShares short and leveraged Exchange Traded Products are for sophisticated investors.