Meta Platforms Earnings Q3 2023
Posted: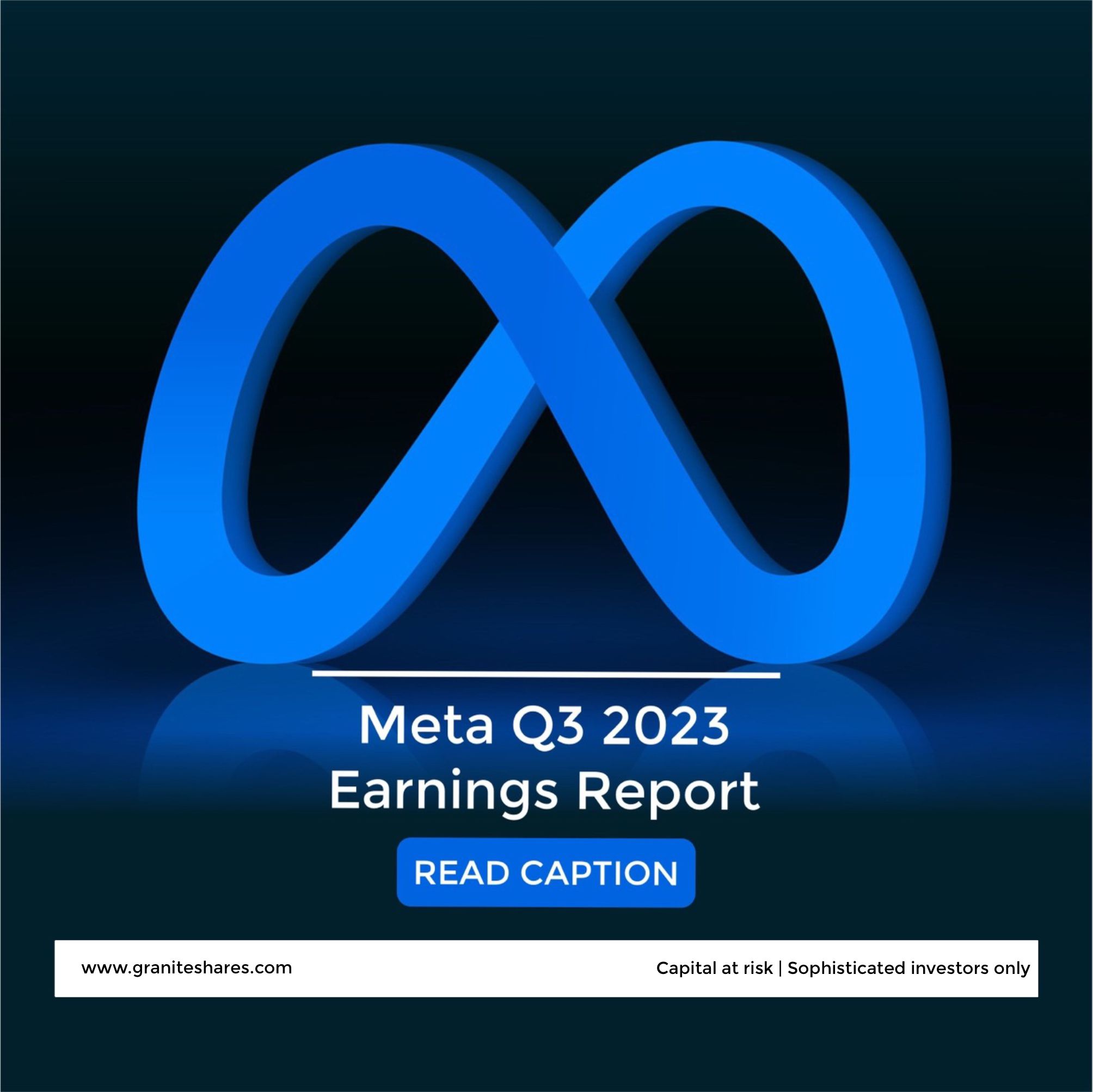 Despite Announcing the Most Profitable Quarter in Years Stock Falls Over Company's Q4 Guidance
Meta Platforms for Q3FY23 reported revenue of $34.15 billion, an increase of 23% YoY marking the fastest rate of growth since 2021. (Source: Meta Platforms)
The Facebook parent company posted total costs and expenses of $20.40 billion in Q3, a decrease of 7% YoY. (Source: Meta Platforms)
Moreover, Meta's net income for Q3FY23 jumped by 164% to $11.58 billion, which translates to $4.39 per share, compared to $4.4 billion, or $1.64 per share, same period the previous year. The growth in the net income can be attributed to the series of layoffs initiated by the company in 2022. By September 30, 2023, the company's headcount had decreased by 24% year-on-year to 66,186. (Source: Meta Platforms)
For the third quarter of 2023, Meta reported ad impressions across our Family of Apps increased by 31% YoY and the average price per ad decreased by 6% YoY. Moreover, Meta's short-form video platform, Reels, has led to a 40% surge in the time users spend on Instagram since its introduction. Mark Zuckerberg noted that Reels "continues to perform exceptionally," and he anticipates that interactions with businesses, probably assisted by AI, will become "the next cornerstone of our business." (Source: Meta Platforms)
During the earnings call CEO Mark Zuckerberg mentioned that this year, they have observed a 7% increase in the time users spend on Facebook and a 6% rise on Instagram, attributed to the improvements in their recommendation algorithms. (Source: Meta Platforms)
Susan Li, Meta's finance chief, informed analysts during the earnings call commerce played the most significant role in driving YoY growth in ad revenue, with consumer packaged goods and gaming following as the next contributing sectors. (Source: Meta Platforms)
Moreover, Li also warned the investors that the company has widened its revenue guidance for the fourth quarter due to the ongoing uncertainty in the Middle East stemming from the Israel-Hamas war. She further explained that the company has observed softer ad performance at the beginning of the fourth quarter, which coincided with the onset of the conflict, and this is reflected in their Q4 revenue outlook. (Source: Meta Platforms)
For Q4FY23 Meta expects revenue of $36.5 billion to $40 billion. (Source: Meta Platforms)
Meta, for the full year 2023 anticipated total expenses to be in the range of $87-89 billion, lowered from their prior range of $88-91 billion. This outlook includes approximately $3.5 billion of restructuring costs related to facilities consolidation charges and severance and other personnel costs. (Source: Meta Platforms)
Furthermore, for FY 2024 the company forecasts capital expenditures to be in the range of $30-35 billion, with growth driven by investments in servers, including both non-artificial intelligence (AI) and AI hardware, and data centers as they ramp up construction on sites with the new data center architecture announced late last year. (Source: Meta Platforms)
The company's Reality Labs division, which concentrates on virtual reality and augmented reality technologies, reported operating losses of $3.74 billion for the quarter. This brings its total losses to nearly $25 billion since the beginning of last year, despite the release of products like the Quest 3 headset and other specs, the product retails for $499. Also, the company expects Reality Labs operating losses to increase YoY in 2023. (Source: The Guardian)
Meta's Stock Price fell over 3% after Meta's finance chief, Susan Li, expressed caution regarding the possibility of a decrease in ad performance related to the Middle East conflict. (Source: CNBC)
Visit Us: https://graniteshares.com/institutional/uk/en-uk/
Capital at Risk | For Professional Clients Only
#MetaStock #Meta #MetaPlatforms #Facebook #Instagram #WhatsApp #Oculus #VirtualReality #SocialMedia #AugmentedReality #Metaverse #MetaPlatformsStock #MetaStockPrice #FacebookStock #StockMarket #Investing
ETPs by GraniteShares
DISCLAIMER
This is a disclaimer stating that all trading and investing comes with risks. Always do your research and do not invest more than you can afford to spend.
GraniteShares accepts no responsibility for any loss or damage resulting directly or indirectly from the use of this blog or the contents. GraniteShares Limited ("GraniteShares") (FRN: 798443) is an appointed representative of Messels Limited which is authorised and regulated by the Financial Conduct Authority.
This blog does not constitute an offer to buy or sell or a solicitation of an offer to buy securities in any company. Nothing contained herein constitutes investment, legal, tax or other advice nor is to be relied upon in making an investment or other decision. No recommendation is made positive or otherwise, regarding individual securities or investments mentioned herein. Any summary list of risk factors does not purport to be a complete enumeration or explanation of the risks involved in a particular investment. Prospective clients must consult with their own legal, tax and financial advisers before deciding to invest. This email contains the opinions of the author and such opinions are subject to change without notice. The source of data is GraniteShares unless otherwise stated. No guarantee is made to the accuracy of the information provided which has been obtained from sources believed to be reliable. This email and the information contained herein is intended only for the use of persons (or entities they represent) to whom it has been provided. Past performance is not a reliable indicator of future results.  The value of an investment may go down as well as up and can result in losses, up to and including a total loss of the amount initially invested. Investments may involve numerous risks including, among others, company risks, general market risks, credit risks, foreign exchange risks, interest rate risks, geopolitical risks and liquidity risks.  Please note that GraniteShares short and leveraged Exchange Traded Products are for sophisticated investors.