Measuring Performance
Posted:
On each given day there are two ways to measure product performance.
Value per ETP
The first approach is to use the Value per ETP, the value used for the creation and redemption of ETP Securities. This is the way in which the ETP delivers the index return net of fees and any adjustments.  It is therefore the way in which an investor can assess how well an ETP is tracking its benchmark and meeting its investment objective.
Closing price per ETP
The second is the closing price per ETP published by the exchange on which the ETP Security is traded. Market-reported performance is measured against the previous day's market close. 
Key takeaway
Market price performance is likely to be different from the change in Value per ETP Security on any given day. Over time their performance may be broadly similar.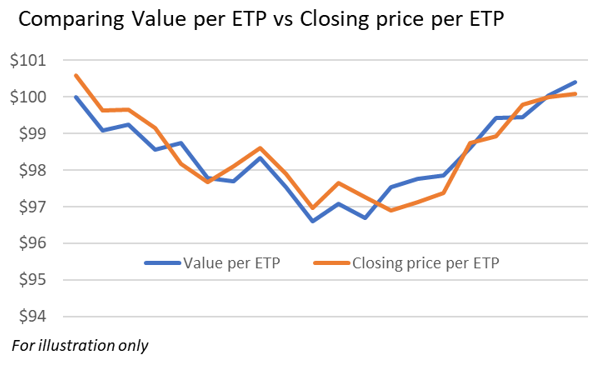 Why do performance levels differ at close?
Reason 1 – Different time zones:The Value per ETP is calculated off a Closing Index Level as described here. For indices referencing assets trading during US or Asian hours, the Index Closing Level will be calculated outside of European market hours.
For instance, a European exchange, such as the London Stock Exchange, publishes the closing price per ETP around 16:30 GMT. At that time the Index Closing Level used to determine the Value per ETP might have already been calculated (Asian assets for instance) or will be calculated later on (assets trading in U.S. for instance)
Reason 2 – Activity at close: Exchange closing prices are determined through an auction process. The level of activityduring the auction process can sometimes lead to a closing price different from the expected value.
Note that the GraniteShares is only involved with the way the Value per ETP is determined. It is not involved in the determination of the closing price on exchange. More details about the distinction between value and price are available here.