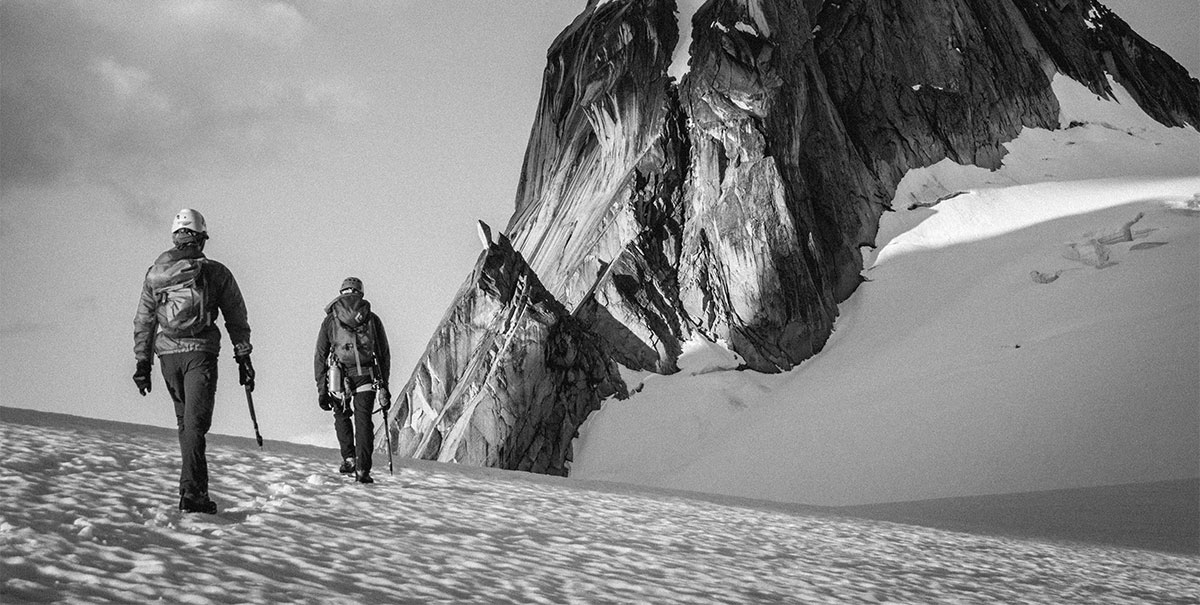 Lloyds Banking Group, One of the largest British banks
Presentation of the Company
Lloyds Banking Group (LSE: LLOY) is a British bank based in London, United Kingdom, whose origins date back to 1765. It is one of the "big five" banks in the UK (third-largest by assets) (encyclopedia). Its revenues come mainly from its retail and commercial banking activities. The bank has an international presence through its numerous subsidiaries.
Lloyds Banking Group's (LSE: LLOY) main competitors are HSBC, Barclays, NatWest.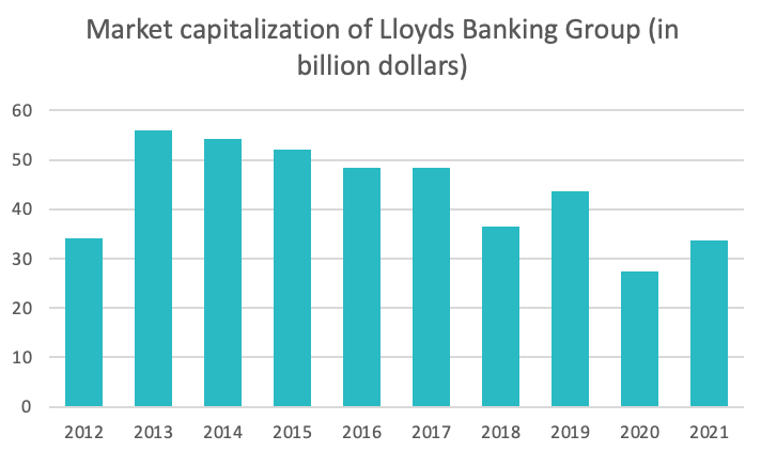 Source : statista.com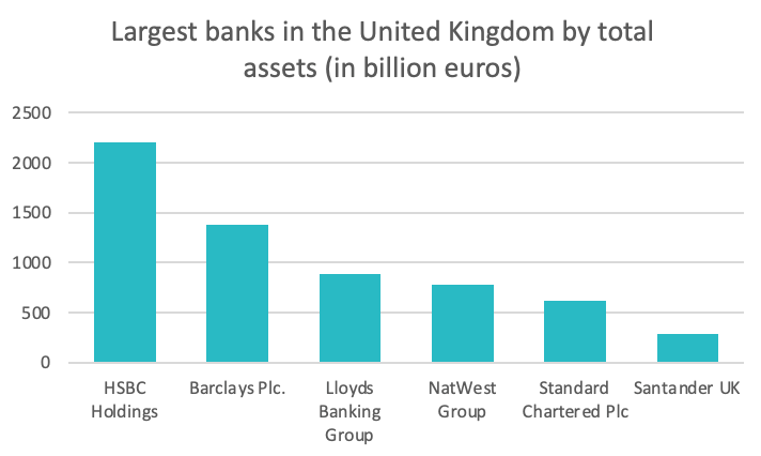 Source : statista.com
History of Lloyds
Lloyds Bank is one of the oldest banks in England, founded in 1765. In 1995, Lloyds merged with TSB Group to form Lloyds TSB Group. In 2009, Lloyds TSB acquires HBOS, the holding company of Bank of Scotland and is then renamed into Lloyds Banking Group (LSE: LLOY). This merger will have made it inherit the problems of HBOS related to the crisis of 2008, forcing the government to reinject money.
Between 2013 and 2015, the British government sold, over time, almost all of its shares in the bank (which were about 35%). This, coupled with the fallout from the 2008 crisis, will be responsible for the loss of more than 45,000 jobs over the period 2008-2015. In May 2017, the British government completely divested from Lloyds.
Today, Lloyds Banking Group (LSE: LLOY) is still one of the four largest English banks.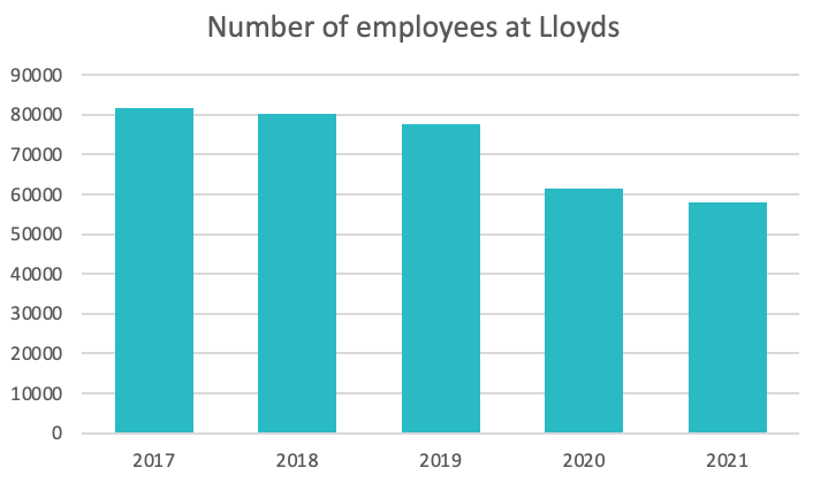 Source : tradingview.com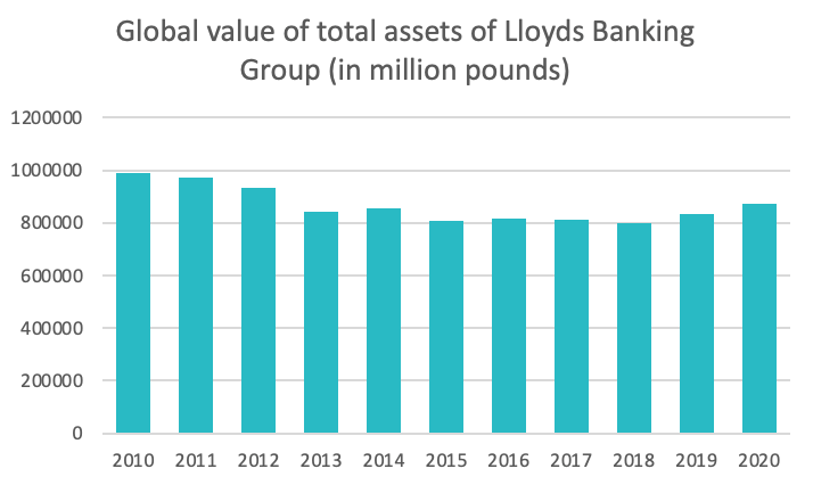 Source : statista.com
The Market
Lloyd Banking Group's (LSE: LLOY) activities are divided into four: retail banking, commercial banking, insurance/wealth management and other activities. The services offered are common to other players in the banking sector, whether it be lending, insurance, or financial advice...
The banking system has existed for centuries, and has of course undergone many evolutions until today. Almost every individual now has a bank account, uses banking services in his or her life, and this all over the world.
The economic and political context has a huge impact on this market. Purchasing power or new regulations are for example important criteria for banking institutions.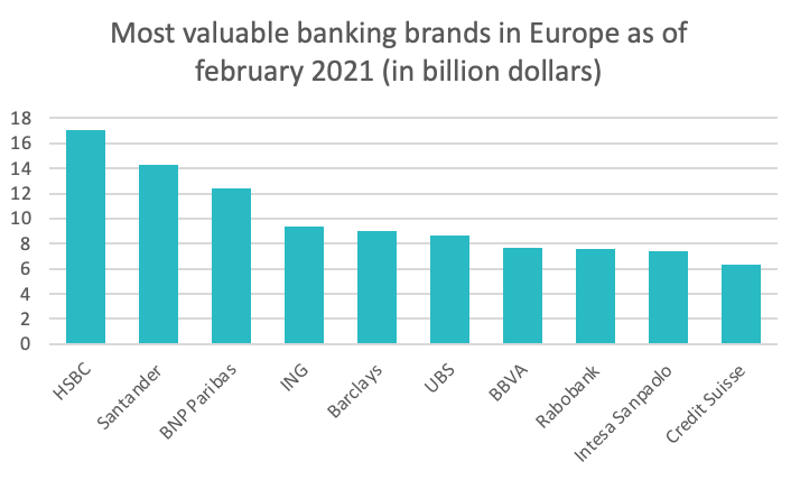 Source : statista.com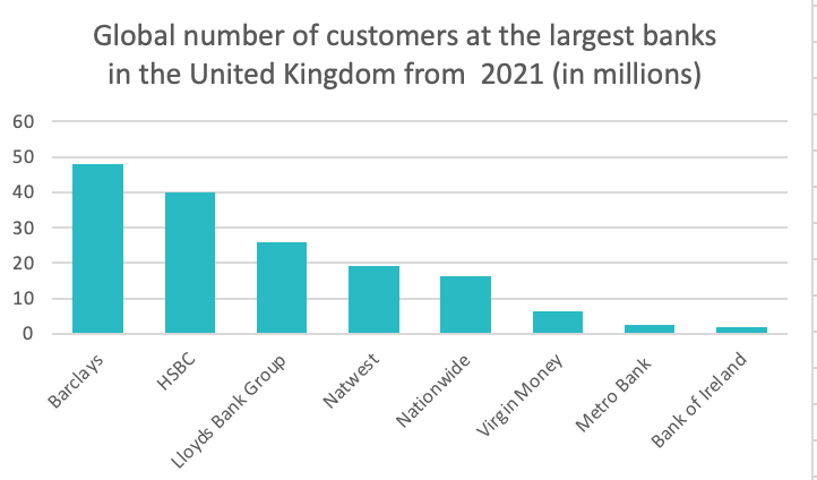 Source : statista.com
Key Figures and Financial Ratios
Market capitalization as of June 2022: £35.48 billion 1
Revenue: £17.127bn 2(2021)
Net income: £5.784bn 3(2021)
Dividends paid: Twice a year
Earnings per share: $0.07 (2021) )4(2021)
Price to earnings ratio: ≃5.8x 5(2022)
Debt to capital ratio: 1.71 6(2022)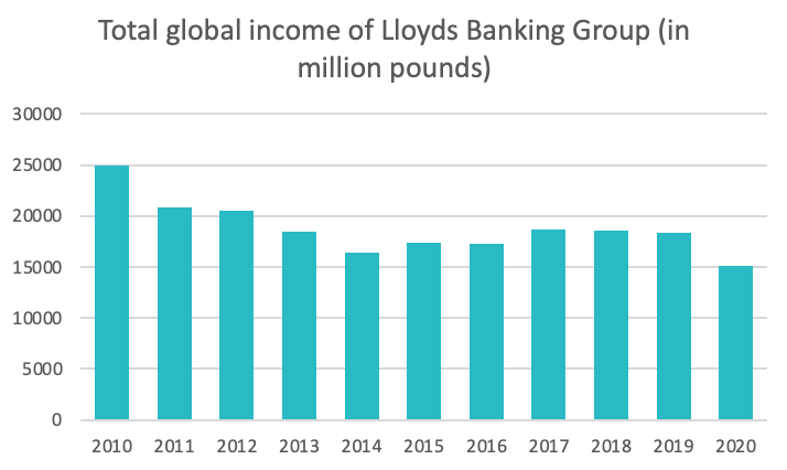 Source : statista.com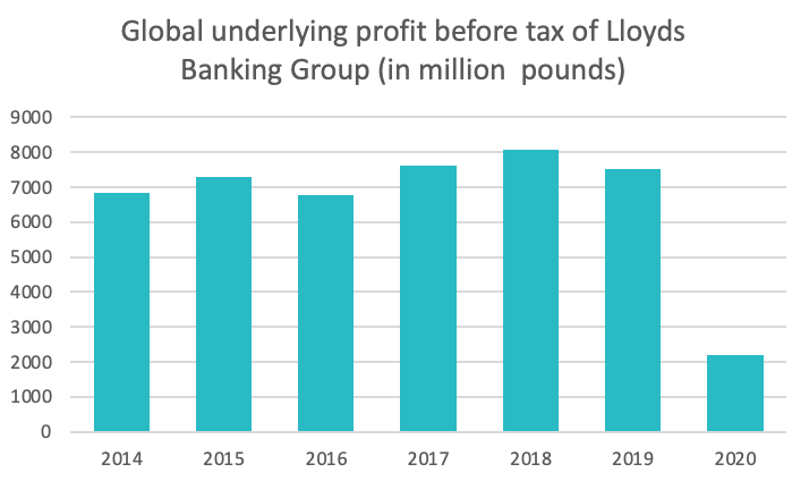 Source : statista.com
Graniteshares Offering Products
DIAGEO
Sources
DISCLAIMER 
Please note that GraniteShares short and leveraged Exchange Traded Products are for sophisticated investors. 
This is a disclaimer stating that all trading and investing comes with risks. Always do your research and do not invest more than you can afford to spend. 
GraniteShares accepts no responsibility for any loss or damage resulting directly or indirectly from the use of this blog or the contents. GraniteShares Limited ("GraniteShares") (FRN: 798443) is an appointed representative of Kroll Securities Ltd. (FRN: 466588) which is authorised and regulated by the Financial Conduct Authority. 
This blog does not constitute an offer to buy or sell or a solicitation of an offer to buy securities in any company. Nothing contained herein constitutes investment, legal, tax or other advice nor is to be relied upon in making an investment or other decision. No recommendation is made positive or otherwise, regarding individual securities or investments mentioned herein. Any summary list of risk factors does not purport to be a complete enumeration or explanation of the risks involved in a particular investment. Prospective clients must consult with their own legal, tax and financial advisers before deciding to invest. This email contains the opinions of the author, and such opinions are subject to change without notice. The source of data is GraniteShares unless otherwise stated. No guarantee is made to the accuracy of the information provided which has been obtained from sources believed to be reliable. This email and the information contained herein is intended only for the use of persons (or entities they represent) to whom it has been provided. Past performance is not a reliable indicator of future results.  The value of an investment may go down as well as up and can result in losses, up to and including a total loss of the amount initially invested. Investments may involve numerous risks including, among others, company risks, general market risks, credit risks, foreign exchange risks, interest rate risks, geopolitical risks, and liquidity risks.