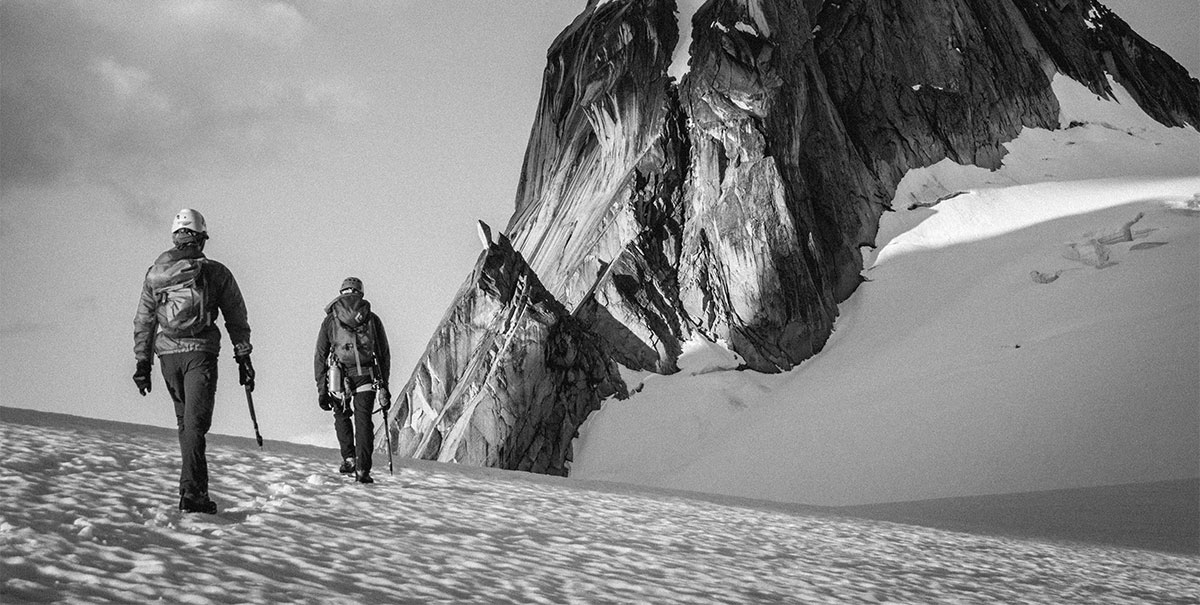 Nio, a Chinese electric vehicle manufacturer
Nio Stock price
Presentation of the company
Nio (NASDAQ: NIO) is a Chinese Automotive Manufacturer, specializing in the development and production of electric vehicles, founded in 2014. The company's philosophy is to move towards a positive and sustainable future. The company is currently only present in the Asian market but wants to start penetrating the international market, starting with Europe, in 2022.
The company has several innovative ideas: the Power Swap, a service that gives the car a set of new batteries, and the creation of Nio homes and an app so that owners of their vehicles can interact.
The brand currently offers three models for sale, and two in development, with prices hovering around €50,000. In 2021, it has sold more than 90,000 vehicles. Nio is the eighth largest automotive market capitalization.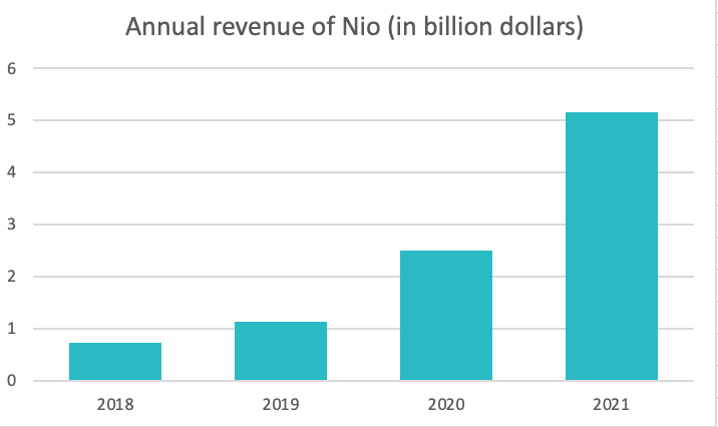 Source : macrotrends.com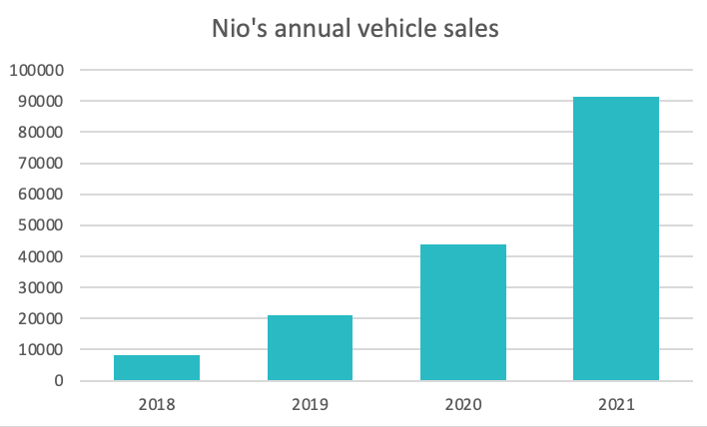 Source : carsalesbase.com
History of Nio
Nio is a relatively young company, founded in 2014. Their first model is a 1300+ horsepower electric supercar, the EP9, which was entered into the Formula E championship, and will have broken several records on various tracks.
In 2017, the brand launched its first mainstream model, the ES8 electric SUV. In 2018, Nio added a second model to its catalog: the ES6 compact SUV. In September 2018, the company went public on the New York Stock Exchange with an initial valuation of $1.8 billion.
At the end of April 2020, NIO announced new fundraising of $1 billion via a group of Chinese investors, necessary financing due to the company's difficulties in selling its vehicles.  That same year, it launched BaaS, batteries available for rent.
In 2021, their ES8 SUV is available for purchase in Norway.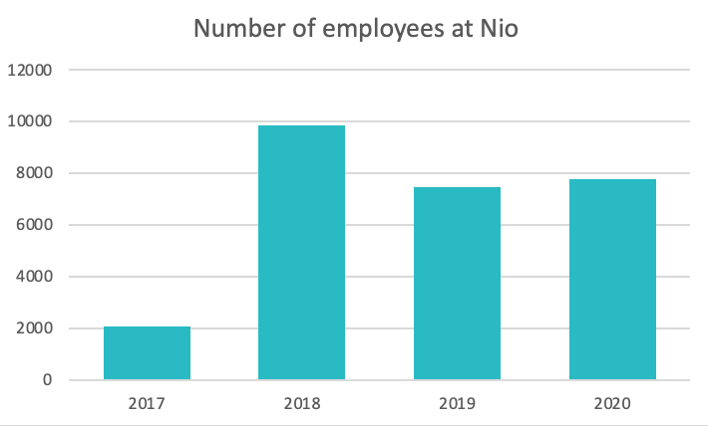 Source : macrotrends.com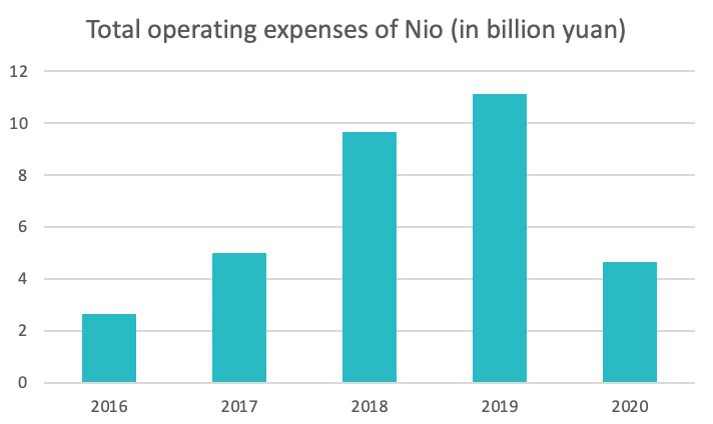 Source : statista.com
The market
Nio is a company that sells electric cars, based in China. China is one of the largest automotive markets in the world, and the largest in terms of electric cars, accounting for 45% of global sales, although only 4% of these sales are made internationally. If China sells a lot of electric cars, it produces even more, as 60% of electric car production takes place there.
The world market for electric vehicles is still young, as it is only in 2008 that electric vehicles start to appear. In a concern for sustainable development, the world is increasingly interested in this type of transport, creating opportunities for new companies specialized in this field.
China being the most polluting country in the world, the Chinese government is showing itself to be interventionist and measures are being taken to encourage the Chinese population to turn to less polluting means of transportation, announcing an interesting future for this market.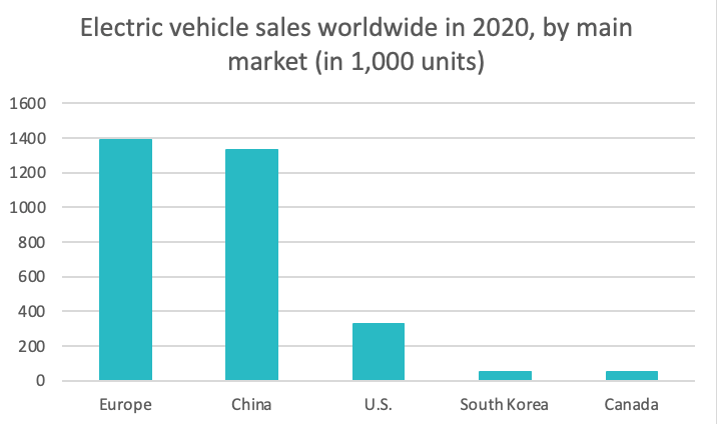 Source : statista.com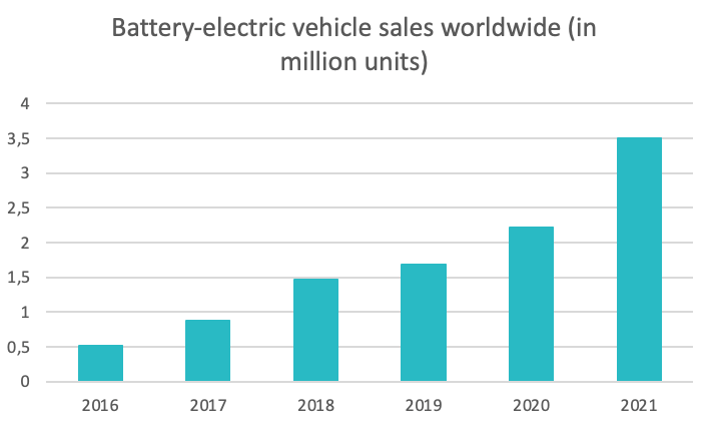 Source : statista.com
Key Figures and Financial Ratio
 Market capitalisation : $31.67 billions 1(2022)
Revenue : $5.153 billions 2(2021)
Net income : -$1.561 billion 3(2021)
Dividends paid : No dividends​
Earnings per share : -$1.034(2021)
Debt to equity ratio : 0.495(2022)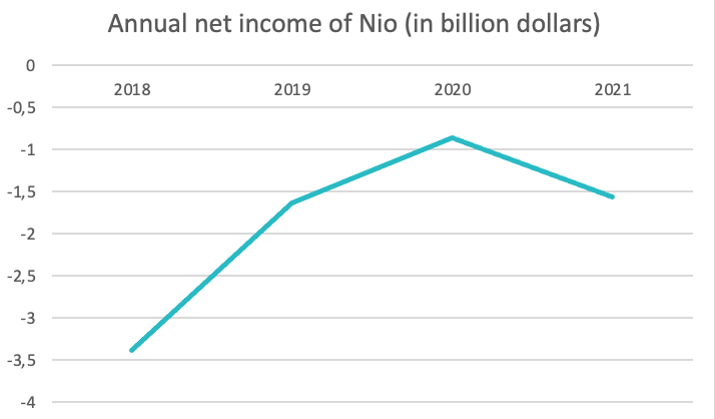 Source : macrotrends.com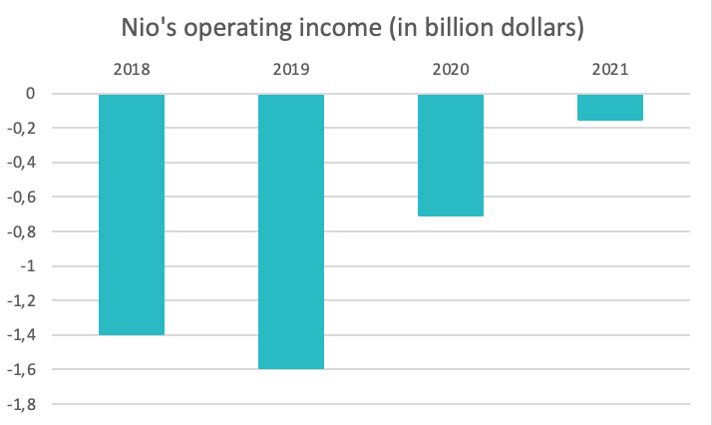 Source : macrotrends.com
GraniteShares Offering Product
NIO
Sources
DISCLAIMER
Please note that GraniteShares short and leveraged Exchange Traded Products are for sophisticated investors. 
This is a disclaimer stating that all trading and investing comes with risks. Always do your research and do not invest more than you can afford to spend. 
GraniteShares accepts no responsibility for any loss or damage resulting directly or indirectly from the use of this blog or the contents. Graniteshares Limited is an appointed representative of Messels Limited which is authorised and regulated by the Financial Conduct Authority.
This blog does not constitute an offer to buy or sell or a solicitation of an offer to buy securities in any company. Nothing contained herein constitutes investment, legal, tax or other advice nor is to be relied upon in making an investment or other decision. No recommendation is made positive or otherwise, regarding individual securities or investments mentioned herein. Any summary list of risk factors does not purport to be a complete enumeration or explanation of the risks involved in a particular investment. Prospective clients must consult with their own legal, tax and financial advisers before deciding to invest. This email contains the opinions of the author, and such opinions are subject to change without notice. The source of data is GraniteShares unless otherwise stated. No guarantee is made to the accuracy of the information provided which has been obtained from sources believed to be reliable. This email and the information contained herein is intended only for the use of persons (or entities they represent) to whom it has been provided. Past performance is not a reliable indicator of future results.  The value of an investment may go down as well as up and can result in losses, up to and including a total loss of the amount initially invested. Investments may involve numerous risks including, among others, company risks, general market risks, credit risks, foreign exchange risks, interest rate risks, geopolitical risks, and liquidity risks.