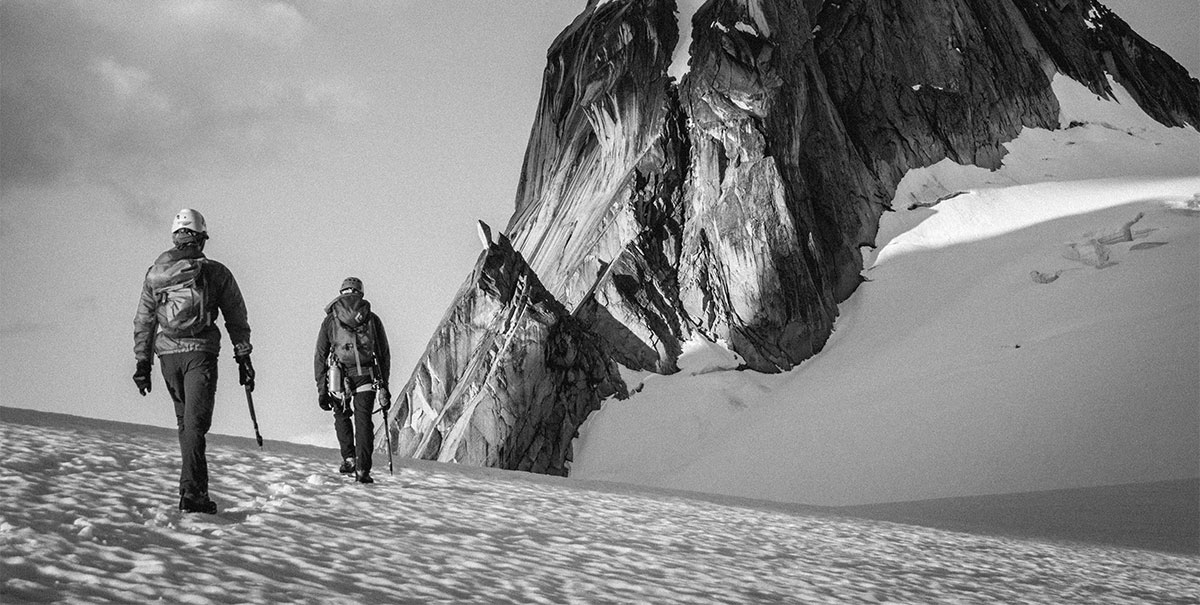 Rolls-Royce, One of the most luxurious car brands
Presentation of the Company
Rolls-Royce Holdings Plc. (LON: RR) is a British multinational aerospace and defence company incorporated in February 2011. The company owns Rolls-Royce, a business established in 1904 which today designs, manufactures and distributes power systems for aviation and other industries. Their range of products go from  advanced technologies to all kind of defence businesses (land, naval, aerospace, submarines, and services). It is the world's second-largest maker of aircraft engines and has major businesses in the marine propulsion and energy sectors.
Rolls-Royce Holdings plc has a market capitalization of more than £7 billion on the London Stock Exchange, where it is a constituent of the FTSE 100 Index (Rolls-Royce.L).
Rolls-Royce's top competitors include Bombardier, MAN Energy Solutions, Pratt & Whitney, General Electric and Honeywell.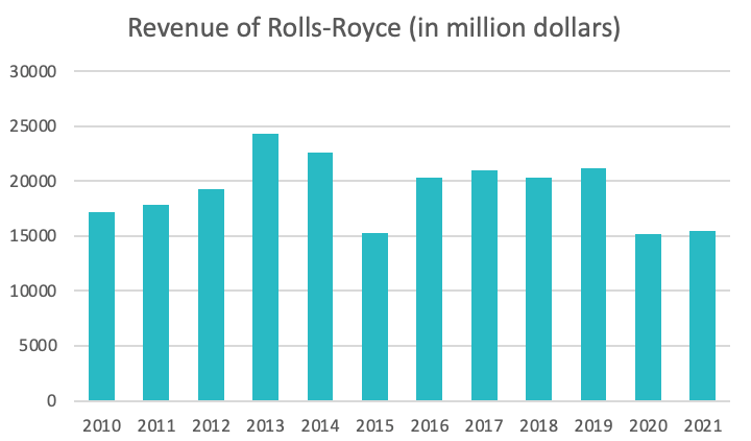 Source : macrotrends.com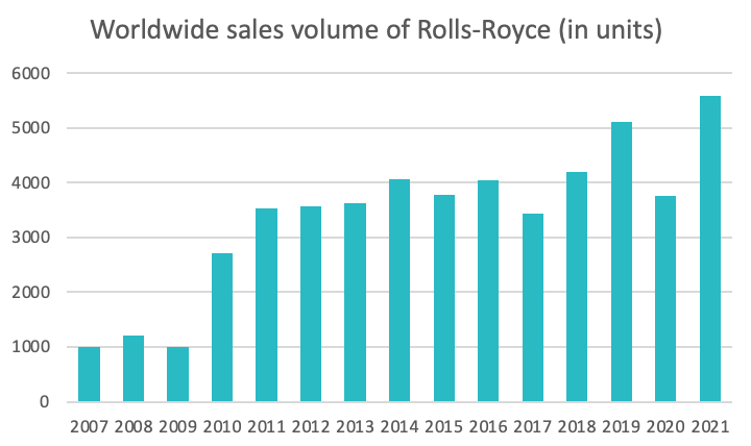 Source : statista.com
History of Rolls-Royce
Rolls-Royce (LON: RR) was a British luxury car and later an aero-engine manufacturing business established in 1904 in Manchester, United Kingdom by the partnership of Charles Rolls and Henry Royce. 
The First World War brought them into manufacturing aero-engines. Joint development of jet engines began in 1940 and they entered production. Rolls-Royce has built an enduring reputation for development and manufacture of engines for defence and civil aircraft.
In 1971, the owners were obliged to liquidate their business. The useful portions were bought by a new government-owned company created for the purpose named Rolls-Royce (1971) Limited which continued the core business. Rolls-Royce plc finally returned to the stock market in 1987.
On 14 June 2018, the company announced a restructuring of the business to create three simpler decentralised units (civil aerospace, defence and power systems).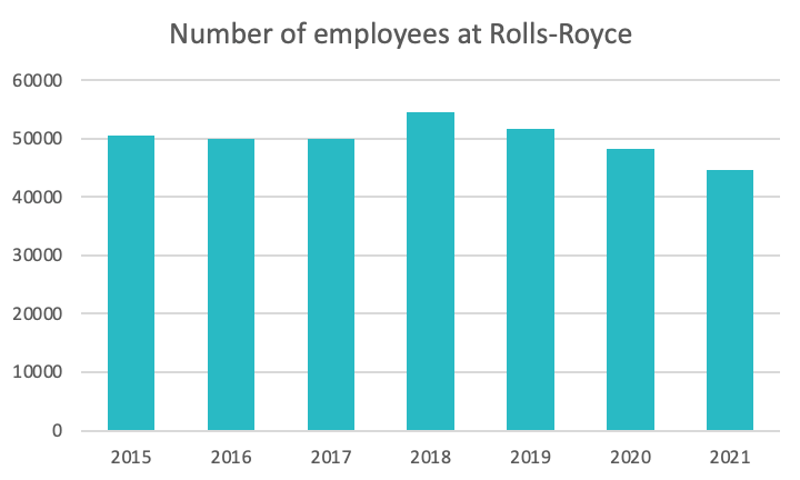 Source : macrotrends.com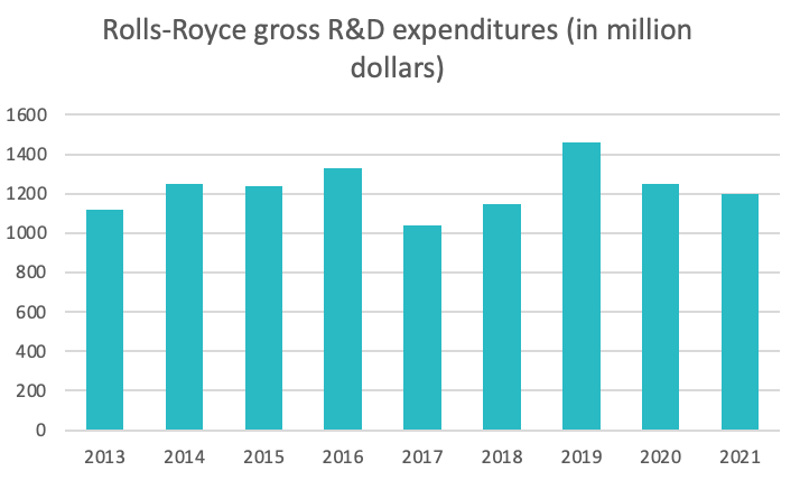 Source : statista.com
The Market
Rolls-Royce (LON: RR) is a defense and aerospace company. This is a sector in which demand is international, although very unevenly distributed between countries. The ability to defend oneself is a natural desire expressed since the beginning of civilizations. It is of course a sector very prone to innovations, which companies must imperatively take into account in order to remain competitive. As a result, we observe a demand that is renewed with each new innovation.
 It is also a sector very much impacted by the global and national geopolitical context. Indeed, the customers of this sector are not individuals but states, governed by various laws and budgets, which makes it a much more complex market to predict. The current context between Russia and Ukraine, which strongly benefits this market, is one proof.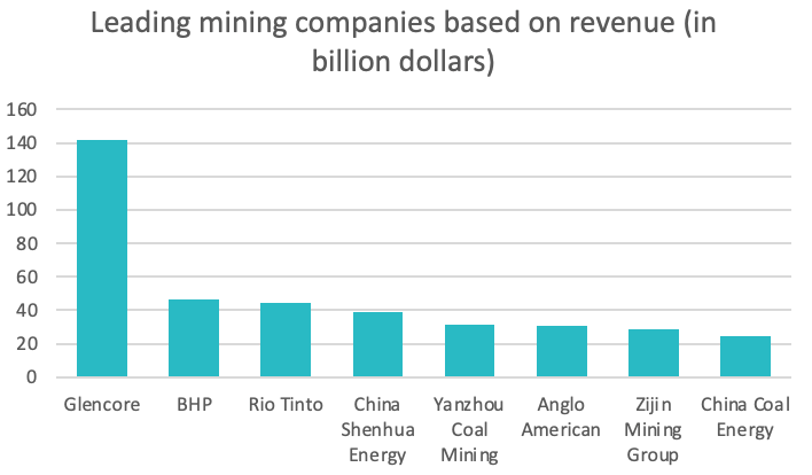 Source : statista.com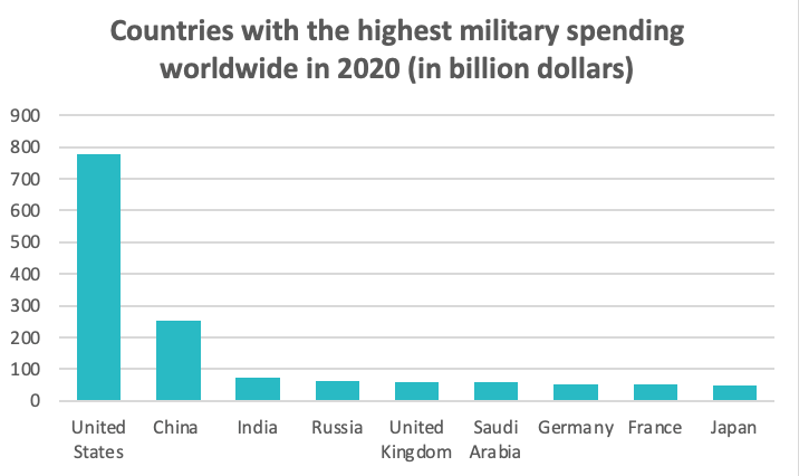 Source : statista.com
Key Figures and Financial Ratios
Market capitalization: £7.5 billion1[2022]
Revenue: £10.947 billion2[2021]
Net income: £124  billion 3[2021]
Dividends paid: Twice a year 4
Earnings per share: £1.48 5[2021]
Price to earnings ratio: ≃56.7x  6[2022]
Debt to equity ratio: 11.67x77[2022]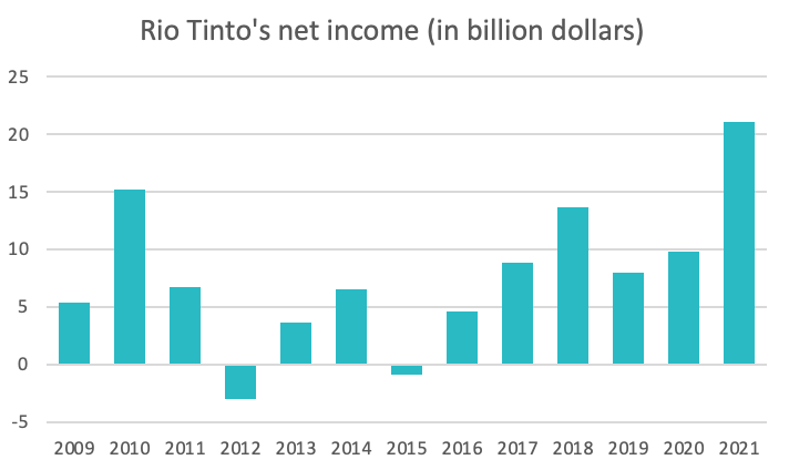 Source : macrotrends.com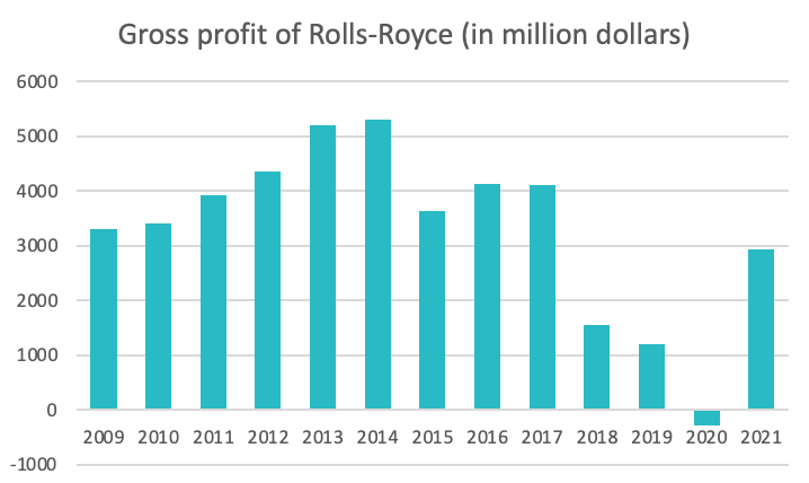 Source : macrotrends.com
Graniteshares Offering Products
Rolls Royce
Sources
1   https://finance.yahoo.com/quote/RR.L/
2   https://www.rolls-royce.com/~/media/Files/R/Rolls-Royce/documents/annual-report/2021/2021-full-annual-report.pdf
3   https://www.rolls-royce.com/~/media/Files/R/Rolls-Royce/documents/annual-report/2021/2021-full-annual-report.pdf
4   https://www.dividendmax.com/united-kingdom/london-stock-exchange/aerospace-and-defence/rolls-royce-holdings-plc/dividends
5   https://www.rolls-royce.com/~/media/Files/R/Rolls-Royce/documents/annual-report/2021/2021-full-annual-report.pdf
6   https://finance.yahoo.com/quote/RR.L/key-statistics?p=RR.L
7   https://www.gurufocus.com/term/deb2equity/OTCPK:RYCEY/Debt-to-Equity/Rolls-Royce-PLC
DISCLAIMER 
Please note that GraniteShares short and leveraged Exchange Traded Products are for sophisticated investors. 
This is a disclaimer stating that all trading and investing comes with risks. Always do your research and do not invest more than you can afford to spend. 
GraniteShares accepts no responsibility for any loss or damage resulting directly or indirectly from the use of this blog or the contents. GraniteShares Limited ("GraniteShares") (FRN: 798443) is an appointed representative of Kroll Securities Ltd. (FRN: 466588) which is authorised and regulated by the Financial Conduct Authority. 
This blog does not constitute an offer to buy or sell or a solicitation of an offer to buy securities in any company. Nothing contained herein constitutes investment, legal, tax or other advice nor is to be relied upon in making an investment or other decision. No recommendation is made positive or otherwise, regarding individual securities or investments mentioned herein. Any summary list of risk factors does not purport to be a complete enumeration or explanation of the risks involved in a particular investment. Prospective clients must consult with their own legal, tax and financial advisers before deciding to invest. This email contains the opinions of the author, and such opinions are subject to change without notice. The source of data is GraniteShares unless otherwise stated. No guarantee is made to the accuracy of the information provided which has been obtained from sources believed to be reliable. This email and the information contained herein is intended only for the use of persons (or entities they represent) to whom it has been provided. Past performance is not a reliable indicator of future results.  The value of an investment may go down as well as up and can result in losses, up to and including a total loss of the amount initially invested. Investments may involve numerous risks including, among others, company risks, general market risks, credit risks, foreign exchange risks, interest rate risks, geopolitical risks, and liquidity risks.