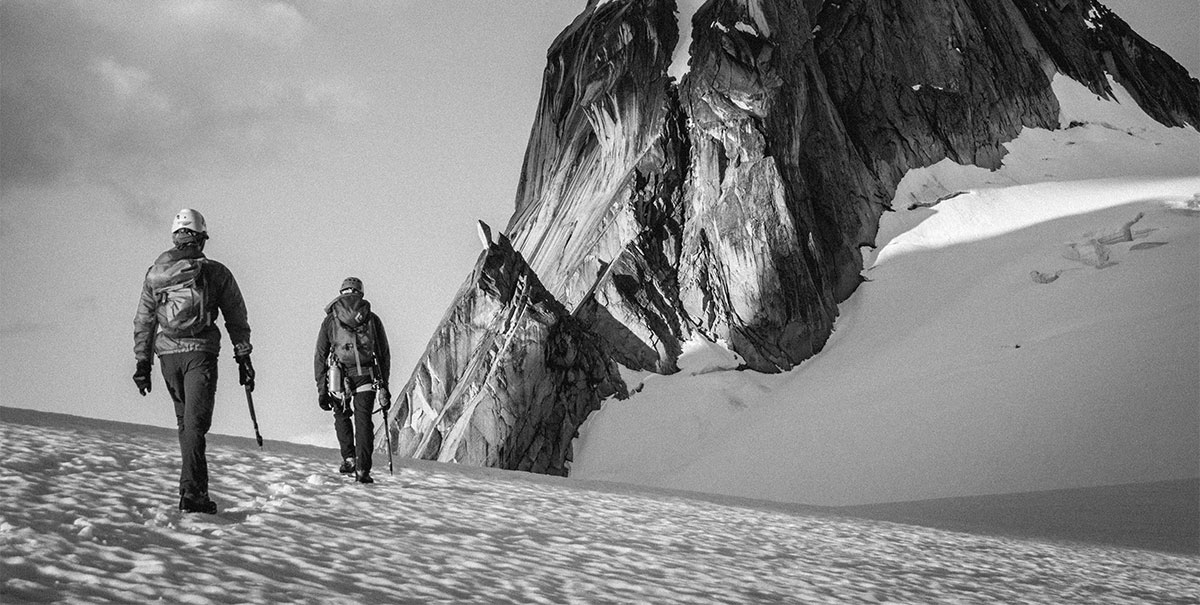 Tutto ciò che devi sapere Amazon
Amazon l'azienda più grande del mondo
Amazon è un rivenditore online e produttore di libri, un lettore di libri elettronici chiamato Kindle con sede a Seattle, Stati Uniti. Il fornitore di servizi Web dell'azienda è diventato uno degli esempi iconici del commercio elettronico. È conosciuta in tutto il mondo come leader in questo mercato e, per inciso, la più grande azienda del mondo. Anche se la maggior parte dei prodotti venduti sono venduti da Amazon, sul sito sono presenti anche molti venditori di terze parti. Hanno ribaltato la situazione dell'esperienza di acquisto online per i clienti ma della vendita online di beni e servizi. Oltre alle vendite online, l'azienda è presente anche nello streaming musicale(Amazon Music),video on demand(Amazon Prime TV) o nelcloud computing (Amazon Web Service-AWS). Altri progetti, per il momento meno sviluppati, sono in fase di sviluppo. La strategia di Amazon è garantire principalmente la soddisfazione del cliente. L'azienda investe molto per diventare un luogo dove puoi acquistare tutto ciò di cui hai bisogno, nelle migliori condizioni.
Oltre al fatto che Amazonconsegna in tutto il mondo, l'azienda ha un sito Web specifico per molti paesi situati inEuropa, Nord e Sud America, Asia e Oceania.
Amazon offre una vasta gamma di contenuti scaricabili e in streaming tramite Amazon Prime Video. È un modello basato su abbonamento che offre lo streaming di contenuti e altre offerte come la consegna rapida e gratuita dei prodotti se le persone sono clienti privilegiati. Inoltre, l'azienda offre anche il Prime Day ogni 15 luglio per celebrare il compleanno dell'azienda. Il giorno di Prime, a causa del compleanno di Amazon, l'azienda offre forti sconti, offerte Amazon e offerte su vari marchi.
Il servizio clienti di Amazon e le consegne rapide aiutano i clienti a consegnare facilmente i prodotti e migliorano la loro esperienza di acquisto. Inoltre, questo aiuta ad acquisire milioni di clienti da acquistare dal loro sito Web (amazon.com).
I principali concorrenti di Amazon nelle vendite online sono eBay, Etsy, and Alibaba.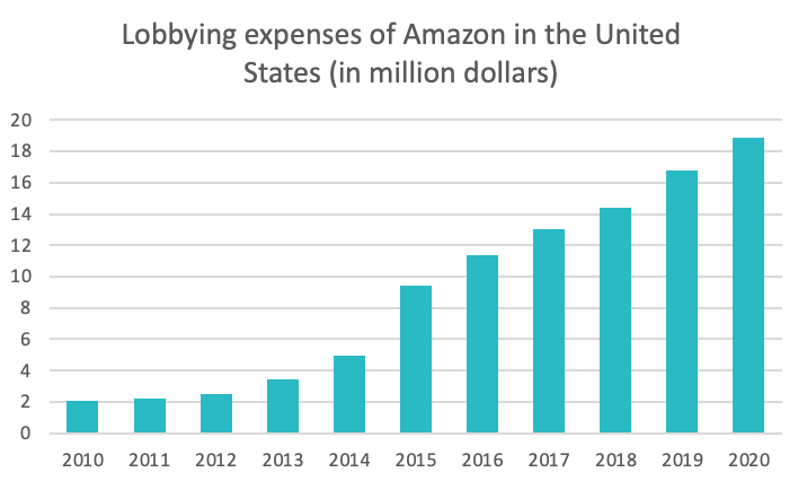 Source : statista.com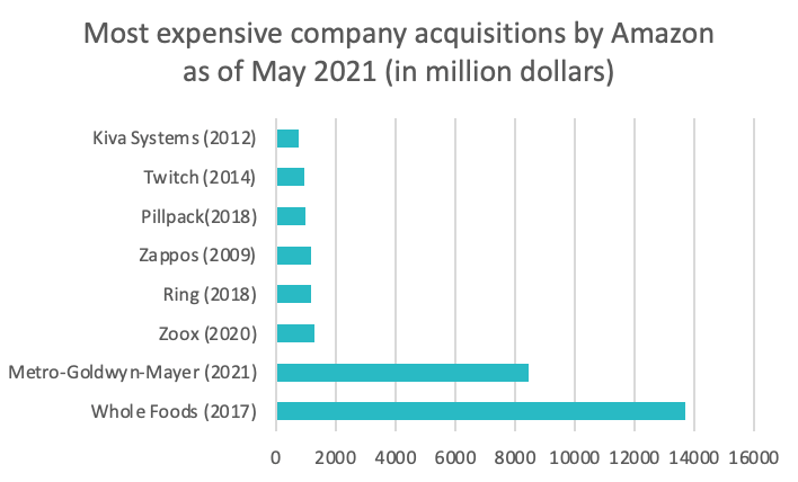 Source : statista.com
Storia e background dell'azienda Amazon 
Amazon è stato creato da Jeffrey Bezos nel 1994 inizialmente per vendere libri su Internet. Un mese dopo, la società inviava libri in 40 paesi. Successivamente, Amazon ha deciso di diversificare la propria offerta e ha iniziato con la vendita di musica e DVD. Successivamente, ha attaccato il mercato dell'elettronica, dei giocattoli e delle attrezzature da cucina. La moltiplicazione delle aree di stoccaggio consentirà di ampliare sempre più la gamma dei prodotti e di attirare meglio l'attenzione del pubblico. Dopo un decennio, Amazon si era posizionata come leader essenziale nelle vendite online in tutto il mondo. Secondo la strategia del suo fondatore, Jeff Bezos, la maggior parte dei profitti veniva costantemente reinvestita nell'azienda. Nel 2005, per premiare i clienti fedeli e offrire un servizio sempre più veloce e qualitativo, Amazon ha lanciato Prime, che ha conquistato più di cento milioni di utenti. (Source:Forbes)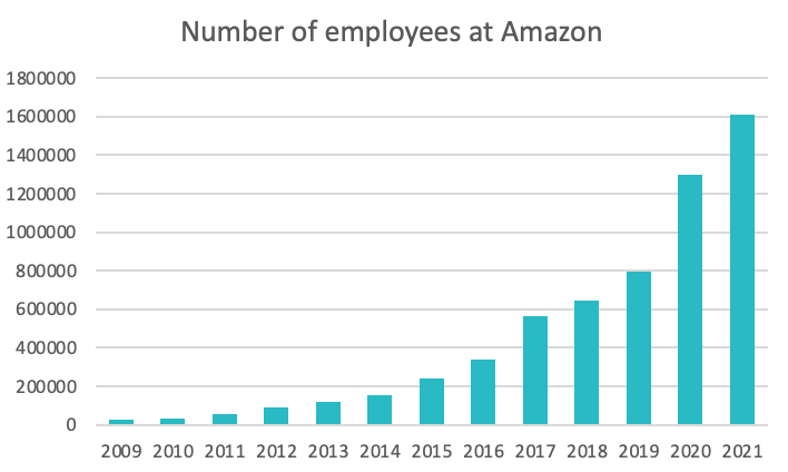 Source : macrotrends.com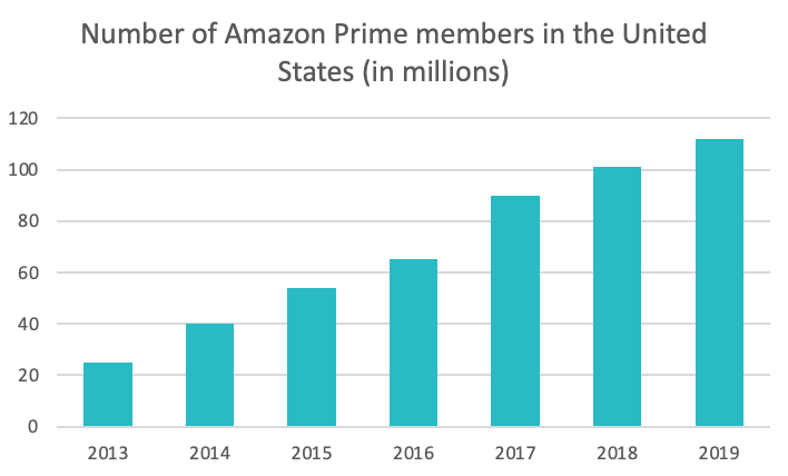 Source : statista.com
 Chi è Jeffrey Bezos, fondatore di Amazon? 
Jeffrey Bezos è nato nel 1964 ed è cresciuto da genitori adottivi. Appassionato di fisica e computer, ha studiato allaPrinceton University. Nel 1986 si è laureato con un Bachelor of Arts and Science. Ha poi lavorato a Wall Street, fino a diventare vicepresidente di D.E. Shawn.
Nel 1994 lanciò ilprogetto Cadabra, che presto ribattezzò con il nome dell'azienda che tutti conosciamo,Amazon. Il suo progetto era renderlo la libreria più grande della Terra, ma aspirava anche a sviluppare il suo progetto. Tre anni dopo, ha deciso di diversificare e vendere altri articoli. Nel 1999, Time lo ha incoronato uomo dell'anno e re di Internet.
Questo è stato seguito da una lunga carriera come CEO di Amazon, che gli è valsa il titolo di uomo più ricco del mondo nel 2017, con una fortuna di oltre$ 100 miliardi< /strong>.(Fonte:Forbes )
Il 5 luglio 2021, Jeff Bezos ha finalmente deciso di dimettersi dalla carica di CEO di Amazon, ma ha comunque continuato a ricoprire la carica di presidente di il bordo.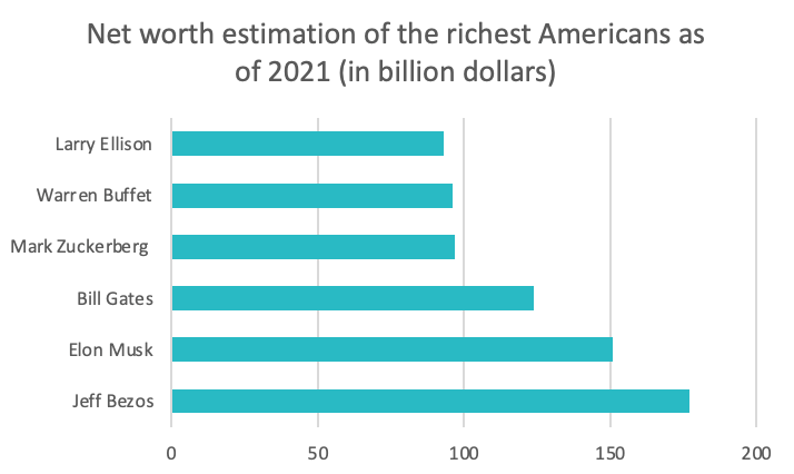 Source : statista.com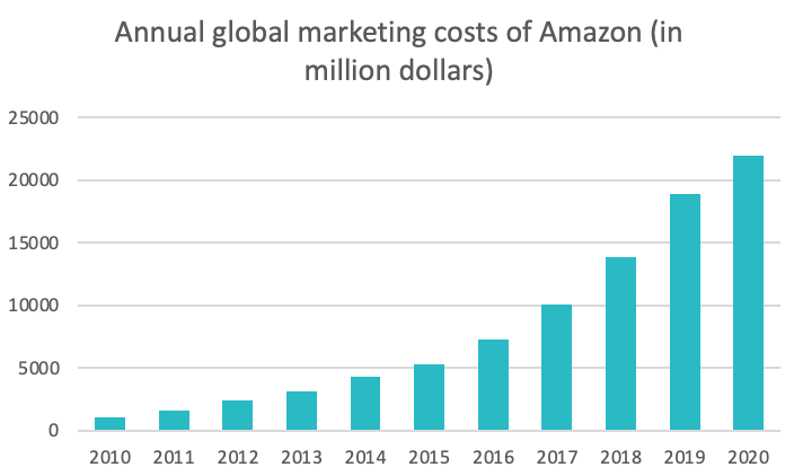 Source : statista.com
Il mercato
Amazon opera nelmercato dell'e-commerce. Si tratta di un mercato "relativamente" giovane, visto che è stato necessario attendere la democratizzazione di internet affinché le vendite online fossero possibili. Ma oggi,nessuno immaginerebbe un mondo senza e-commerce. La crisi sanitaria globale ha accentuato la crescita delle vendite online negli ultimi 6 anni. Poiché i negozi erano chiusi da tempo e le persone avevano paura di uscire, questa modalità di acquisto è statarapidamente adottata in tutto il mondo. Questa spinta ha permesso alle aziende di crescere ancora di più, e offrire così nuovi servizi, più efficienti e più convenienti rispetto al commercio fisico.
Con l'evoluzione del modo di vivere e di acquistare, è certo che la vendita online è, e rimarrà, unmercato forte e sostenibile.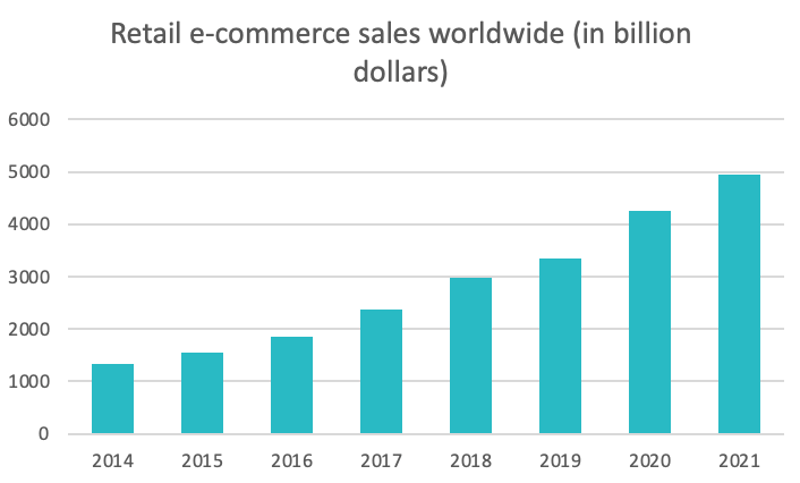 Source : statista.com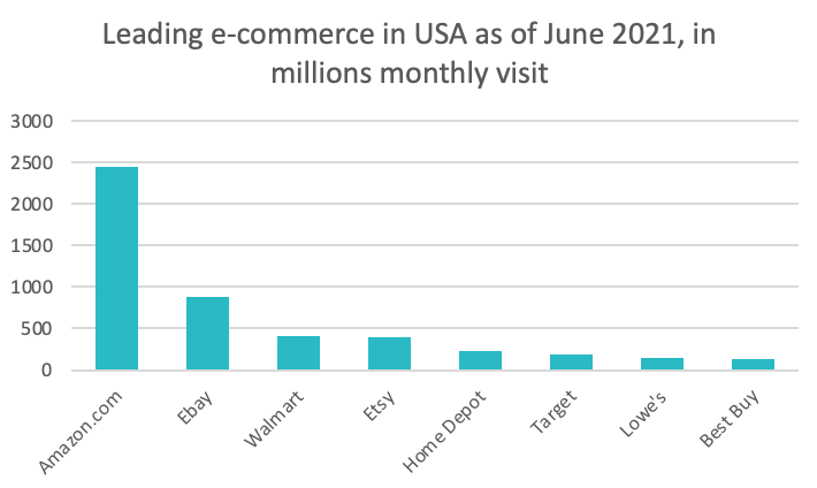 Source : statista.com
Cifre chiave e indicatori finanziari
Market capitalization: $1.374  Trillion 1(August 1, 2022)
Revenue: $469.822 billion 2(2021)
Net income: $33.364 billion 3(2021)
Dividends paid: No dividends
Earnings per share: $64.81(2021)
Price-to-earnings ratio(TTM): 40.90x 4(May 12, 2022)
Debt-to-capital ratio: 0.35x5(2022)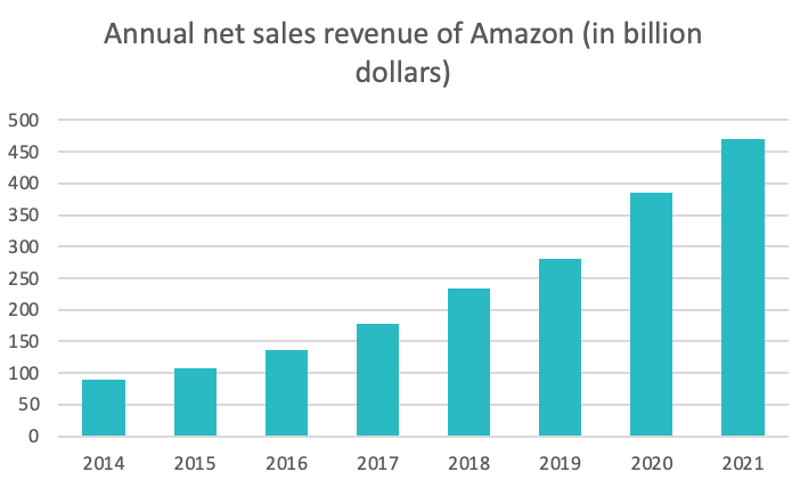 Source : statista.com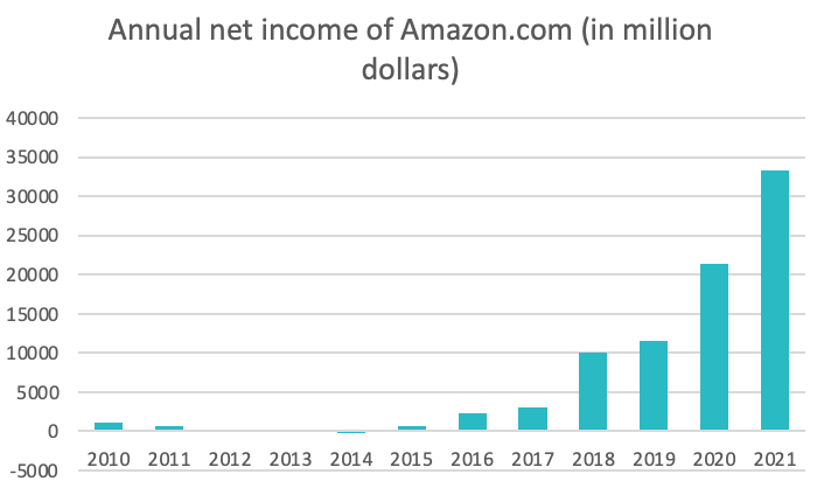 Source : statista.com
Graniteshares Offering Products
Amazon
Sources
DISCLAIMER
Questo è un disclaimer che afferma che tutto il trading e gli investimenti comportano dei rischi. Fai sempre le tue ricerche e non investire più di quanto puoi permetterti di spendere.
GraniteShares non si assume alcuna responsabilità per eventuali perdite o danni derivanti direttamente o indirettamente dall'uso di questo blog o dei contenuti. GraniteShares Limited ("GraniteShares") (FRN: 798443) è un rappresentante designato di Messels Limited che è autorizzata e regolamentata dalla Financial Conduct Authority.
Questo blog non costituisce un'offerta di acquisto o vendita o una sollecitazione di un'offerta di acquisto di titoli in alcuna società. Nulla di quanto contenuto nel presente documento costituisce consulenza di investimento, legale, fiscale o di altro tipo né si deve fare affidamento su di esso per effettuare un investimento o altra decisione. Non viene fatta alcuna raccomandazione positiva o meno riguardo a singoli titoli o investimenti qui menzionati. Qualsiasi elenco riassuntivo di fattori di rischio non pretende di essere un'enumerazione completa o una spiegazione dei rischi coinvolti in un particolare investimento. I potenziali clienti devono consultare i propri consulenti legali, fiscali e finanziari prima di decidere di investire. Questa email contiene le opinioni dell'autore e tali opinioni sono soggette a modifiche senza preavviso. La fonte dei dati è GraniteShares, salvo diversa indicazione. Non viene fornita alcuna garanzia per l'accuratezza delle informazioni fornite che sono state ottenute da fonti ritenute affidabili. Questa e-mail e le informazioni qui contenute sono destinate esclusivamente all'uso delle persone (o entità che rappresentano) a cui sono state fornite. La performance passata non è un indicatore affidabile dei risultati futuri. Il valore di un investimento può aumentare o diminuire e può comportare perdite, fino alla perdita totale dell'importo inizialmente investito. Gli investimenti possono comportare numerosi rischi inclusi, tra gli altri, rischi aziendali, rischi di mercato generali, rischi di credito, rischi di cambio, rischi di tasso di interesse, rischi geopolitici e rischi di liquidità. Si prega di notare che gli Exchange Traded Products short e con leva finanziaria di GraniteShares sono per investitori sofisticati.