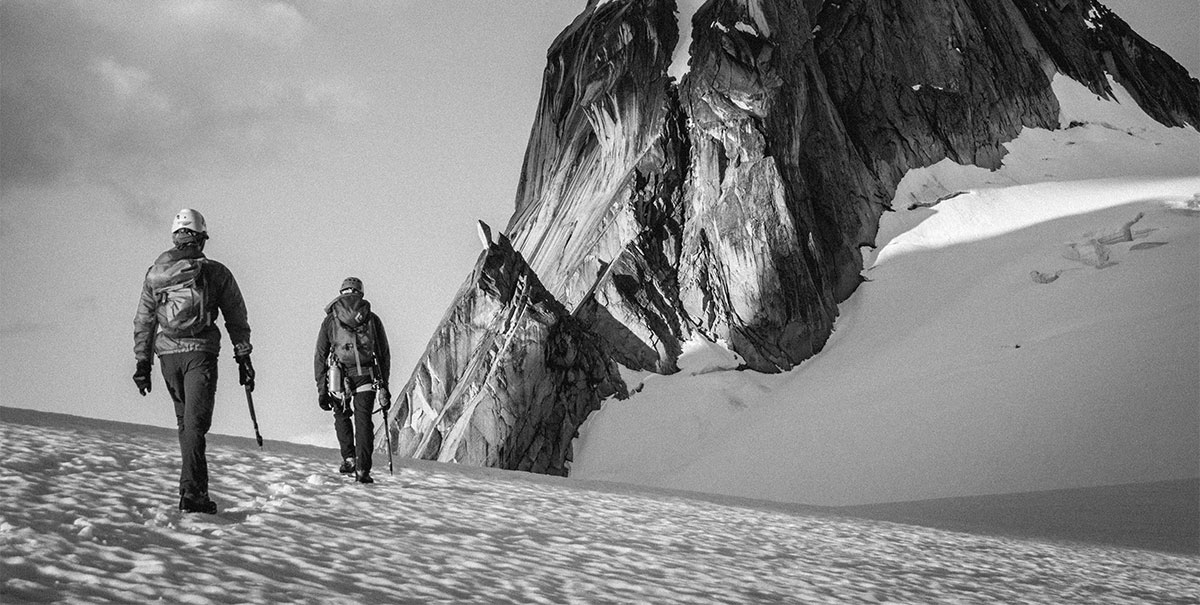 Tutto quello che c'è da sapere sull'azienda Microsoft
Microsoft Company, Storia e sfondo
Microsoft Corporation è un gigante tecnologico multinazionale con sede in America che produce software per computer, personal computer, elettronica di consumo e servizi correlati con sede presso il campus Microsoft Redmond situato a Redmond, Washington, Stati Uniti.
L'azienda pubblica anche libri e titoli multimediali, produce una propria linea di tablet ibridi, fornisce servizi di posta elettronica e vende sistemi di gioco elettronici e periferiche per computer.
I prodotti più noti dell'azienda sono la linea di sistemi operativi Windows, Internet Explorer, Microsoft Office Suite e i browser Web Edge. I prodotti hardware di punta dell'azienda includono le console per videogiochi Xbox e la linea Surface di personal computer touch screen.
Inoltre, l'azienda ha collaborato con circa 17 agenzie intelligenti americane per sviluppare prodotti informatici basati su cloud. Microsoft Azure Service Platform è stato l'ingresso dell'azienda nel mercato del cloud computing lanciato il 27 ottobre 2008. Nel 2016, Microsoft ha annunciato un progetto denominato Microsoft Windows Azure Information Protection con l'obiettivo di aiutare le aziende a proteggere i propri dati mentre si spostano tra server e dispositivi.
Contrariamente agli anni passati, Microsoft è più focalizzata sull'approfondimento delle esigenze specifiche di ciascun settore e sul supporto ai clienti affinché lavorino più da vicino sulle esigenze di ciascun settore e sulle nuove funzionalità che possono essere implementate.
I principali concorrenti di Microsoft sono Apple, IBM, Oracle e Intel.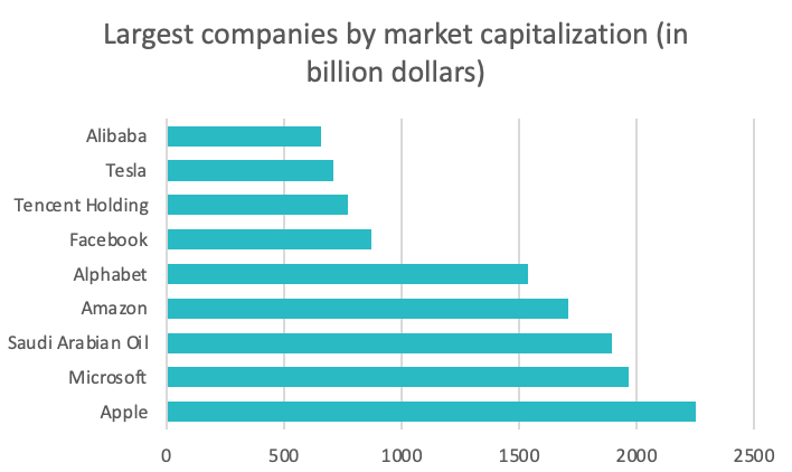 Source : statista.com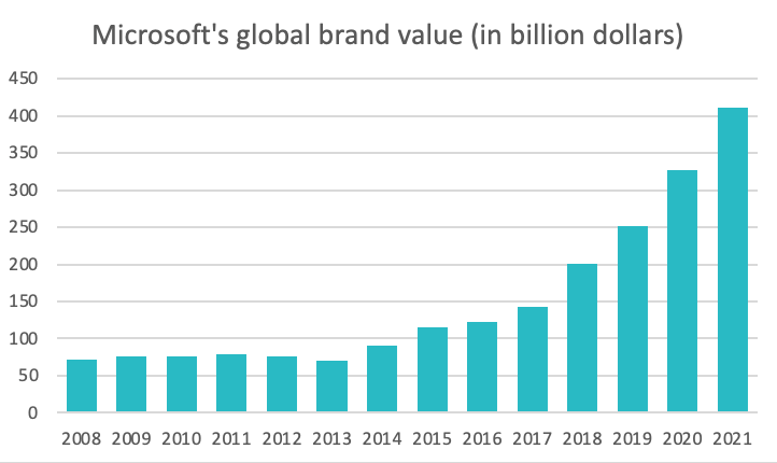 Source : statista.com
Evoluzione di Microsoft e del suo modello di business
Microsoft è stata fondata il 4 aprile 1975 negli Stati Uniti da Bill Gates e Paul Allen. Il primo obiettivo dell'azienda era sviluppare e vendere programmi per computer, poi è diventata uno dei subappaltatori di IBM. Nel dicembre 1978, l'azienda ha superato il milione di vendite. A metà degli anni '80, Microsoft si staccò da IBM dominando il mercato dei sistemi operativi per personal computer con MS-DOS.
Nel 1986, la società è stata quotata in borsa a $ 21 per azione.
Durante il periodo 1993-2001, insieme ad alcune mosse di marketing, Windows, in precedenza un semplice ambiente grafico per MS-DOS, è diventato un sistema operativo completo. Windows divenne rapidamente il più grande successo di Microsoft e il prodotto di punta di un'azienda, generando molti profitti. Questa è stata la strategia di Folt lanciata dal lancio di Xbox nel 2001, dall'acquisizione di Skype nel 2011 e dall'acquisizione di LinkedIn nel 2016.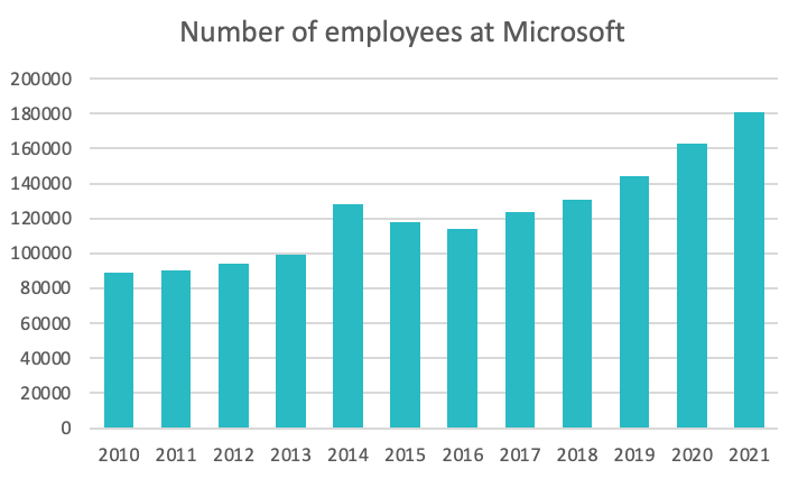 Source : macrotrends.com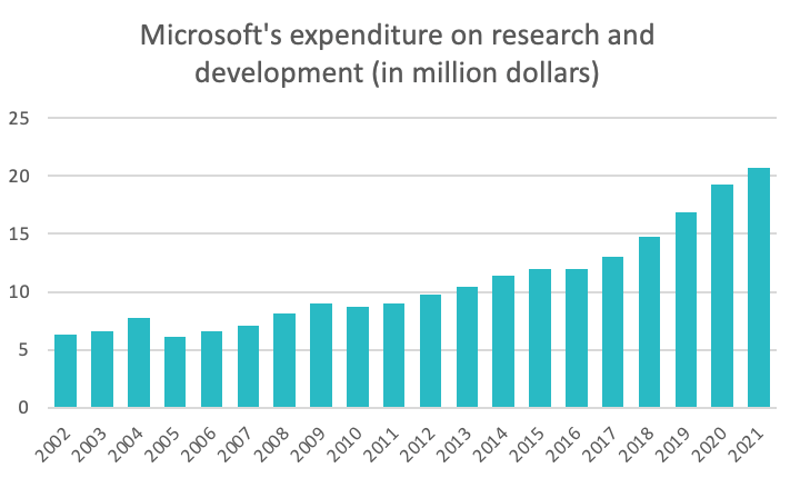 Source : statista.com
Chi è il CEO e co-fondatore di Microsoft?
Bill Gates, nato nel 1955 negli Stati Uniti, è un scienziato informatico, imprenditore e miliardario conosciuto in tutto il mondo come co-fondatore di Microsoft. Nel 1973 entrò ad Harvard come studente del primo anno, ma non andò oltre. Con il suo collega Paul Allen, ha iniziato a sviluppare il primo linguaggio per computer compatibile con il microcomputer Altair 8800. Hanno quindi creato Microsoft per commercializzare il loro software.
La società ha ricevuto g e Bill Gates è diventato un miliardario quando Microsoft è diventata pubblica nel 1986. Nel 1996, è diventato l'uomo più ricco del mondo. Oggi è al quinto posto in questa classifica. (Fonte: affari oggi)
Agli occhi di molti, Bill Gates è considerato uno dei pionieri dell'apertura del mondo dei computer al grande pubblico. Pochissime aziende hanno un'immagine così strettamente collegata al loro fondatore come Microsoft.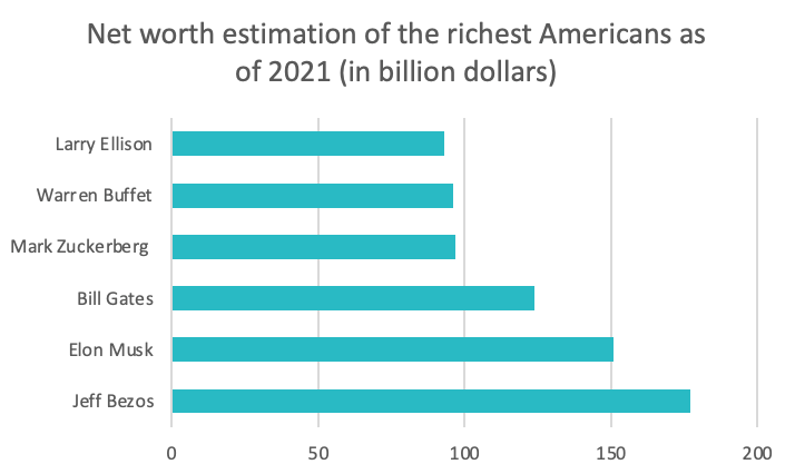 Source : statista.com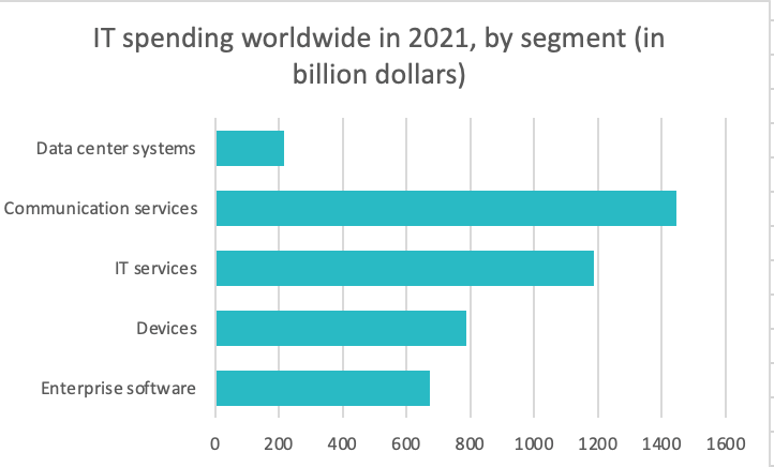 Source : statista.com
Il mercato
Microsoft Corporation è una società tecnologica multinazionale americana che sviluppa, produce, concede in licenza il supporto e vende software per computer, elettronica di consumo, personal computer e servizi. Il business dei computer ha sperimentato un'esplosione di opportunità creata dalla democratizzazione di Internet e degli strumenti informatici alla fine del ventesimo secolo. forte>. Oggi, sebbene ogni anno vengano create molte nuove aziende in questo settore, alcune hanno dominato il mercato per molto tempo.
Più passa il tempo, più clienti ci sono in questo mercato. Per distinguersi e rimanere competitivi, le aziende devono innovare e offrire sempre prestazioni sempre più elevate. È un settore molto dinamico, in costante sviluppo, e gli attori di questo mercato devono tenerne conto.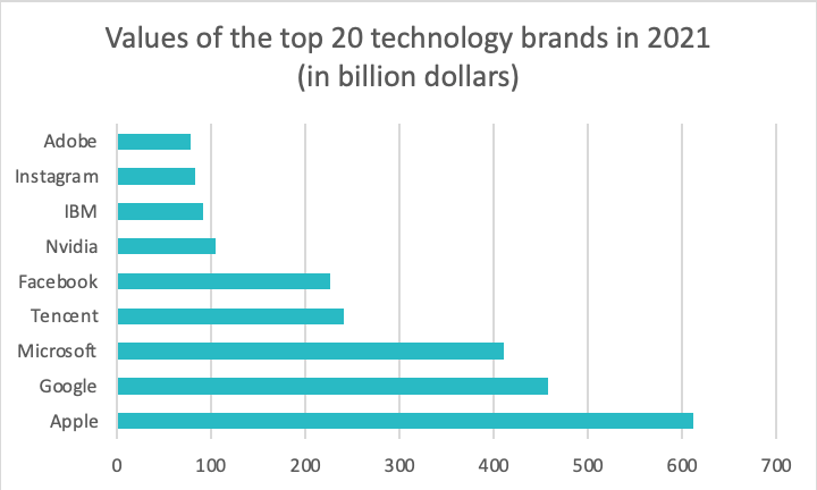 Source : statista.com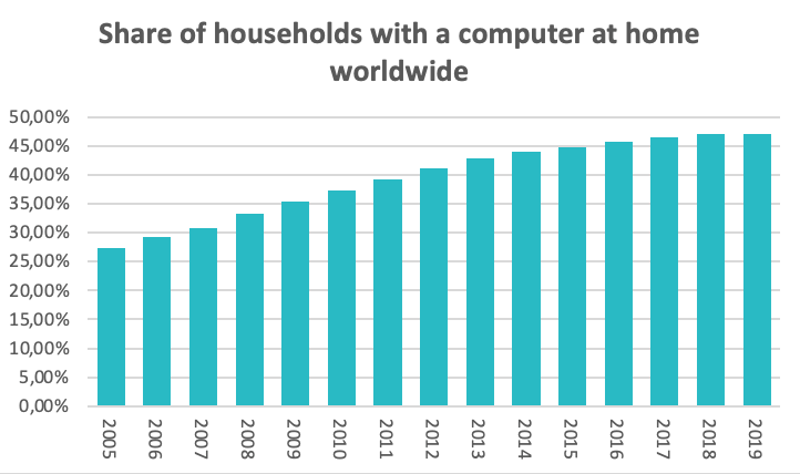 Source : statista.com
Cifre chiave e indicatori finanziari
Market capitalisation : $2.049 trillion 1(August 3, 2022)
Revenue : $184.903 billions 2(2021)
Net income: $71.185 billions 3( 2021)
Dividends paid: Continuously since 2015, 4 times a year
Earnings per share: $9.344(2021)
Price to earnings ratio : ≃27.26 5(May 13, 2022)
Debt to equity ratio : 0.30 6(2022)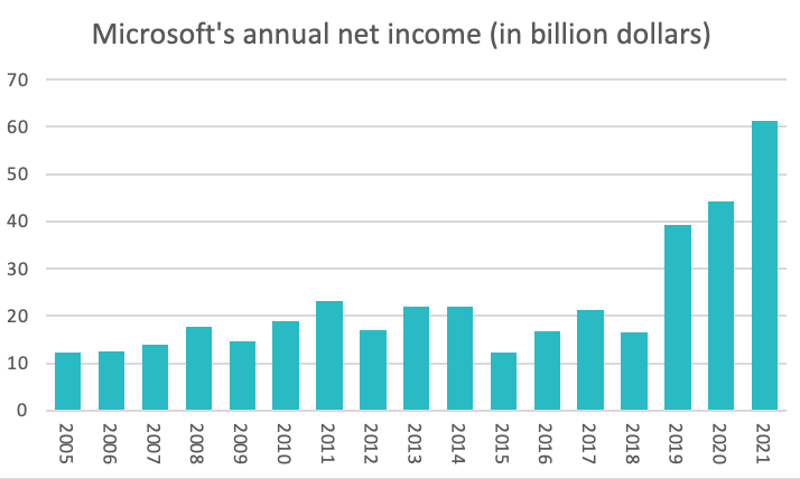 Source : statista.com
Source : statista.com
Graniteshares Offering Products
<h$>MICROSOFT
Sources
DISCLAIMER
Questo è un disclaimer che afferma che tutto il trading e gli investimenti comportano dei rischi. Fai sempre le tue ricerche e non investire più di quanto puoi permetterti di spendere.
GraniteShares non si assume alcuna responsabilità per eventuali perdite o danni derivanti direttamente o indirettamente dall'uso di questo blog o dei contenuti. GraniteShares Limited ("GraniteShares") (FRN: 798443) è un rappresentante designato di Messels Limited che è autorizzata e regolamentata dalla Financial Conduct Authority.
Questo blog non costituisce un'offerta di acquisto o vendita o una sollecitazione di un'offerta di acquisto di titoli in alcuna società. Nulla di quanto contenuto nel presente documento costituisce consulenza di investimento, legale, fiscale o di altro tipo né si deve fare affidamento su di esso per effettuare un investimento o altra decisione. Non viene fatta alcuna raccomandazione positiva o meno riguardo a singoli titoli o investimenti qui menzionati. Qualsiasi elenco riassuntivo di fattori di rischio non pretende di essere un'enumerazione completa o una spiegazione dei rischi coinvolti in un particolare investimento. I potenziali clienti devono consultare i propri consulenti legali, fiscali e finanziari prima di decidere di investire. Questa email contiene le opinioni dell'autore e tali opinioni sono soggette a modifiche senza preavviso. La fonte dei dati è GraniteShares, salvo diversa indicazione. Non viene fornita alcuna garanzia per l'accuratezza delle informazioni fornite che sono state ottenute da fonti ritenute affidabili. Questa e-mail e le informazioni qui contenute sono destinate esclusivamente all'uso delle persone (o entità che rappresentano) a cui sono state fornite. La performance passata non è un indicatore affidabile dei risultati futuri. Il valore di un investimento può aumentare o diminuire e può comportare perdite, fino alla perdita totale dell'importo inizialmente investito. Gli investimenti possono comportare numerosi rischi inclusi, tra gli altri, rischi aziendali, rischi di mercato generali, rischi di credito, rischi di cambio, rischi di tasso di interesse, rischi geopolitici e rischi di liquidità. Si prega di notare che gli Exchange Traded Products short e con leva finanziaria di GraniteShares sono per investitori sofisticati.