Apple Q3 Earnings Report 2023
Posted: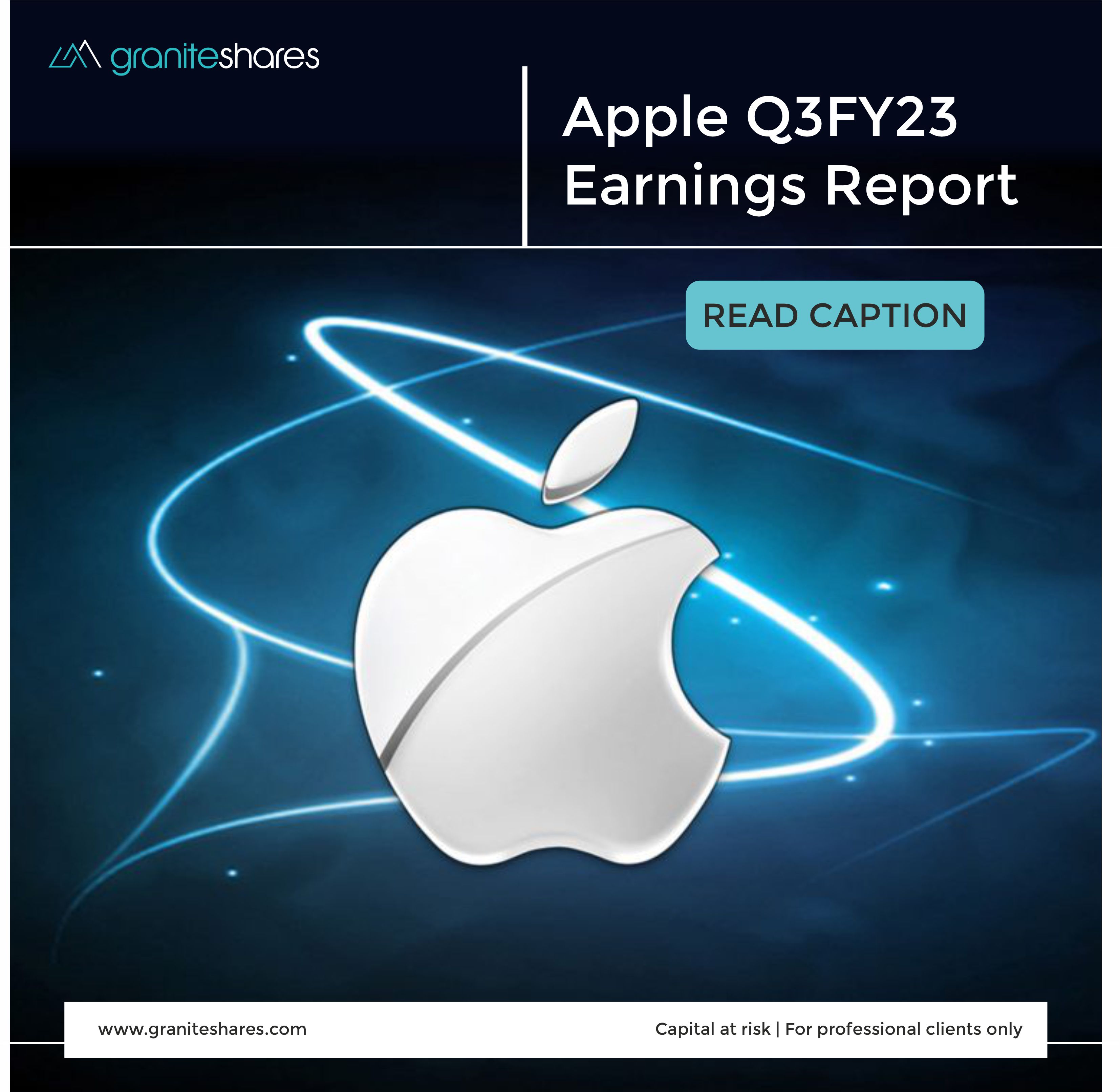 Apple for Q3FY23 posted quarterly revenue of $81.8 billion as compared to $82.96 billion same period last year, down 1% YoY. (Source: Apple)
On a segmental basis, the company reported that we had an all-time revenue record in the Services segment that reported $21.21 billion in revenues up by 8% on a YoY basis driven by over 1 billion paid subscriptions, making it an all-time revenue record in Services during the June quarter. The services segment of Apple includes Advertising, AppleCare, Cloud services, Digital content, and Payment services. The company reported iPhone revenue of $39.67 billion down by 2% YoY.  Mac revenue for the June quarter stood at $6.84 billion, down by 7%  YoY. Moreover, iPad revenue was $5.79 billion, which fell by 20%  YoY. Other Products revenue for the company was at $8.28 billion up by 2% YoY. (Source: Apple Earnings Call) 
Apple reported Q3FY23 strong cash from operating activities of $166.5 billion. (Source: Apple)
The company's CFO Luca Maestri on the company's earnings call said that the company expects the September quarter sales results to be similar to its June quarter performance, where overall revenue fell over 1%  YoY assuming that the macroeconomic outlook doesn't worsen from what they are projecting for the current quarter. (Source: Apple Earnings Call) 
He also mentioned that the foreign exchange will continue to be a headwind and they expect a negative YoY revenue impact of over 2 percentage points going forward. (Source: Apple Earnings Call) 
However, he expects that iPhone sales will do better than a 2% decline in the June quarter in the future.
The company expects a strong growth rate for Apple's Services division in the following period. (Source: Apple Earnings Call) 
Moreover, CFO Luca Maestri mentioned that the company also expects the revenue for both Mac and iPad to decline by double digits on a YoY basis due to difficult compares, particularly on the Mac. (Source: Apple Earnings Call) 
Also, Apple forecasts gross margins to be between 44% and 45%. Moreover, they expect OpEx to be in the range of $13.5 and $13.7 billion going forward. (Source: Apple Earnings Call) 
On August 03, Apple's shares fell by 2.5% in after-hours trading session. (Source: Yahoo)
Visit Us: https://graniteshares.com/institutional/uk/en-uk/
Capital at Risk | For Professional Clients Only
#Apple #AAPL #StockMarket #Investing #Finance #TechStocks #iPhone #iPad #Mac #FAANG #AppleEarnings #AAPLEarnings #EarningsReport #QuarterlyEarnings #StockMarket #TechStocks #Investing #Finance
Apple today announced financial results for its fiscal 2023 third quarter ended July 1, 2023.