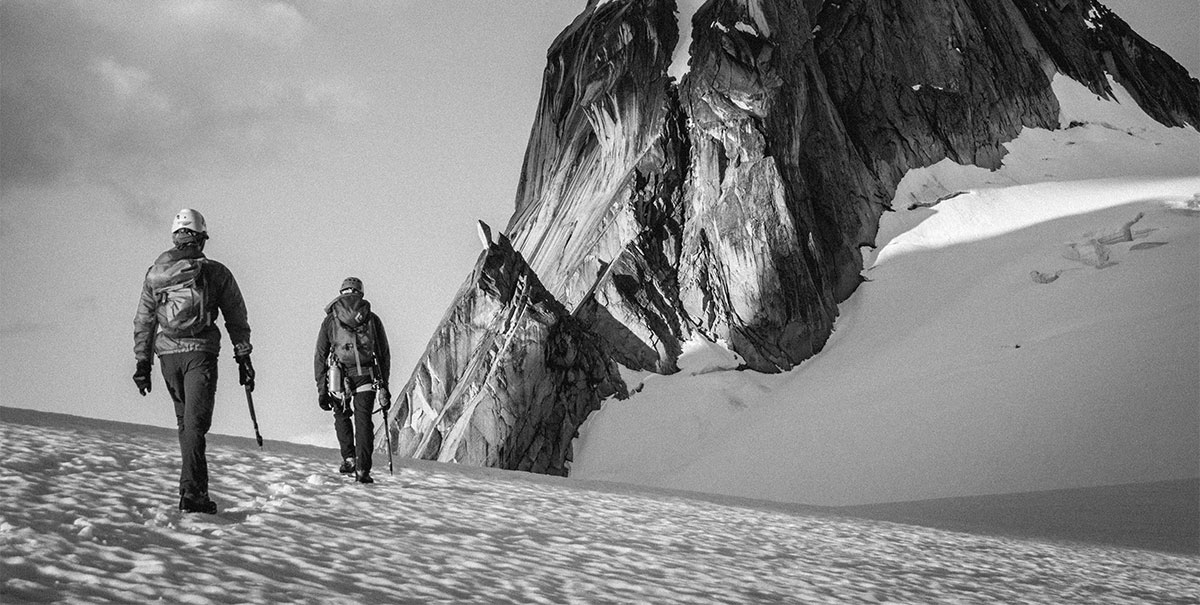 Moderna,Uno dei principali attori della crisi sanitaria globale
Presentazione della Società
Moderna (NASDAQ: MRNA) è un'azienda di biotecnologie con sede negli Stati Uniti focalizzata sullo sviluppo di "terapie proteiche ", principalmente vaccini, basati sulla tecnologia dell'RNA messaggero. L'unico prodotto commercializzato dall'azienda è il Moderna COVID -19 vaccino, che è approvato in 70 paesi. Nel 2022, l'azienda aveva 44 trattamento e candidati al vaccino, 21 dei quali sono entrati negli studi clinici. Gli obiettivi dei candidati al vaccino includono, tra gli altri, influenza, HIV e chikungunya.
I principali concorrenti di Moderna sono Sanofi, Pfizer e AstraZeneca.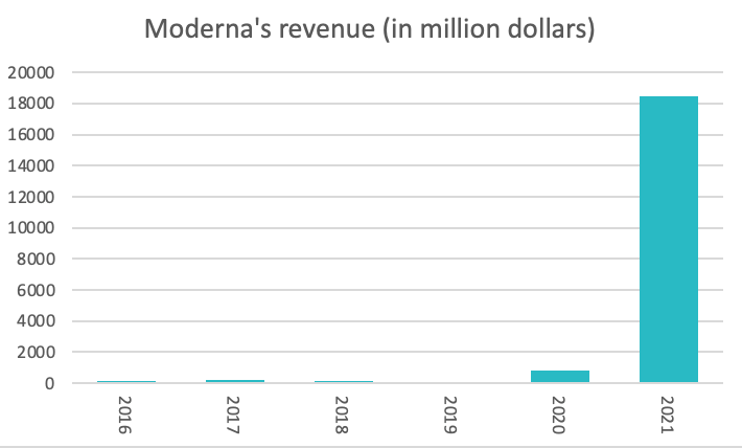 Source : macrotrends.com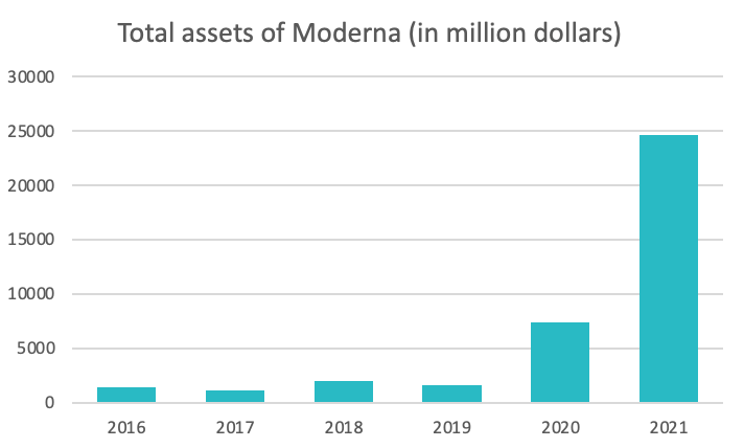 Source : statista.com
Storia di Moderna
Nel 2010, Derrick Rossi, che sta studiando l'attivazione immunitaria mediata dall'RNA, ha deciso di creare "ModeRNA Therapeutics" con l'aiuto di Timothy Springer. Fino al 2018, l'azienda sta testando e collaborando privatamente con altre società, ma senza commercializzare nulla.
Nel dicembre 2018, Moderna (NASDAQ: MRNA) è diventata pubblica attraverso la più grande IPO biotecnologica in < forte>storia, raccogliendo 621 milioni di dollari (27 milioni condivisioni a $ 23 per condividi).
Moderna non commercializzerà i suoi vaccini fino a dicembre 2020, una volta che il loro vaccino contro il coronavirus sarà approvato.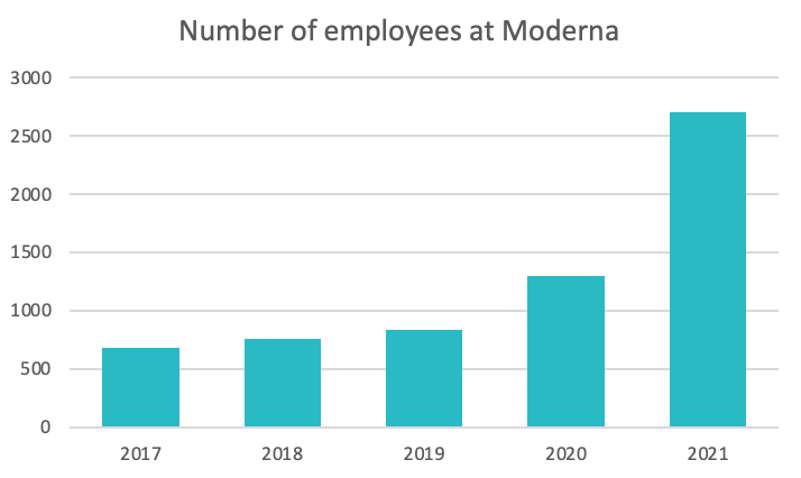 Source : macrotrends.com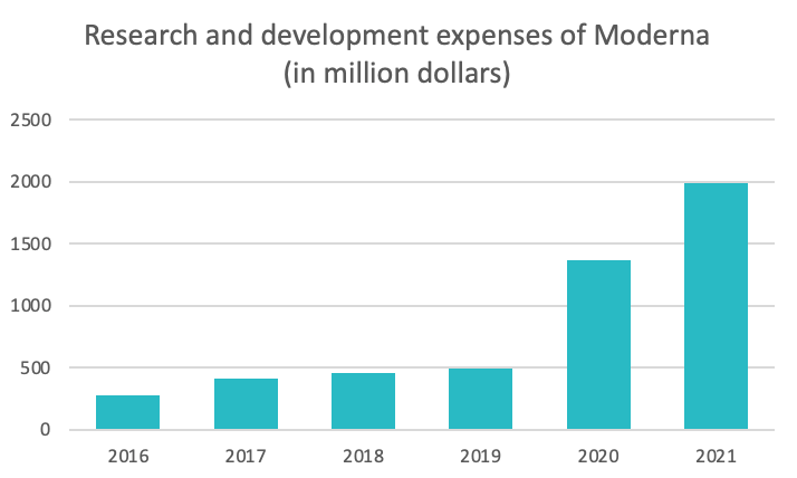 Source : statista.com
Il mercato
Il mercato della salute è sicuramente uno dei mercati più antichi esistenti, poiché la buona salute è essenziale per tutti. Al giorno d'oggi, è un settore che crea molti posti di lavoro e richiede molte conoscenze e rigore.
Per garantire la stabilità e la redditività delle sue aziende, un mercato deve avere spazio per la crescita. Come si può vedere nel primo grafico, le industrie sanitarie sono in testa in termini di investimenti in ricerca e sviluppo rispetto alle vendite nette, il che dimostra che il settore è in costante evoluzione.
Questi fatti sono ancora più attuali con la crisi sanitaria globale, dove l'innegabile importanza di questo settore è stato ulteriormente dimostrato.
Inoltre, l'aspettativa di vita aumenta in tutti i paesi sviluppati, così come l'importo speso pro capite. Anche l'accesso alle cure mediche sta diventando più democratico nei paesi emergenti.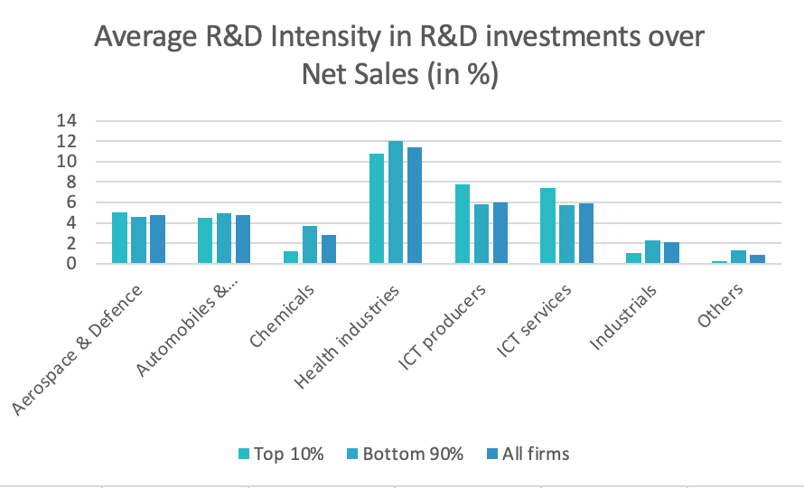 Source : statista.com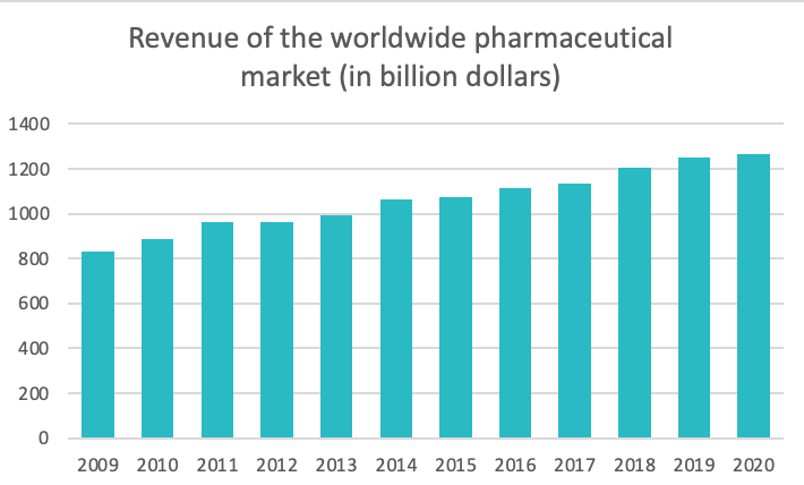 Source : statista.com
Cifre chiave e indici finanziari
Market capitalization June 2022: $50.56 billion 1
Revenue: $18.471 billion 2(2022)
Net income: $12.202 billion 3(2022)
Dividends paid: No dividends
Earnings per share: $28.284(2021)
Price to earnings ratio: ≃3.74x 5(2022)
Debt to Capital ratio: 0.06 6(2022)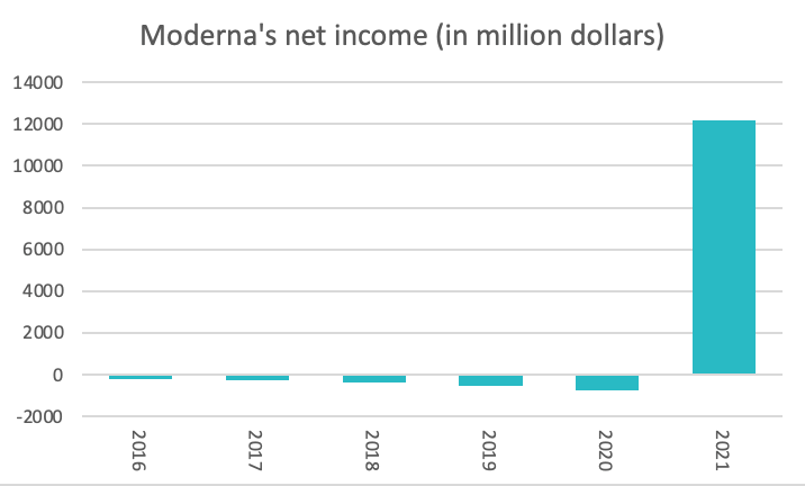 Source : macrotrends.com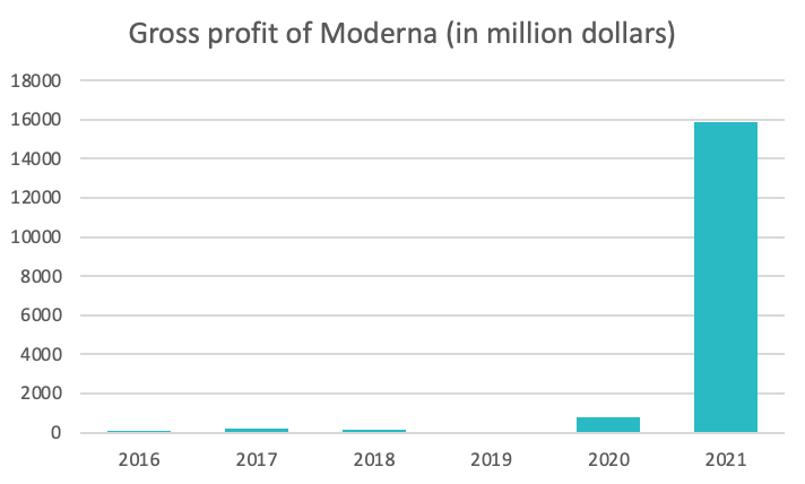 Source : macrotrends.com
Graniteshares offre prodotti
MODERNA
Sources
DISCLAIMER
Questo è un disclaimer che afferma che tutto il trading e gli investimenti comportano dei rischi. Fai sempre le tue ricerche e non investire più di quanto puoi permetterti di spendere.
GraniteShares non si assume alcuna responsabilità per eventuali perdite o danni derivanti direttamente o indirettamente dall'uso di questo blog o dei contenuti. GraniteShares Limited ("GraniteShares") (FRN: 798443) è un rappresentante designato di Messels Limited che è autorizzata e regolamentata dalla Financial Conduct Authority.
Questo blog non costituisce un'offerta di acquisto o vendita o una sollecitazione di un'offerta di acquisto di titoli in alcuna società. Nulla di quanto contenuto nel presente documento costituisce consulenza di investimento, legale, fiscale o di altro tipo né si deve fare affidamento su di esso per effettuare un investimento o altra decisione. Non viene fatta alcuna raccomandazione positiva o meno riguardo a singoli titoli o investimenti qui menzionati. Qualsiasi elenco riassuntivo di fattori di rischio non pretende di essere un'enumerazione completa o una spiegazione dei rischi coinvolti in un particolare investimento. I potenziali clienti devono consultare i propri consulenti legali, fiscali e finanziari prima di decidere di investire. Questa email contiene le opinioni dell'autore e tali opinioni sono soggette a modifiche senza preavviso. La fonte dei dati è GraniteShares, salvo diversa indicazione. Non viene fornita alcuna garanzia per l'accuratezza delle informazioni fornite che sono state ottenute da fonti ritenute affidabili. Questa e-mail e le informazioni qui contenute sono destinate esclusivamente all'uso delle persone (o entità che rappresentano) a cui sono state fornite. La performance passata non è un indicatore affidabile dei risultati futuri. Il valore di un investimento può aumentare o diminuire e può comportare perdite, fino alla perdita totale dell'importo inizialmente investito. Gli investimenti possono comportare numerosi rischi inclusi, tra gli altri, rischi aziendali, rischi di mercato generali, rischi di credito, rischi di cambio, rischi di tasso di interesse, rischi geopolitici e rischi di liquidità. Si prega di notare che gli Exchange Traded Products short e con leva finanziaria di GraniteShares sono per investitori sofisticati.