Barclay's Earnings Q3 2023
Posted: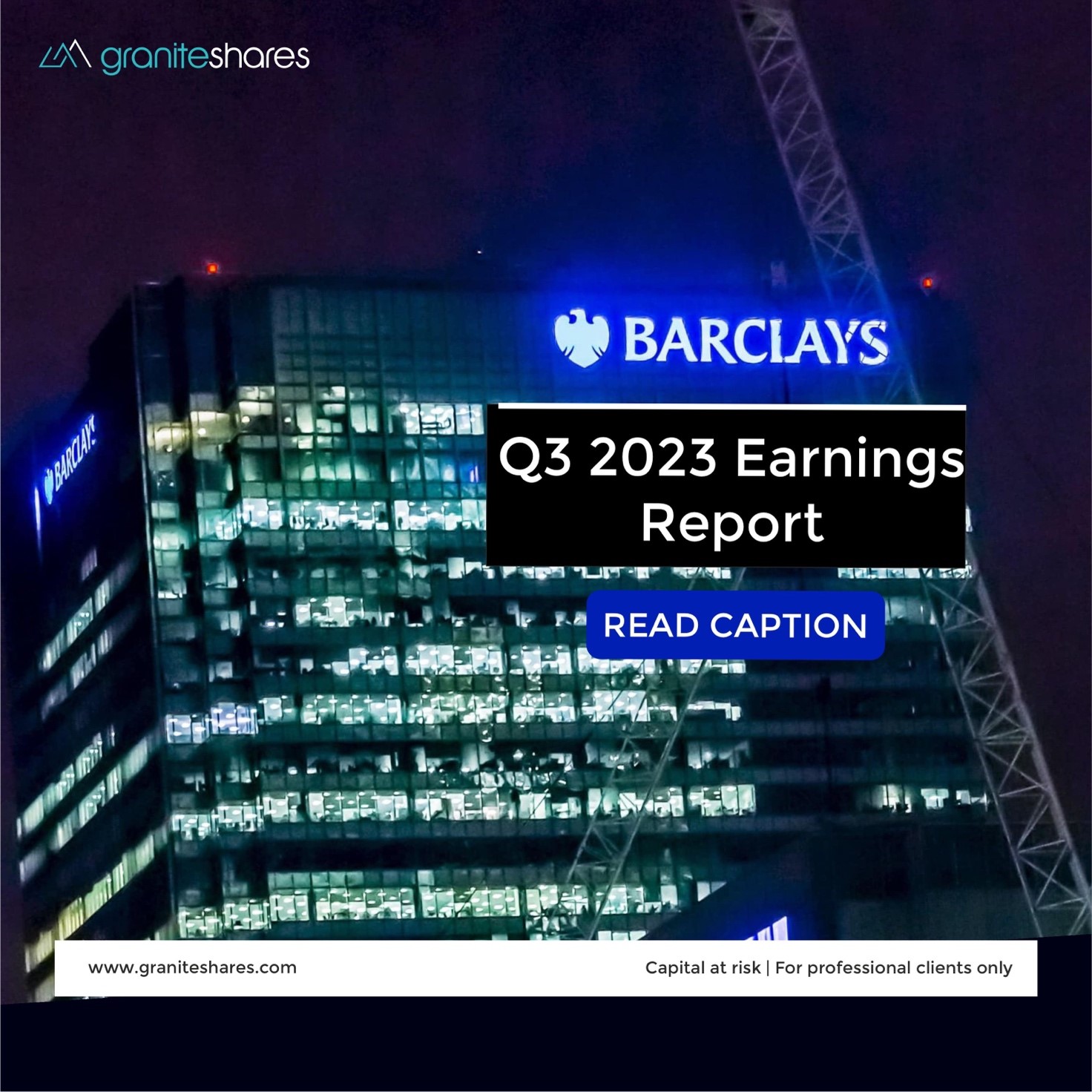 Barclay's Stock Slump after Murky Outlook and Decline in its Net Income
Barclay's for Q3Fy23 reported a Return on Tangible Equity (RoTE) of 11.0% and Q323 YTD of 12.5% as compared to 10.9% Q3FY22 YTD. The pre-tax profit of £1.9 billion experienced a marginal decrease of 4% compared to the previous year's corresponding period. This decline was attributed to concerns about a potential increase in customer defaults and a slowdown in corporate transactions that impacted the investment bank's earnings. (Source: Barclays)
The London-based bank reported a net profit of £1.27 billion, marking a 16% year-on-year decline however the bank's consumer and credit card businesses helped to offset weakening investment bank revenues. (Source: Barclays)
The bank reported revenue of £3.1 billion. In particular, corporate and investment banking saw a 6% decline in income and payments saw a 9% increase, reaching £1.4 billion. This increase can be attributed to higher balances on U.S. cards. This increase can be attributed to higher balances on U.S. cards. Additionally, the business unit received a boost from the inclusion of Wealth Management & Investments from Barclays UK. Excluding this transfer, Barclays UK's income increased by 1%. This growth was driven by an expansion in net interest income due to higher interest rates, including the ongoing benefits from structural hedge income. However, these positive factors were partially counterbalanced by changes in product dynamics related to deposits and mortgages. (Source: Barclays)
The CET1 ratio, which serves as an indicator of a bank's financial strength, increased to 14% from the previous quarter's 13.8% maintaining a strong capital position. (Source: Barclays)
Barclay's delivered Net interest income (NIM) of £4.86 billion rose by 13% YoY. Also, NIM stood at 3.15% as compared to Q322 YTD of 2.78%. Moreover, Personal Banking income rose by 11% to £3.66 billion YoY. The increase can be attributed to the rise in interest rates, although this positive effect was partially mitigated by the compression of mortgage margins and a decrease in current account deposit volumes, which align with broader market trends and the economic pressures related to the cost of living. (Source: Barclays)
The bank has said that it will outline its capital allocation priorities and revised financial objectives in an investor update, along with its full-year earnings. (Source: Barclays)
Barclay's has further warned the investors of alluded to significant cost-cutting measures that will be disclosed later in the year. In its earnings report, the bank mentioned that it is currently assessing strategies to decrease structural costs, with the goal of enhancing future returns. This evaluation may lead to notable additional charges in the Q4FY23. (Source: Barclays)
The bank has lowered its net interest margin projection for the U.K. bank to a new range of 3.05% to 3.1%, a decrease from the previous guidance of approximately 3.15%. (Source: Barclays)
Barclay's shares plunged by 6.5% by 09:16 a.m. on LSE flagged pressure on its margins from competition for savers. (Source: CNBC)
Visit Us: https://graniteshares.com/institutional/uk/en-uk/
Capital at Risk | For Professional Clients Only
#Barclays #Banking #Finance #Investment #BarclaysStock #BarclaysBank #BCS
Barclay's ETPs by GraniteShares
DISCLAIMER
This is a disclaimer stating that all trading and investing comes with risks. Always do your research and do not invest more than you can afford to spend.
GraniteShares accepts no responsibility for any loss or damage resulting directly or indirectly from the use of this blog or the contents. GraniteShares Limited ("GraniteShares") (FRN: 798443) is an appointed representative of Messels Limited which is authorised and regulated by the Financial Conduct Authority.
This blog does not constitute an offer to buy or sell or a solicitation of an offer to buy securities in any company. Nothing contained herein constitutes investment, legal, tax or other advice nor is to be relied upon in making an investment or other decision. No recommendation is made positive or otherwise, regarding individual securities or investments mentioned herein. Any summary list of risk factors does not purport to be a complete enumeration or explanation of the risks involved in a particular investment. Prospective clients must consult with their own legal, tax and financial advisers before deciding to invest. This email contains the opinions of the author and such opinions are subject to change without notice. The source of data is GraniteShares unless otherwise stated. No guarantee is made to the accuracy of the information provided which has been obtained from sources believed to be reliable. This email and the information contained herein is intended only for the use of persons (or entities they represent) to whom it has been provided. Past performance is not a reliable indicator of future results.  The value of an investment may go down as well as up and can result in losses, up to and including a total loss of the amount initially invested. Investments may involve numerous risks including, among others, company risks, general market risks, credit risks, foreign exchange risks, interest rate risks, geopolitical risks and liquidity risks.  Please note that GraniteShares short and leveraged Exchange Traded Products are for sophisticated investors.