Commoditized Wisdom: Metals & Markets Update (Week Ending July 15, 2022)
Posted: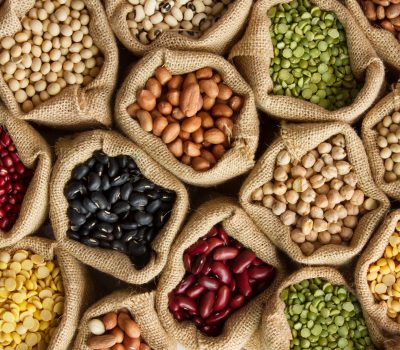 Key points
Energy prices, except for natural gas prices, were all lower again last week. WTI and Brent crude oil prices fell 6%, gasoline prices dropped 7% and heating oil prices lost 8%.  Natural gas prices increased 10%.
Grain prices moved sharply lower. Wheat prices dropped 9% and corn and soybean prices fell 5%.
Precious metal prices moved lower as well. Spot gold prices fell 2% and spot silver prices lost 3%. Spot platinum prices lost 5% while spot palladium prices plunged 16%.
Base metal prices, too, were lower. Aluminum prices decreased 2% and copper and zinc prices fell 6% and 4%, respectively.   Nickel prices plunged 11%.  
The Bloomberg Commodity Index fell 2.1% with the grains and base and precious metals sectors primarily responsible for the loss.
$1.3 billion outflows from commodity ETPs last week. Gold (-$567m), broad commodity (-$338m) and silver (-$138m) outflows were primarily responsible for the ETP outflows. No sector had inflows last week.  
Commentary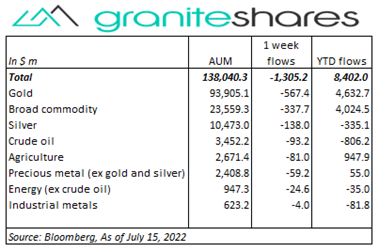 Stock markets moved lower again last week with  inflation/recession fears dominating markets.  Higher-than-expected CPI and PPI releases (Wednesday and Thursday, respectively) rekindled Fed-induced recession concerns with rising expectations of continued aggressive Fed tightening.  Weaker-than-expected earnings reports from JP Morgan and Morgan Stanley pushed financial stocks lower, contributing to the overall market's decline.   Stock markets recovered a good portion of their losses through Thursday on Friday, however, with a stronger-than-expected retail sales report and better-than-expected earnings reports from Wells Fargo, Citigroup and UnitedHealth Group somewhat ameliorating recession concerns.   The 10-year Treasury rate decreased 15bps last week, perhaps reflecting investor sentiment that inflation has peaked and that the Fed will act to reduce rates sooner than expected.  10-year real yields were responsible for all the decline in the 10-year Treasury rate, falling 16bps to 55bps from 71bps at the end of the previous week.   At week's end, the S&P 500 Index decreased 0.9% to 3,863.16, the Nasdaq Composite Index fell 1.6% to 11,452.42, the Dow Jones Industrial Average inched lower 0.2% to 31,286.20, the 10-year U.S. Treasury rate fell 15 bps to 2.93% and the U.S. dollar (as measured by the ICE U.S. Dollar index - DXY) strengthened 1.0%.  
Oil prices ended the week markedly lower, falling nearly 8% Tuesday on global recession fears.   New Chinese Covid-related restrictions, recession concerns and a stronger U.S. dollar all combined to push oil prices lower on the week.   Wednesday's higher-than-expected CPI release and larger-than-expected build in U.S. oil inventories added to downward price pressure but not significantly.   Prices moved almost 2% higher Friday after the White House stated it did not expect an immediate increase in Saudi oil production following President Biden's meeting with Crown Prince Mohammed bin Salman.  Friday's stronger-than-expected retail sales report may have also supported oil prices.
Gold and silver prices moved lower again last week,  pushed lower by increased expectations of even more aggressive Fed tightening in the face of potentially peaking inflation.   Wednesday's higher-than-expected CPI release boosted expectations of a 100bp Fed rate increase in July's FOMC meeting, strengthening the U.S. dollar and, in the process, pressuring gold prices lower.   10-year real rates, however, fell from 71bps to 55bps over the week perhaps indicating the Fed will need to reduce rates sooner than expected.   
Base metal prices, too, moved lower last week, led by a sharp decline in nickel prices.   Global recession fears, a strengthening U.S. dollar and new Chinese Covid-related curbs combined to weaken prices.   Nickel prices plummeted over 8% Thursday, hurt by sharply slowing stainless steel demand and poor LME liquidity.    
Grain prices moved lower as well last week with wheat prices falling the most.   Tuesday USDA WASDE report increased wheat ending stocks while reducing wheat demand pushing wheat prices 5% lower following Monday's almost 4% decline.  Soybean and corn prices also suffered from a weaker-than-expected WASDE report as well as milder weather forecasts.
Coming up this week      
Housing data dominates this week's releases.
Housing Market Index on Monday.
Housing Starts and Permits on Tuesday.
Existing Home Sales on Wednesday
Jobless Claims and Phil. Fed Mfg Indexon Thursday.
PMI Composite Flash on Friday.
EIA Petroleum Status Report Wednesday and Baker-Hughes Rig Count on Friday.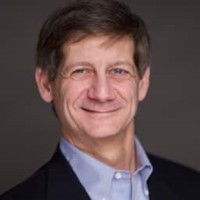 Who is Jeff Klearman in our research team? Jeff has over 20 years experience working as a trader, structurer, marketer and researcher. Most recently, Jeff was the Chief Investment Officer for Rich Investment Services, a company which created, listed and managed ETFs. Prior to Rich Investment Services, Jeff headed the New York Commodities Structuring desk at Deutsche Bank AG. From 2004 to 2007, he headed the marketing and structuring effort for rates based structured products at BNP Paribas in New York. He worked at AIG Financial Products from 1994 to 2004 trading rates-based volatility products as well as marketing and structuring. Jeff received his MBA in Finance from NYU Stern School of Business and his Bachelors of Science in Chemical Engineering from Purdue University.
More Research Related to
COMB