Commoditized Wisdom: Metals & Markets Update (Week Ending June 10, 2022)
Posted: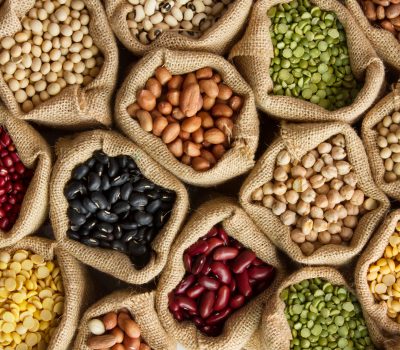 Key points
Energy prices except for gasoline prices were all higher. WTI and Brent crude oil prices increased about 1.5%, heating oil prices increased 2% and natural gas prices rose 4%.  Gasoline prices fell 2%.
Grain prices were all higher. Wheat prices rose between 3% and 4%, corn prices gained north of 6% and soybean prices increased 3%.
Precious metal prices were mixed. Spot gold prices increased 1%, spot silver prices were almost unchanged and spot platinum prices fell 4%.
Base metal prices were all lower. Copper and zinc prices fell 4%, nickel prices lost 3% and aluminum prices dropped 2%. 
The Bloomberg Commodity Index rose 1 ¼ percent benefiting from positive performance in the energy and grains sectors but partially offset by negative performance in the base metals sector.
Small inflows ($639m) into commodity ETPs last week predominantly into broad commodity ($479m) and crude oil ($114m) ETPs.
Commentary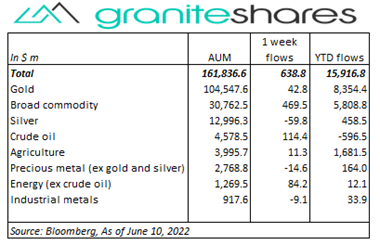 Another volatile week for U.S. stock markets with all three major indexes losing 4.5% or more.   Up close to a percent through Tuesday on hopes a strong economy (inspired by a stronger-than-expected Non-Farm Payroll Report on Friday of the previous week) could weather anticipated Fed rate increases, markets reversed course beginning Wednesday precipitated by earnings warnings from retailers, banks and some large growth companies.   Thursday's ECB announcement that it would raise rates at least 50bps by September added fuel to the fire pushing the S&P 500 Index almost 2.5% lower and Nasdaq Composite Index almost 3% lower.   Markets slid even further Friday following a higher-than-expected CPI release, increasing expectations of an even more aggressive Fed pushing the economy into a recession.  Friday's University of Michigan's Consumer Sentiment release registered an all-time low added to selling pressure.   The 10-year U.S Treasury rate rose 22bps last week after rising 20bps the previous week and the U.S. dollar moved markedly higher, strengthening almost 2%.  This time rising 10-year real rates accounted for almost all of the increase with 10-year inflation expectations increasing only 2bps.    At week's end, the S&P 500 Index fell 5.1% to 3,900.86, the Nasdaq Composite Index lost 5.6% to close at 11,340.02, the Dow Jones Industrial Average decreased 4.6% to 31,392.36, the 10-year U.S. Treasury rate rose 22 bps to 3.16% and the U.S. dollar (as measured by the ICE U.S. Dollar index - DXY) strengthened 2.0%.
Oil prices moved higher through Wednesday supported by expectations of increased Chinese demand, strong U.S. gasoline demand and the belief OPEC would not be able to substantively increase production.   Prices fell Thursday and Friday following news of renewed lockdowns in Shanghai and following Friday's CPI release. The higher-than-expected CPI release increased expectations of a more aggressive Fed, slower growth or recession and decreased demand for oil and gasoline.  Gasoline prices ended down almost 2% with prices falling over 2% Friday following the CPI release.  A very volatile week for natural gas prices   Natural gas prices rose close to 9% on limited production and forecasts of hotter-than-normal temperatures in mid-June.  Prices then fell 6% Wednesday on news of a Freeport LNG facility explosion with expectations more natural gas would be available for domestic consumption.
Almost unchanged through Thursday, spot gold prices rose 1 ¼ percent Friday following a higher-than-expected CPI release and a record low University of Michigan Consumer Sentiment reading.  Concerns of both continued elevated levels of inflation and of an aggressively tightening Fed pushing the U.S. economy into recession lent support to gold prices despite rising 10-year real yields and a stronger U.S. dollar.      
Based metal prices moved lower last week pressured by rising concerns of slowing economic growth or recession (precipitated by central bank tightening), a strong dollar and renewed Chinese Covid-related lockdowns in Shanghai.  Prices initially moved higher Monday, boosted by expectations of increased demand due to the removal of lockdowns in China but then reversed course over the week on news of renewed lockdowns.
Grain prices moved higher last week with corn prices increasing the most.   Rumors of Chinese purchases along with fund buying buoyed corn and soybean prices.  Wheat prices Monday moved markedly higher following news of increased Ukraine-Russia fighting and following a USDA crop progress report showing wheat planting came in way below the 5-year average and below analysts' expectations.  Wednesday's meeting in Turkey between Ukraine and Russia produced no news regarding Ukraine wheat shipments also supporting wheat prices.  Soybean prices moved lower Friday, pressured by new Chinese Covid-related lockdowns and a stronger U.S. dollar.
Coming up this week    
Decent data week starting with PPI Monday, Retail Sales Wednesday and headlined by a 2-day FOMC meeting beginning Tuesday with a rate decision and press conference Wednesday.
FOMC meeting begins and PPI on Tuesday.
Retail Sales, FOMC announcement and Jerome Powell Press Conference on Wednesday.
Housing Starts, Jobless Claims and Phil. Fed Mg Index on Thursday.
Fed Chair Powell Speaks and Industrial Production on Friday..
EIA Petroleum Status Report Wednesday and Baker-Hughes Rig Count on Friday.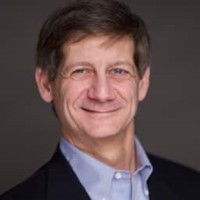 Who is Jeff Klearman in our research team? Jeff has over 20 years experience working as a trader, structurer, marketer and researcher. Most recently, Jeff was the Chief Investment Officer for Rich Investment Services, a company which created, listed and managed ETFs. Prior to Rich Investment Services, Jeff headed the New York Commodities Structuring desk at Deutsche Bank AG. From 2004 to 2007, he headed the marketing and structuring effort for rates based structured products at BNP Paribas in New York. He worked at AIG Financial Products from 1994 to 2004 trading rates-based volatility products as well as marketing and structuring. Jeff received his MBA in Finance from NYU Stern School of Business and his Bachelors of Science in Chemical Engineering from Purdue University.
More Research Related to
COMB