Commoditized Wisdom: Metals & Markets Update (Week Ending June 24, 2022)
Posted: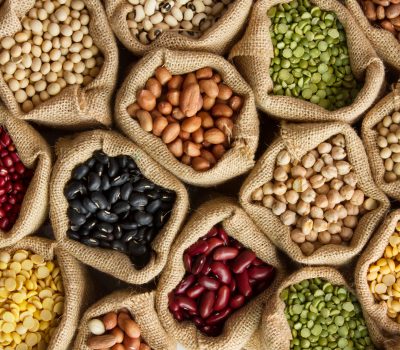 Key points
Energy prices were mostly lower again led by falling natural gas prices. WTI and Brent crude oil prices fell 1.2%. Gasoline prices increased 2.3% and heating oil prices rose 0.6%.   Natural gas prices sank 8.8%.
Grain prices were sharply lower. Wheat prices fell a little over 10% and corn and soybean prices lost 7.5%.
Precious metal prices were all lower. Spot gold prices decreased 0.7% and spot silver and platinum prices fell 2.3%.
Base metal prices, too, were all lower. Nickel and copper prices fell 12.7% and 7.1%, respectively and zinc and aluminum prices lost 4.8% and 1.6%, respectively. 
The Bloomberg Commodity Index fell 4.3% with every sector contributing to the drop. The grains and energy sectors were responsible for 70% of the decline.  
Almost $2 billion outflows from commodity ETPs with half coming from gold (-$956m) and half coming from broad commodity (-$564m) and agricultural (-$334m) ETPs. No sector had inflows last week.  
Commentary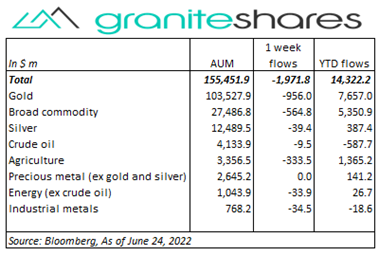 A sharp reversal higher for all 3 major stock indexes last week with the Nasdaq Composite Index outperforming both the S&P 500 Index and the Dow Jones Industrial Average.  All 3 indexes moved higher by 2% or more Tuesday and then rose another 3% or more on Friday.   Growing expectations of the possibility of a recession drove investor sentiment last week, pushing markets higher on the belief the Fed's aggressive battle against inflation will lead to lower rates sooner than expected.     Fed Chairman Powell's testimony before Congress Wednesday and Thursday affirmed the Fed's commitment to strongly fight inflation even with the odds of a soft landing decreasing.   Friday's weak economic data releases added to this sentiment with the PMI Composite reaching a 5-month low and with the University of Michigan Consumer Sentiment recording another all-time low.  The 10-year Treasury rate decreased 9bps last week, with almost all the decline coming from falling real rates.  At week's end, the S&P 500 Index rose 6.5% to 3,911.74, the Nasdaq Composite Index gained 7.5% to close at 11,607.62, the Dow Jones Industrial Average increased 5.4% to 31,503.71, the 10-year U.S. Treasury rate fell 9 bps to 3.14% and the U.S. dollar (as measured by the ICE U.S. Dollar index - DXY) weakened 0.5%.
Energy prices were mainly lower last week with natural gas prices continuing their move lower but with gasoline prices rising.  Increased expectations of the possibility of a Fed-generated recession pushed WTI crude oil prices 4% lower through Thursday.   Oil prices, however, increased almost 3% Friday as concerns of tight supply, bolstered by the almost complete elimination of Libyan production as well as continued sanctioning/boycotting of Russian oil imports.  Natural gas prices dropped almost 9%, continuing to suffer from the extended shut down of the Freeport LNG facility as well as cooler longer-term weather forecasts.   
Gold prices moved lower last week with spot prices falling about ¾ percent.  Rallying equity markets amidst hawkish comments by Fed Chair Jerome Powell contributed to lower prices while growing recession expectations and sooner-than-expected Fed rate cut possibilities floored losses.   Spot silver prices fell over 2%, moving lower with base metal prices.
Base metal prices moved lower again last week led by sharply falling nickel prices.   Increased recession concerns, backed by weakening global economic data following aggressive central bank tightening as well as Covid-related slowdowns in China, helped move base metal prices noticeably lower last week.   Copper prices fell over 4% and nickel prices fell almost 7% Friday.
Grain prices moved sharply lower last week with wheat prices falling the most.  Large fund selling and  favorable weather forecasts appeared to be the driving force behind the falling prices.   Wheat prices down over 10% on the week, fell south of 5.5% on Monday alone. 
Coming up this week    
PCE Price Index, Pending Home Sales and Consumer Confidence headline this week's data releases.
Durable Goods Order and Pending Home Sales on Monday.
Retail Inventories and Consumer Confidence on Tuesday.
Final Q1 GDP on Wednesday.
Jobless Claims, Personal Income and Outlays and Chicago PMI on Thursday.
Manufacturing and ISM Manufacturing PMIs on Friday..
EIA Petroleum Status Report Wednesday and Baker-Hughes Rig Count on Friday.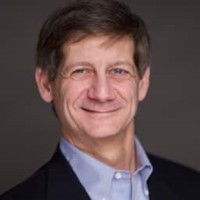 Who is Jeff Klearman in our research team? Jeff has over 20 years experience working as a trader, structurer, marketer and researcher. Most recently, Jeff was the Chief Investment Officer for Rich Investment Services, a company which created, listed and managed ETFs. Prior to Rich Investment Services, Jeff headed the New York Commodities Structuring desk at Deutsche Bank AG. From 2004 to 2007, he headed the marketing and structuring effort for rates based structured products at BNP Paribas in New York. He worked at AIG Financial Products from 1994 to 2004 trading rates-based volatility products as well as marketing and structuring. Jeff received his MBA in Finance from NYU Stern School of Business and his Bachelors of Science in Chemical Engineering from Purdue University.
More Research Related to
COMB