Amazon Earnings Q3 2023
Posted: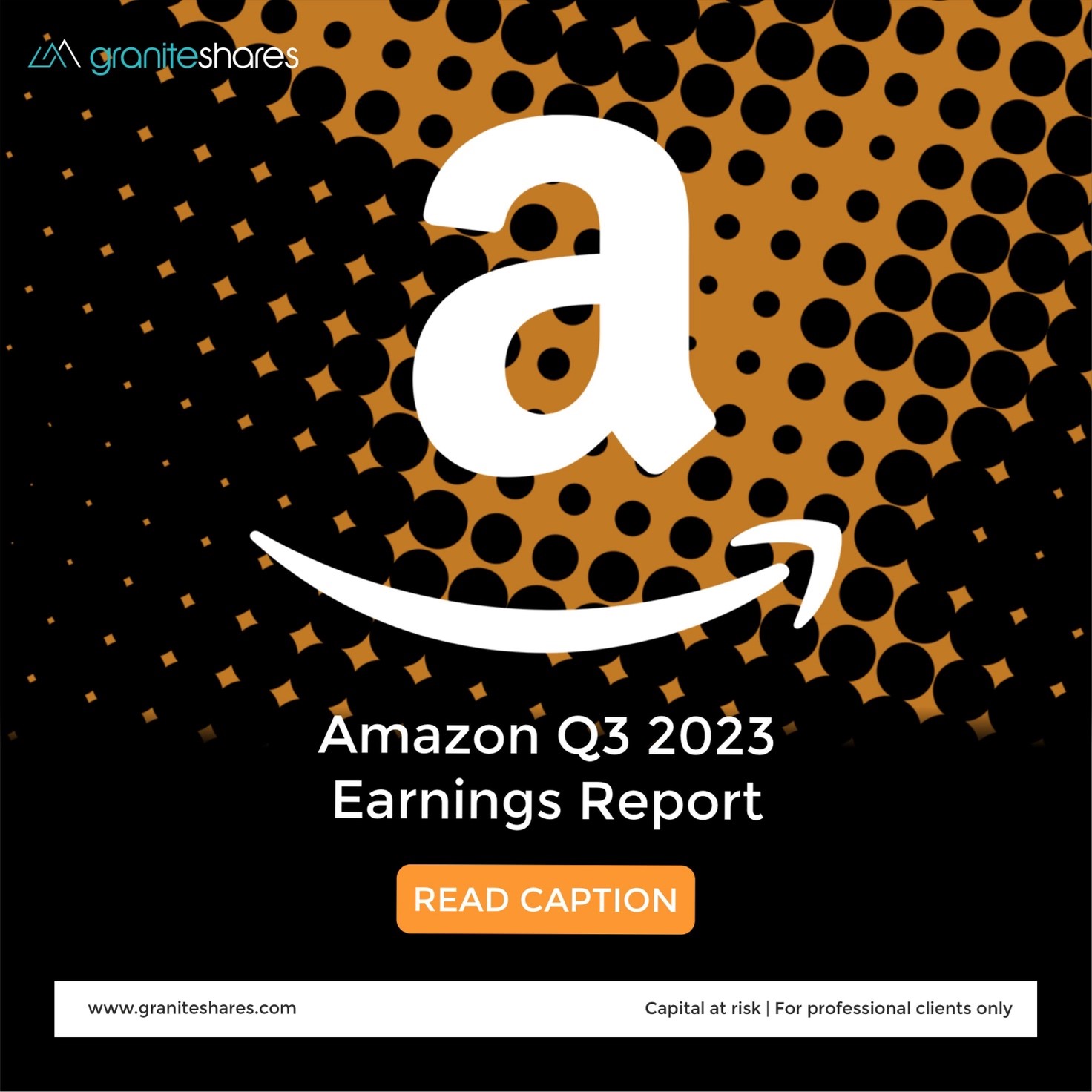 The company's Revenue Jumps 13% on account of robust Cloud Business
Amazon's for the third quarter jumped by 13% YoY to $143.1 billion as compared with $127.1 billion in the third quarter of 2022. (Source: Amazon)
On a segmental basis, North American segment sales jumped by a whopping 11% YoY to $87.9 billion. Moreover, International segment sales including foreign exchange fluctuations stood at $32.1 billion increased by 16% YoY. The company's Advertising revenue stood at $12.1 billion marking a jump of 26% YoY from the same period last year. AWS, the company's highly lucrative cloud computing platform, is a prime driver of revenue for the company however recently has experienced a recent slowdown in sales growth. AWS sales for Q3FY23 were up by 12% to $23.1 billion. (Source: Amazon)
Amazon's nascent ads business reported an accelerating revenue growth of 26% YoY to $12.1 billion for the third quarter and has emerged as the company's fastest-growing business line.
Sales of Amazon's core e-commerce business were one reason for robust revenue growth witnessing  7% growth YoY following a 4% growth in the preceding quarter. Notably, this growth was the result of this year's Prime Day promotion, which took place in July. The company mentioned it to be the biggest-ever sale. (Source: Amazon)
The Technology giant's net income increased more than three times to $9.9 billion from $2.9 billion same period a year ago. (Source: Amazon)
Amazon for Q3FY23 reported its highest operating margin in recent quarters, reaching 7.8%, since its highest operating margin of 8.2% in Q1 of 2021. This operating margin represents the profit left after deducting the expenses of running the business. Just a year ago, it stood at a mere 2%, and historically, it typically remained in the low single digits. (Source: Amazon)
The company's cost-cutting strategy in the past year was seen in its robust margin rebound. The company since last year has laid off 27,000 employees and it's cut down some of its more unprofitable bets. (Source: Amazon)
Amazon forecasts Q4 revenue including the key holiday period to be in the range of $160 billion and $167 billion. (Source: Amazon)
Amazon stock jumped more than 3% in after-hours trading immediately after the earnings report was released on October 26. (Source: CNBC)
Visit Us: https://graniteshares.com/institutional/uk/en-uk/
Capital at Risk | For Professional Clients Only
#Amazon #PrimeDay #AmazonPrime #AmazonShopping   #AmazonStock #AMZ #StockMarket #Investing
Amazon ETPs by GraniteShares
Leverage Amazon ETPs by GraniteShares
DISCLAIMER
This is a disclaimer stating that all trading and investing comes with risks. Always do your research and do not invest more than you can afford to spend.
GraniteShares accepts no responsibility for any loss or damage resulting directly or indirectly from the use of this blog or the contents. GraniteShares Limited ("GraniteShares") (FRN: 798443) is an appointed representative of Messels Limited which is authorised and regulated by the Financial Conduct Authority.
This blog does not constitute an offer to buy or sell or a solicitation of an offer to buy securities in any company. Nothing contained herein constitutes investment, legal, tax or other advice nor is to be relied upon in making an investment or other decision. No recommendation is made positive or otherwise, regarding individual securities or investments mentioned herein. Any summary list of risk factors does not purport to be a complete enumeration or explanation of the risks involved in a particular investment. Prospective clients must consult with their own legal, tax and financial advisers before deciding to invest. This email contains the opinions of the author and such opinions are subject to change without notice. The source of data is GraniteShares unless otherwise stated. No guarantee is made to the accuracy of the information provided which has been obtained from sources believed to be reliable. This email and the information contained herein is intended only for the use of persons (or entities they represent) to whom it has been provided. Past performance is not a reliable indicator of future results.  The value of an investment may go down as well as up and can result in losses, up to and including a total loss of the amount initially invested. Investments may involve numerous risks including, among others, company risks, general market risks, credit risks, foreign exchange risks, interest rate risks, geopolitical risks and liquidity risks.  Please note that GraniteShares short and leveraged Exchange Traded Products are for sophisticated investors.