GraniteShares 3x Long ETPs Deliver Impressive Year-to-Date Gains
Posted: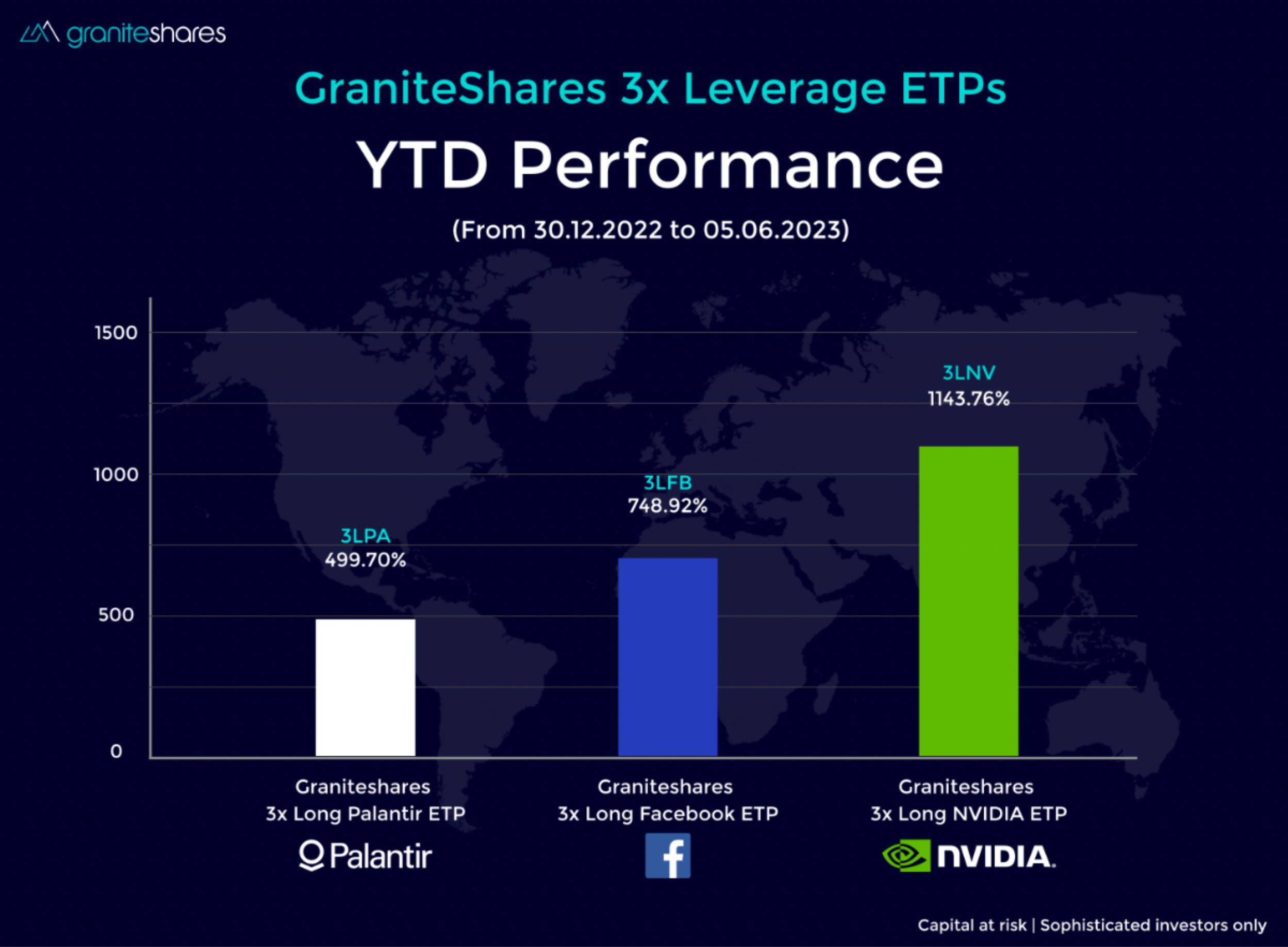 GraniteShares, a leading provider of leveraged exchange-traded products (ETPs), has been making waves in the market with its innovative offerings. Among their standout performers are the GraniteShares 3x Long ETPs, designed to provide three times the daily performance of popular tech stocks. Year to date, these ETPs have delivered exceptional returns, with a particular focus on industry giants such as NVIDIA, Facebook, and Palantir. Examining the data can help us better understand why so many investors are drawn to these high-growth possibilities.
GraniteShares 3x Long NVIDIA Daily ETP:
The GraniteShares 3x Long NVIDIA Daily ETP has been a standout performer, with a staggering year-to-date return of 1143.76%. This means that for every 1% increase in NVIDIA's stock price, investors in this ETP have enjoyed a substantial 3% gain. With NVIDIA's prominence in the semiconductor industry and its consistent growth, it's no surprise that this ETP has captured the attention of tech-savvy investors seeking amplified returns.
GraniteShares 3x Long Facebook Daily ETP:
Investors looking to capitalize on the social media giant's success have found solace in the GraniteShares 3x Long Facebook Daily ETP. Year to date, this ETP has generated a remarkable return of 748.92%. With Facebook's continued dominance in the digital advertising space and its expanding user base, this ETP has been a popular choice for those bullish on the company's long-term prospects.
GraniteShares 3x Long Palantir Daily ETP Securities:
Palantir, a leading data analytics company, has attracted considerable attention from investors. The GraniteShares 3x Long Palantir Daily ETP Securities has experienced a substantial year-to-date return of 499.70%. As Palantir's technology finds applications in various industries, investors have sought exposure to this rapidly growing company through this ETP, aiming to magnify their potential gains.
Conclusion:
The GraniteShares 3x Long ETPs have exhibited impressive year-to-date returns, reflecting the strong performance of tech giants like NVIDIA, Facebook, and Palantir. These leveraged ETPs have garnered attention from investors seeking to potentially amplify their gains. However, it's important to note that investing in leveraged products carries inherent risks, and investors should carefully consider their risk tolerance and investment goals before making any decisions. As always, conducting thorough research and seeking professional advice is crucial for informed investing.
ETPs by GraniteShares
Product name
Ticker
USD
EUR
GBX
 DISCLAIMER
This is a disclaimer stating that all trading and investing comes with risks. Always do your research and do not invest more than you can afford to spend.
GraniteShares accepts no responsibility for any loss or damage resulting directly or indirectly from the use of this blog or the contents. GraniteShares Limited ("GraniteShares") (FRN: 798443) is an appointed representative of Messels Limited which is authorised and regulated by the Financial Conduct Authority.
This blog does not constitute an offer to buy or sell or a solicitation of an offer to buy securities in any company. Nothing contained herein constitutes investment, legal, tax or other advice nor is to be relied upon in making an investment or other decision. No recommendation is made positive or otherwise, regarding individual securities or investments mentioned herein. Any summary list of risk factors does not purport to be a complete enumeration or explanation of the risks involved in a particular investment. Prospective clients must consult with their own legal, tax and financial advisers before deciding to invest. This email contains the opinions of the author and such opinions are subject to change without notice. The source of data is GraniteShares unless otherwise stated. No guarantee is made to the accuracy of the information provided which has been obtained from sources believed to be reliable. This email and the information contained herein is intended only for the use of persons (or entities they represent) to whom it has been provided. Past performance is not a reliable indicator of future results.  The value of an investment may go down as well as up and can result in losses, up to and including a total loss of the amount initially invested. Investments may involve numerous risks including, among others, company risks, general market risks, credit risks, foreign exchange risks, interest rate risks, geopolitical risks and liquidity risks.  Please note that GraniteShares short and leveraged Exchange Traded Products are for sophisticated investors.