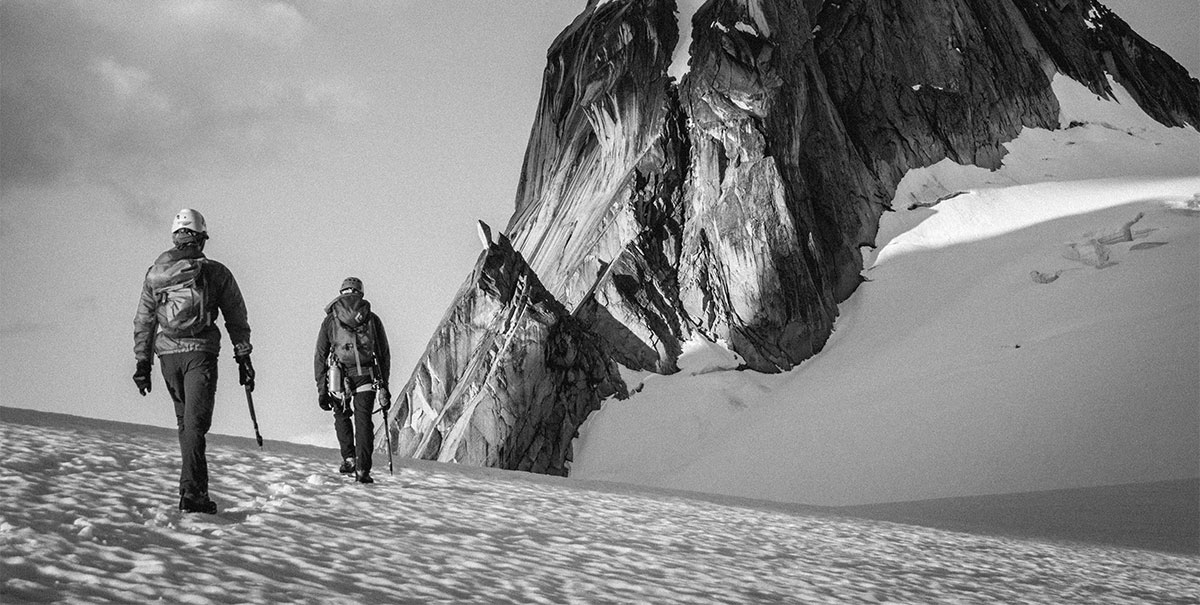 Netflix, il precursore dello streaming video
Tutto ciò che devi sapere Netflix Inc.
Netflix è una multinazionale americana creata nel 1997 specializzata nella distribuzione e nello sfruttamento difilm e serie attraverso una piattaforma dedicata. È uno dei principali servizi di streaming in abbonamento e società di produzione al mondo che offre 221 milioni di abbonamenti a pagamento in oltre 190 paesisup1. La piattaforma trasmette per lo più programmi già usciti in televisione o al cinema, ma anche, per l'8% dei contenuti, programmi in esclusiva di cui detiene la licenza. Quest'ultimo viene quindi etichettato come "Netflix Original". Le serie e i contenuti dell'azienda sono disponibili sul loro sito Web e applicazioni (app). Tutti gli abbonati possono guardare e godere di contenuti Netflix illimitati con una varietà di generi di serie TV, documentari, lungometraggi e film su qualsiasi dispositivo e schermo con connessione Internet.
L'azienda ha diversi prezzi e cataloghi mostra lo steaming in diversi paesi. Ad esempio, negli Stati Uniti sono disponibili più di 5500 film contro quasi 2000 in Francia. Trasmettono anche varie serie Netflix con diritti di proprietà esclusiva o condivisa in vari paesi. Creano anche un elenco di serie Netflix di tendenza quel mese per aumentare il coinvolgimento dei clienti.
Nel 2021, Netflix ha lanciato una serie di giochi per dispositivi mobili, per il momento disponibili esclusivamente su Android.
Netflix è una delle più grandi piattaforme di video on demand al mondo. L'azienda è considerata un pioniere in questo campo.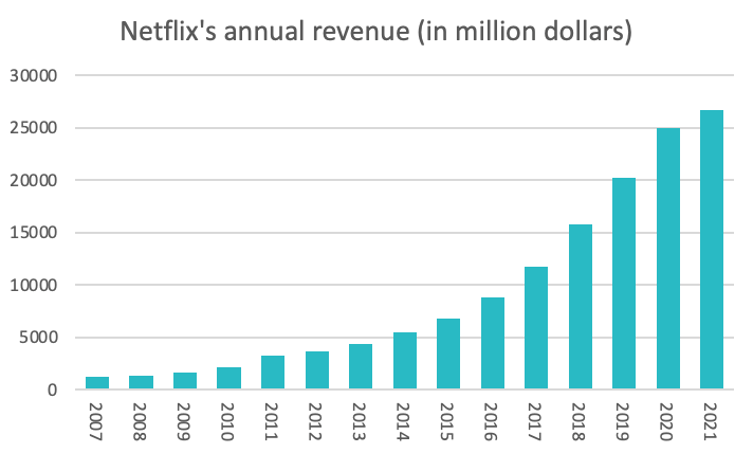 Source : macrotrends.com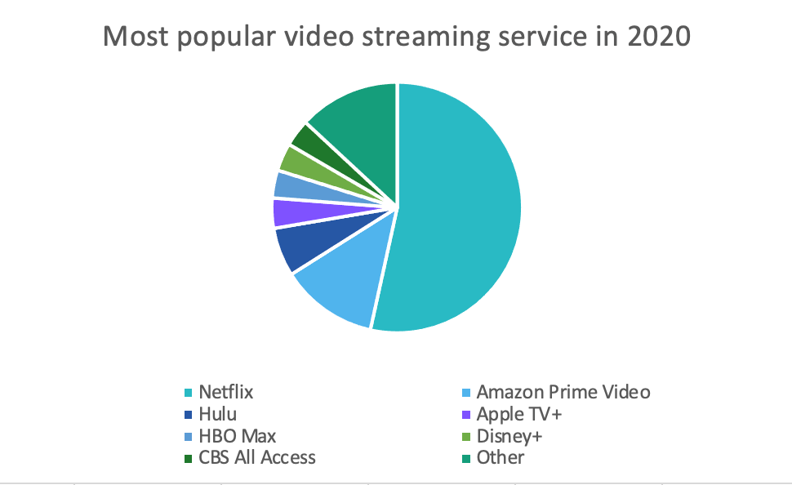 Source : statista.com
Netflix storia dell'azienda
La società Netflix è stata creata da Mr. Reed Hastings (attuale CEO) e Mr. Marc Randolph nel 1997. Mr. Reed Hastings è il proprietario di Netflix. La società originariamente intendeva sfruttare l'ascesa del formato DVD per offrire noleggi mensili. È così che è iniziata la loro attività nel 1999. All'inizio del 21° secolo, Netflix sta affrontando difficoltà finanziarie.
Nel 2007 Netflix ha iniziato a noleggiare un video on demand su computer. Negli anni 2010, Netflix sta vivendo uno sviluppo significativo. La loro offerta si estende a tutto il mondo. Infine, il loro catalogo cresce anno dopo anno.
Oggi l'azienda è un gigante del video on demand, noto in tutto il mondo, con una capitalizzazione di mercato di oltre 80,12 miliardi di dollari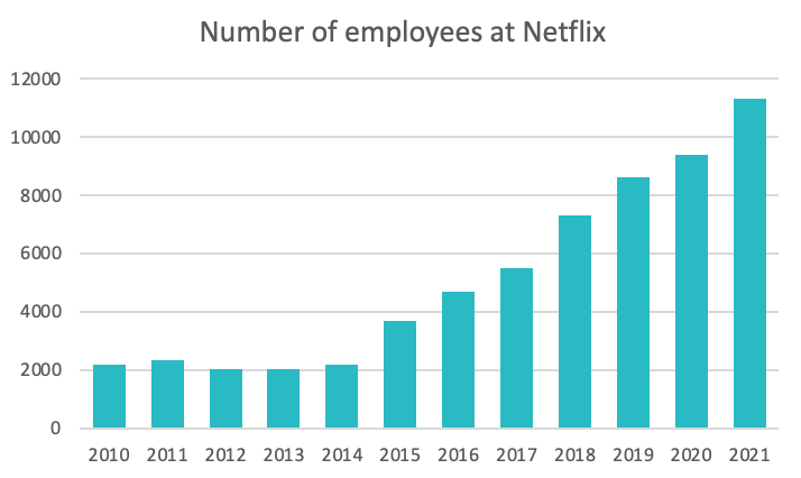 Source : macrotrends.com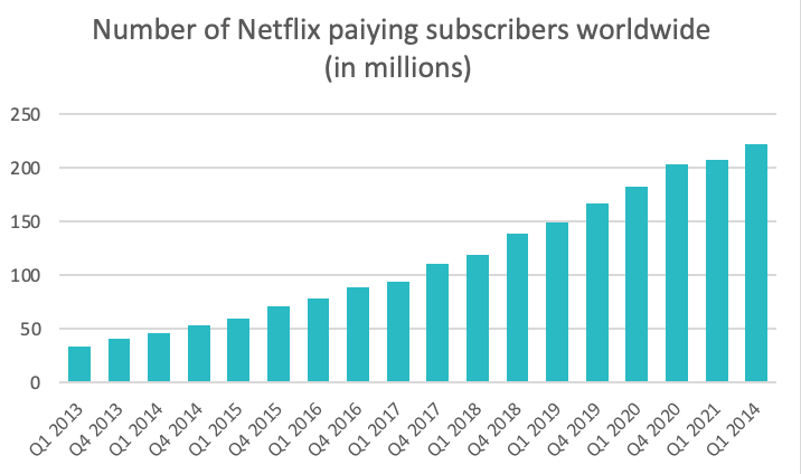 Source : statista.com
The market
L'attività principale di Netflix è lo sfruttamento e la distribuzione di film e serie. È un settore relativamente giovane  in quanto è apparso realmente solo nel 2000 con lo sviluppo di Internet a banda larga. È un mercato in cui la domanda è molto forte, con un'intensa concorrenza. La comunicazione e l'aggiornamento di offerte e programmi sono essenziali per attrarre e fidelizzare i clienti.
A causa della crisi sanitaria globale, lo stile di vita della popolazione mondiale è cambiato drasticamente. Stare a casa è stato un vantaggio per questo mercato, creando un'enorme domanda. Inoltre, questi nuovi clienti sono diventati regolari a causa di questo cambiamento di abitudine. Questo mercato sembra interessante dopo il COVID e gli analisti lo vedono in crescita nei prossimi anni.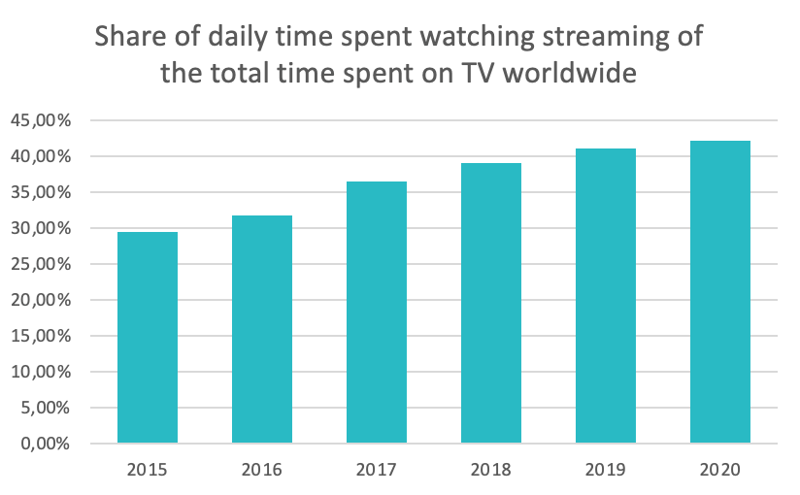 Source : cafedelabourse.com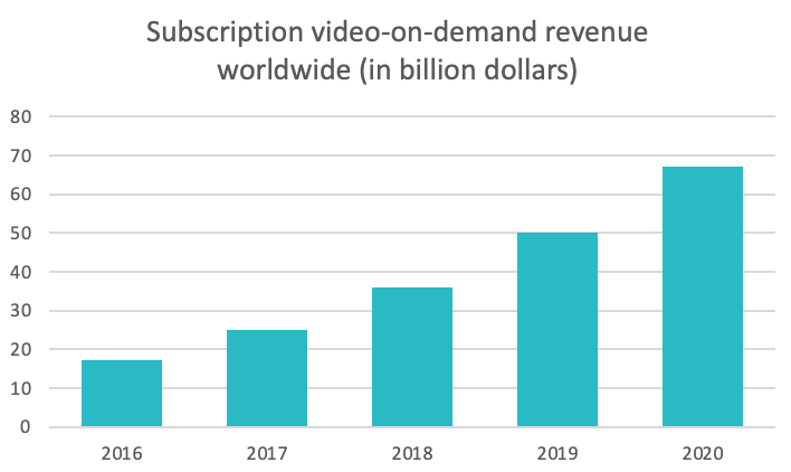 Source : statista.com
Cifre chiave e indici finanziari
Market capitalization: $80.12 billion [1] (May 24, 2022)
Turnover: $29.698 billion[2] (2021)
Net income: $5.116 billion[3] (2021)
Dividends paid: No dividends
Earnings per share: 3.20x[4] June 2022
Price/earnings ratio: ≃35.01[5] (July 22, 2022
Debt to capital ratio: 6.3% [6] ( 2022)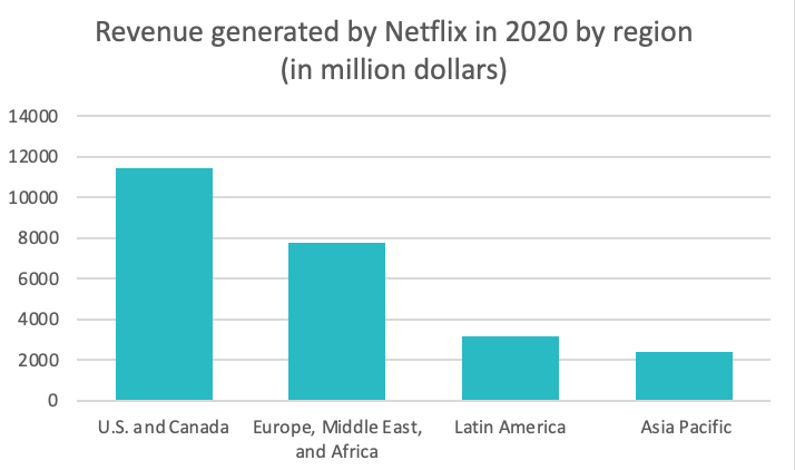 Source : statista.com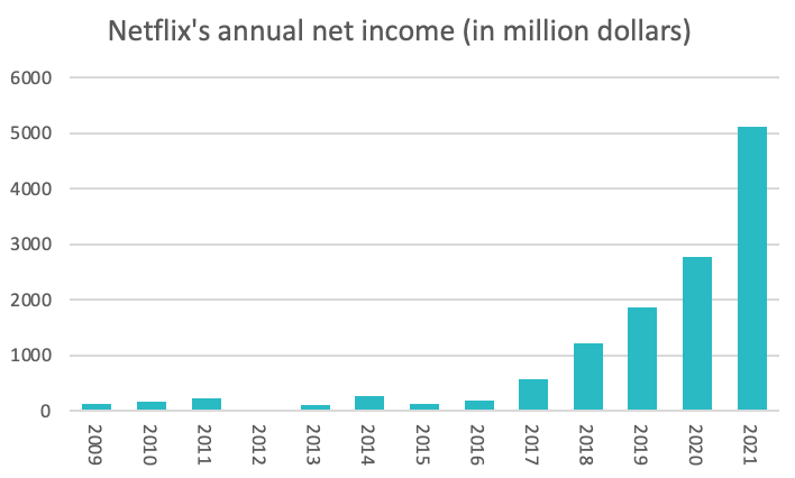 Source : macrotrends.com
Graniteshares offre prodotti
NETFLIX
DISCLAIMER
Questo è un disclaimer che afferma che tutto il trading e gli investimenti comportano dei rischi. Fai sempre le tue ricerche e non investire più di quanto puoi permetterti di spendere.
GraniteShares non si assume alcuna responsabilità per eventuali perdite o danni derivanti direttamente o indirettamente dall'uso di questo blog o dei contenuti. GraniteShares Limited ("GraniteShares") (FRN: 798443) è un rappresentante designato di Messels Limited che è autorizzata e regolamentata dalla Financial Conduct Authority.
Questo blog non costituisce un'offerta di acquisto o vendita o una sollecitazione di un'offerta di acquisto di titoli in alcuna società. Nulla di quanto contenuto nel presente documento costituisce consulenza di investimento, legale, fiscale o di altro tipo né si deve fare affidamento su di esso per effettuare un investimento o altra decisione. Non viene fatta alcuna raccomandazione positiva o meno riguardo a singoli titoli o investimenti qui menzionati. Qualsiasi elenco riassuntivo di fattori di rischio non pretende di essere un'enumerazione completa o una spiegazione dei rischi coinvolti in un particolare investimento. I potenziali clienti devono consultare i propri consulenti legali, fiscali e finanziari prima di decidere di investire. Questa email contiene le opinioni dell'autore e tali opinioni sono soggette a modifiche senza preavviso. La fonte dei dati è GraniteShares, salvo diversa indicazione. Non viene fornita alcuna garanzia per l'accuratezza delle informazioni fornite che sono state ottenute da fonti ritenute affidabili. Questa e-mail e le informazioni qui contenute sono destinate esclusivamente all'uso delle persone (o entità che rappresentano) a cui sono state fornite. La performance passata non è un indicatore affidabile dei risultati futuri. Il valore di un investimento può aumentare o diminuire e può comportare perdite, fino alla perdita totale dell'importo inizialmente investito. Gli investimenti possono comportare numerosi rischi inclusi, tra gli altri, rischi aziendali, rischi di mercato generali, rischi di credito, rischi di cambio, rischi di tasso di interesse, rischi geopolitici e rischi di liquidità. Si prega di notare che gli Exchange Traded Products short e con leva finanziaria di GraniteShares sono per investitori sofisticati.