3x Short GAFAM ETP
---
Disponibile per la negoziazione su London Stock Exchange, Euronext Paris, Borsa Italiana, Deutsche Börse Xetra.
3SGF Descrizione del prodotto
GraniteShares 3x Short GAFAM Daily ETP è un Exchange Trade Product (ETP) collateralizzato. L'ETP replica, al netto di commissioni e ulteriori aggiustamenti, l'andamento dell'indice Solactive Daily Leveraged 3x short GAFAM Index che ha come obiettivo quello di generare la performance giornaliera moltiplicata per-3 del titolo Solactive GAFAM Equal Weight Index.
La Solactive GAFAM Equal Weight Index fornisce esposizione a Amazon, Apple, Alphabet, Meta Platforms Inc, Microsoft con ciascuna componente equamente ponderata dopo ogni ribilanciamento trimestrale.
3x Short GAFAM ETP PANORAMICA
PANORAMICA SULL'ETP
Data di quotazione
08 Mar 2021
Trattamento dei dividendi
Reinvestita
Nome indice
Solactive Daily Leveraged 3x short GAFAM Index
PRESTAZIONE GIORNALIERA (COME DI
20 Oct 2023)
Ritorno giornaliero
5.00%
STRUTTURA
Metodo di replica
Sintetica
IDONEITÀ DELL' ACCOUNT E STATO FISCALE
Reporting Status nel Regno Unito
Sì
PRINCIPALI FORNITORI DI SERVIZI
Emittente
GraniteShares Financial Plc
Agente di emissione e pagamento
The Bank of New York Mellon, London Branch
Fiduciario
BNY Mellon Corporate Trustee Services Ltd
Depositario collaterale swap
The Bank of New York Mellon SA/NV
PAESI REGISTRATI
PAESI PASSAPORTATI
ISIN e ticker di for 3x Short GAFAM ETP
Prezzi e Codici sono interessati dal Reverse Split del Rapporto 1:45
Borsa
Commercio
Valuta
Ticker
ISIN
SEDOL
WKN
London Stock Exchange
USD
3SGF
XS2693061819
BKPLWP6
London Stock Exchange
EUR
3S2E
XS2693061819
BKPLWQ7
London Stock Exchange
GBX
3S2P
XS2693061819
BKPLWS9
Euronext Paris
EUR
3SGF
XS2693061819
BKPLWT0
Borsa Italiana
EUR
3SGF
XS2693061819
BKPLX53
Deutsche Börse Xetra
EUR
GF3S
XS2693061819
BKPMLX0
A3G8JZ
INDICE E PRESTAZIONI of 3x Short GAFAM ETP
DETTAGLI DELL'INDICE
Nome indice
Solactive Daily Leveraged 3x short GAFAM Index
Fornitore dell'Indice
Solactive
Indice ticker
DE000SL0BNE7
PERFORMANCE (as of
26 Sep 2023

)
Download performance history
View performance chart
| | 1 Month | 3 Months | YTD | 1 Year | 3 Year | Since Inception |
| --- | --- | --- | --- | --- | --- | --- |
Dettagli del collaterale di 3x Short GAFAM ETP
Collateral Coverage Ratio
100%
Collateral Custodian
The Bank of New York Mellon SA/NV
Understanding Collateral
---
Collateralised ETP Securities are backed with collateral, subject to eligibility criteria, to protect investors in event of default. The amount of collateral posted by the Swap Counterparty is held and valued by an independent custodian in a segregated account and is adjusted daily and reflects the collateralised ETPs' change in value and in the outstanding number of securities. The Bank of New York Mellon SA/NV serves as the Swap Collateral Custodian.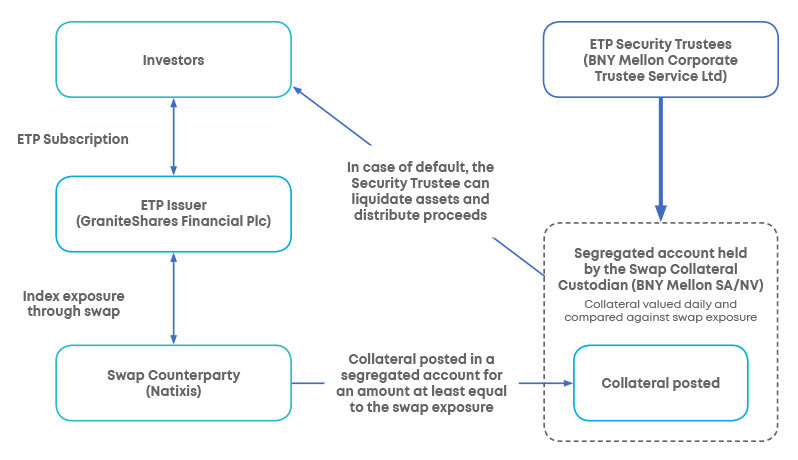 You may also be interested in the following GraniteShares ETPs...