GAFAM ETP
---
Disponibile su .
GFAM Descrizione del prodotto
GraniteShares GAFAM ETP is a collateralised Exchange Traded-Product (ETP). The ETP tracks, excluding fees and other adjustments, the performance of the Solactive GAFAM Equal Weight Index .
The Solactive GAFAM Equal Weight Index provides exposure to Amazon, Apple, Alphabet, Meta Platforms Inc, Microsoft with each component equally weighted after each quarterly rebalancing.
GAFAM ETP PANORAMICA
Data di quotazione
08 Mar 2021
Trattamento dei dividendi
Reinvestita
Nome indice
Solactive GAFAM Equal Weight Index
Valore per titolo ETP
6.21352203 USD
Cambio giornaliero
-0.12391300 USD
Ritorno giornaliero
-1.96%
Metodo di replica
Sintetica
Reporting Status nel Regno Unito
Sì
Emittente
GraniteShares Financial Plc
Agente di emissione e pagamento
The Bank of New York Mellon, London Branch
Fiduciario
BNY Mellon Corporate Trustee Services Ltd
Depositario collaterale swap
The Bank of New York Mellon SA/NV
ISIN e ticker di for GAFAM ETP
Borsa
Commercio
Valuta
Ticker
ISIN
SEDOL
WKN
PORTAFOGLIO of GAFAM ETP
Principali esposizioni ai fondi
| | |
| --- | --- |
| Amazon | 20% |
| Apple | 20% |
| Alphabet | 20% |
| Meta Platforms Inc | 20% |
| Microsoft | 20% |
Le esposizioni ai fondi sono soggette a modifiche
INDICE E PRESTAZIONI of GAFAM ETP
Nome indice
Solactive GAFAM Equal Weight Index
Fornitore dell'Indice
Solactive
Indice ticker
DE000SL0CAG7
Fattore di leva
No Leverage
PRESTAZIONE (as of 21 Sep 2023)
Scarica la cronologia delle prestazioni
Vedi grafico delle prestazioni
| | 1 mese | 3 mesi | anno corrente | 1 anno | 3 anno | Da quando inizio |
| --- | --- | --- | --- | --- | --- | --- |
Dettagli del collaterale di GAFAM ETP
Rapporto di copertura delle garanzie
100%
Depositario del collaterale
The Bank of New York Mellon SA/NV
Comprensione del collaterale
---
I titoli ETP collateralizzati sono supportati da garanzie, soggette a criteri di idoneità, per proteggere gli investitori in caso di default. L'importo della garanzia fornita dalla Controparte dello Swap è detenuto e valutato da un custode indipendente, in un conto separato, ed è rettificato giornalmente e riflette la variazione di valore degli ETP garantiti e il numero di titoli in circolazione. La Bank of New York Mellon SA/NV funge da banca depositaria delle garanzie dello swap.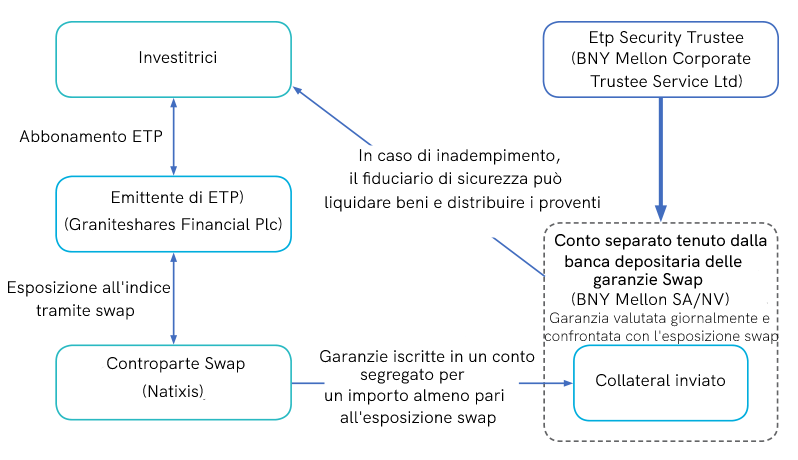 Potresti essere interessato anche ai seguenti ETP GraniteShares ...