Commoditized Wisdom: Metals & Markets Update (December 11, 2020)
Posted: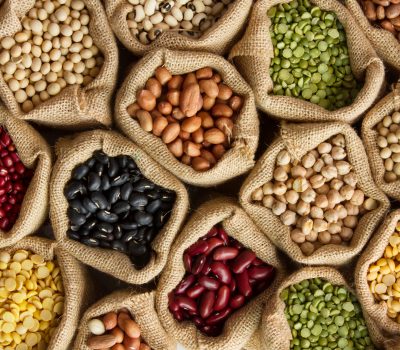 Key points
Energy prices were all higher last week with gasoline prices increasing the most. The price of WTI crude oil increased about ¾ percent while Brent crude oil prices increased about 1.5%. Gasoline prices were up 3% and natural gas prices increased almost 2%.
Grain prices were mixed with wheat prices up significantly and corn and soybean prices down slightly. Wheat prices increased 7%.
Nickel prices rose sharply, increasing over 5%, while copper prices were almost unchanged. Aluminum prices fell about 1%.
Gold prices were unchanged on the week and silver prices were lower by about ¾ percent. Platinum prices fell about 5%.
The Bloomberg Commodity increased last week, rising 0.8%  The energy and grains sectors were primarily responsible for the increase.
Total assets in commodity ETPs increased, albeit slightly, last week, adding about $220 million.  Gold , broad commodity and energy (ex-crude oil) ETP inflows were primarily responsible for the increase
Commentary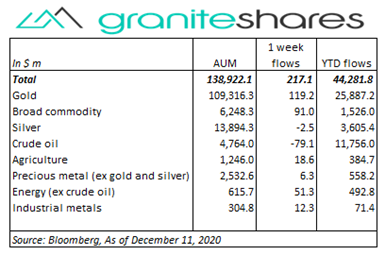 Rising Covid-19 infections and related restrictions, larger-than-expected jobless claims and faltering hopes of a stimulus package moved U.S. stock markets off their early-in-the-week record highs to finish lower on the week.  Late Friday, after market close, the FDA approved emergency use of Pfizer's Covid-19 vaccine with shipments expected to begin immediately while the UK began administering Pfizer's Covid-19 vaccine Tuesday.  The U.S. dollar strengthened last week mainly as a result of increased uncertainty of a U.S. stimulus package, the ECB announcing it would be expanding its buyback program and as result of a steep decline in the British pound due to stalled UK – EU trade talks.  At week's end the S&P 500 Index decreased 1.0% to 3,663.46, the Nasdaq Composite Index decreased 0.7% to 12,377.87, the 10-year U.S. Treasury rates fell 7bps to 90bps and the U.S. dollar (as measured by the ICE U.S. Dollar index - DXY) strengthened 0.3%.
Weaker on a much larger-than-expected build in U.S. inventories and continuing demand concerns regarding increasing Covid-19 infection and related restrictions, WTI and Brent crude oil prices rallied strongly on Thursday, on no real news, to end the week higher.   Brent crude oil prices settled above $50/barrel on Thursday, a level not seen since early March of this year.
Up nearly 2% through Tuesday on rising hopes of the passage of a U.S. stimulus package and falling real yields, gold prices fell the remainder of the week following faltering stimulus package expectations and a strengthening U.S. dollar.   Silver and palladium prices followed suit.
Base metal prices were mainly higher last week, supported by strong Chinese economic data.  Nickel prices, backed by strong stainless steel demand, increased the most, climbing over 5%.  All base metal prices moved lower on Friday, coming off their highs of the week, pushed lower by falling expectations of a U.S. stimulus package and by a strengthening U.S. dollar.
Wheat prices soared on the back of Thursday's USDA WASDE report showing an unexpected reduction in world wheat inventories.  Wheat prices were also supported by reports Russia may scale back exports to help reduce food inflation within Russia.  Soybean prices, pushed lower earlier in the week on favorable South America weather forecasts, moved off their lows following the WASDE report showing a reduction in world soybean inventories. Corn prices continued to benefit from strong Chinese demand.
Coming up this week    
Busy data week that includes a 2-day FOMC meeting and decent amount of manufacturing data.
FOMC meeting begins, Empire State Mfg Index, Import and Export Prices and Industrial Production on Tuesday.
Retail Sales, PMI Composite Flash, Business Inventories, Housing Market Index, FOMC announcement and J. Powell Press Conference on Wednesday.
Jobles Claims, Philadelphia Fed Mfg Index and the Fed Balance Sheet on Thursday.
EIA petroleum status report on Wednesday and Baker-Hughes rig count on Friday.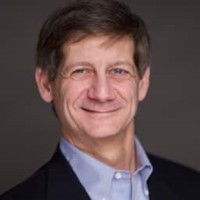 Who is Jeff Klearman in our research team? Jeff has over 20 years experience working as a trader, structurer, marketer and researcher. Most recently, Jeff was the Chief Investment Officer for Rich Investment Services, a company which created, listed and managed ETFs. Prior to Rich Investment Services, Jeff headed the New York Commodities Structuring desk at Deutsche Bank AG. From 2004 to 2007, he headed the marketing and structuring effort for rates based structured products at BNP Paribas in New York. He worked at AIG Financial Products from 1994 to 2004 trading rates-based volatility products as well as marketing and structuring. Jeff received his MBA in Finance from NYU Stern School of Business and his Bachelors of Science in Chemical Engineering from Purdue University.
More Research Related to
COMB