Commoditized Wisdom: Metals & Markets Update (February 5, 2021)
Posted: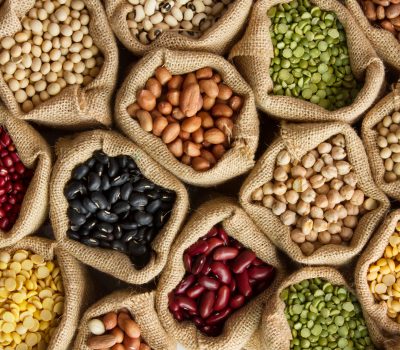 Key points
Energy prices were sharply higher last week with natural gas prices leading the way. Natural gas prices increased almost 12% and WTI and Brent crude oil prices increased just under 9% and 8%, respectively.   Heating oil prices rose just over 7% and gasoline prices increased just over 6%.
Grain prices, except for corn prices, were all lower. Chicago and Kansas wheat prices fell 3.3% and 2%, respectively, and soybean prices lost just under ½ percent.   Corn prices were up slightly, increasing 0.3%.
Base metal prices were all higher last week. Aluminum, copper and nickel prices all rose about 2% while zinc prices increased 3.3%.
Gold prices finished the week down over 3% while platinum and silver prices rose, increasing 1% and ½ percent, respectively.
The Bloomberg Commodity increased 3% last week with the energy sector responsible for most of the positive performance. The base metal sector also contributed to the index's performance while the precious metal and grain sectors detracted
Decent inflows into commodity ETPs, powered mainly by silver ETP inflows.  Silver ETPs saw inflows of almost $1.5 billion and broad commodity ETPs had inflows of $275 million.   Gold and crude oil ETPs had outflows of about $190 million and $120 million, respectively.
Commentary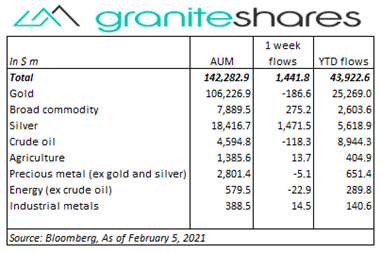 U.S. stock markets moved higher last week with both the S&P 500 and Nasdaq Composite Indexes reaching new record highs.  Steps taken by the Democratic controlled House and Senate set the stage for passage of a $1.9 trillion coronavirus relief package were the primary reasons for last week's gains.  Strong earnings reports in  tech and energy and material stocks and a slightly better-than-expected employment situation report also helped move stock markets higher. Increased expectations of the passage of the $1.9 trillion stimulus package also acted to move 10-year Treasury rates higher and helped subdue the strengthening of the U.S. dollar. At week's end the S&P 500 Index increased 4.7% to 3,886.83, the Nasdaq Composite Index rose 6.0% to 13,856.30, the 10-year U.S. Treasury rate increased 11bps to 1.17% and the U.S. dollar  (as measured by the ICE U.S. Dollar index - DXY) strengthened 0.5%.
Oil prices moved sharply higher last week supported by continued drawdowns in inventory levels, OPEC+ production restraint and increased expectations of passage of the $1.9 trillion U.S. stimulus package.   Both WTI and Brent crude oil futures contracts are trading in backwardation indicating investor concern regarding possible supply shortages relative to prospective demand.  Oil prices last week rose to levels not seen in more than a year.
Silver prices gyrated wildly last week rising 9% Monday, plunging 10% Tuesday and then moving 2% higher, then 2% lower and then 3% higher Wednesday, Thursday and Friday, respectively, only to end the week slightly higher. Gold prices somewhat followed suit but without the extreme moves and losing about 3% on the week.       While silver price moves were attributed to Reddit-spurred trades, gold futures prices, down over 3% through Thursday, were affected by a strongly strengthening U.S. dollar.   Gold prices moved off their Thursday's lows, increasing almost 1 ¼  percent on Friday, supported by a significant reversal of most of that strengthening Friday, perhaps as a result of greatly increased expectations of the passage of the $1.9 trillion U.S. stimulus package.
Base metal prices, mainly lower through Tuesday on concerns of weaker Chinese manufacturing activity, the start of the Chinese New Year later this week and a strengthening U.S. dollar, moved higher the remainder of the week supported by copper and nickel supply concerns, greatly increased expectations of passage of the $1.9 trillion U.S. stimulus package and Friday's weakening of the U.S. dollar.
Corn and soybean prices - near 7- and 6-year highs, respectively - continued to benefit from historically large exports to China, adverse weather conditions in South America and strong demand in the U.S.    Wheat prices, lower on the week,  suffered from canceled export orders and increased Russian selling.
Coming up this week    
An extremely light data-week CPI and Fed Chairman Powell speaking.
CPI and Jerome Powell speaks on Wednesday.
Jobless claims on Thursday.
Consumer Sentiment on Friday.
EIA petroleum status report on Wednesday and Baker-Hughes rig count also on Friday.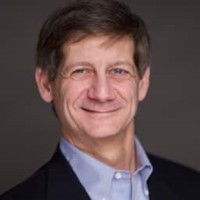 Who is Jeff Klearman in our research team? Jeff has over 20 years experience working as a trader, structurer, marketer and researcher. Most recently, Jeff was the Chief Investment Officer for Rich Investment Services, a company which created, listed and managed ETFs. Prior to Rich Investment Services, Jeff headed the New York Commodities Structuring desk at Deutsche Bank AG. From 2004 to 2007, he headed the marketing and structuring effort for rates based structured products at BNP Paribas in New York. He worked at AIG Financial Products from 1994 to 2004 trading rates-based volatility products as well as marketing and structuring. Jeff received his MBA in Finance from NYU Stern School of Business and his Bachelors of Science in Chemical Engineering from Purdue University.
More Research Related to
COMB