Commoditized Wisdom: Metals & Markets Update (January 15, 2021)
Posted: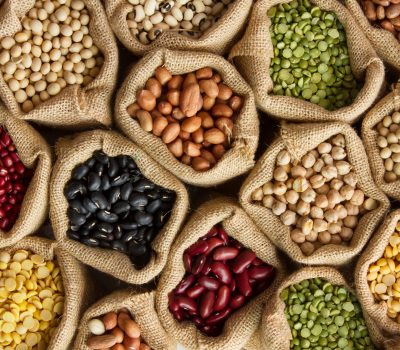 Key points
Energy prices were mixed last week. WTI and Brent crude oil prices diverged with Brent prices falling almost a percent and WTI prices increasing about ¼ percent.  Gasoline prices increased 1% while heating oil moved oppositely, losing 1%.  Natural gas prices were up 1.5%
Grain prices were all significantly higher last week. Kansas wheat prices rose 8% and Chicago wheat prices increased almost 6%.  Corn prices gained over 7% and soybean prices rose 3%.
Except for nickel prices, base metal prices were all lower with zinc prices falling the most. Zinc prices dropped over 4% and aluminum and copper prices decreased close to 2%.   Nickel prices rose 2%.
Gold and platinum prices decreased last week and silver prices rose.  Gold prices were down about 1% and platinum prices fell close to 2.5%.  Silver prices increased almost 1%.
The Bloomberg Commodity Index finished the week higher yet again increasing 1%. Gains in the grains and softs sectors were partially offset by declines in the base metals sector.
Commodity ETPs saw $330 million outflows last week led by outflows from crude oil, silver and gold ETPs. Inflows into broad commodity and precious metal (ex-gold and silver) ETPs partially offset outflows.
Commentary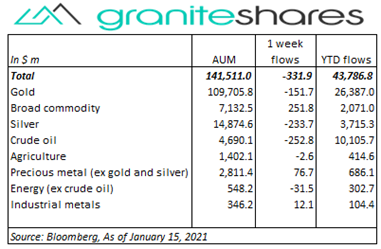 Finishing lower on the week, U.S. stock markets were pressured by weaker-than-expected economic numbers and perhaps concerns of lofty valuations and rising interest rates.  Larger-than-expected jobless claims and an unexpected decline in retail sales combined with disappointing bank earnings reports and weak tech stock performance set the stage for weaker stock markets.  President-elect Biden's stimulus plan announcement late Thursday failed to support stock prices with the news seemingly already priced in.    Though 10-year U.S. Treasury rates were slightly lower on the week, they maintained levels greater than 1%, perhaps indicating continued concern about the low level of real rates and prospective inflation.   The U.S. dollar strengthenrd last week, with most of the increase occurring Friday.  At week's end the S&P 500 Index decreased 1.5% to 3,768.25, the Nasdaq Composite Index decreased 1.5% to 12,998.50, the 10-year U.S. Treasury rate fell 3bps to 1.09% and the U.S. dollar  (as measured by the ICE U.S. Dollar index - DXY) strengthened 0.8%.
Up over 2.5% through Thursday on a larger-than-expected decline in U.S. inventories and continued support from Saudi Arabia's voluntary production cutback, WTI prices fell over 2% on Friday with growing concerns regarding China's coronavirus-related lockdown of 22 million people and as a result of a strengthening U.S. dollar.  For the week, WTI oil prices were up slightly while Brent oil prices were about 1% lower.
Gold prices moved similarly to oil prices, moving higher through Thursday and then selling off on Friday to end the week lower.  A weaker-than-expected PPI release on Friday, continued concerns of rising real rates and a strong U.S. dollar may have pressured gold prices lower.   President-elect Biden's announcement of a $1.9 trillion stimulus package was seemingly shrugged off by market participants.
Giving up some of the previous week's gains, base metal prices moved lower last week, hurt by a stronger U.S. dollar and China's coronavirus-related lockdown of 22 million people.  Zinc prices, down over 4% on the week, suffered from increasing-supply concerns with two zinc mines announcing plans to re-open shortly.  Copper prices, though lower on the week, were supported by low inventory levels.  Nickel prices, up 2%, continued to benefit from expectations of strong EV sales and production as well as possible supply concerns resulting from a Philippine mining ban and labor unrest in New Caledonia.
Grain prices moved sharply higher Tuesday following the release of the USDA's WASDE report.   Corn prices closed limit-up Tuesday (an over 5% increase on the day) reacting to WASDE numbers showing lower-than-expected ending stock levels and lower-than-expected harvest yields.  Soybean ending stock levels and harvest yields were also lowered in the WASDE report (though not as much as for corn) while export numbers were increased helping support prices.  Wheat prices, too, benefited from the report which showed lower-than-expected inventory levels but also continue to be supported by adverse South America weather conditions and Russian export restrictions.
Coming up this week    
Decent holiday-shortened data-week with most releases occurring Thursday and Friday.
Housing Market Index on Wednesday.
Housing Starts and Permits, Jobless claims, Philadelphia Fed Mfg Index and the Fed Balance Sheet on Thursday.
PM Composite Flash and Existing Home Sales on Friday.
EIA petroleum status report and Baker-Hughes rig count also on Friday.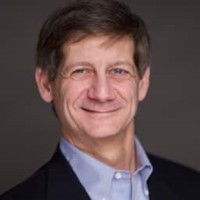 Who is Jeff Klearman in our research team? Jeff has over 20 years experience working as a trader, structurer, marketer and researcher. Most recently, Jeff was the Chief Investment Officer for Rich Investment Services, a company which created, listed and managed ETFs. Prior to Rich Investment Services, Jeff headed the New York Commodities Structuring desk at Deutsche Bank AG. From 2004 to 2007, he headed the marketing and structuring effort for rates based structured products at BNP Paribas in New York. He worked at AIG Financial Products from 1994 to 2004 trading rates-based volatility products as well as marketing and structuring. Jeff received his MBA in Finance from NYU Stern School of Business and his Bachelors of Science in Chemical Engineering from Purdue University.
More Research Related to
COMB