Commoditized Wisdom: Metals & Markets Update (September 11, 2020)
Posted: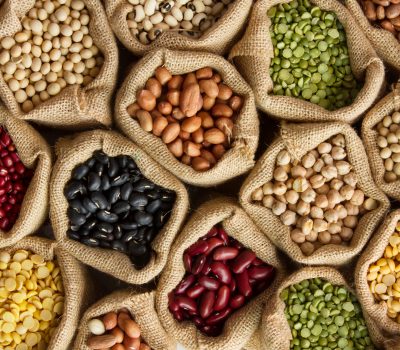 Key points
Energy prices were all significantly lower again last week. WTI and Brent crude oil and gasoline prices fell over 6%. Natural gas prices dropped a little over 8%.
Wheat prices ended the week about 1.5% lower while corn and soybean prices increased 3%.
Lean hog prices jumped another 11% higher.
Base metal prices were all lower last week. Copper prices fell about ¾ percent.  Zinc prices fell the most, decreasing 1.4%.
Gold prices increased 1%, platinum prices increased almost 3% and silver prices rose about ½ percent.
The Bloomberg Commodity index fell 1.15%, once again hurt by falling energy prices. The base metal sector slightly detracted from the index's performance as well. All other sector performance was positive.
Commodity ETPs experienced a small outflow of about $28 million. Gold ETP assets increased about 140 million while silver ETP assets decreased about $210 million. All other sectors had small inflows. 
Commentary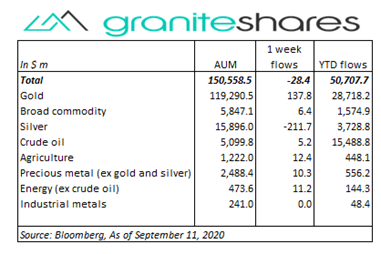 A volatile holiday-shortened week for U.S stock markets.  The Nasdaq Composite index tumbled 4.8% on Tuesday pushed lower by falling tech stock prices precipitated by Tesla's 21% plunge following its exclusion from the S&P 500 Index.    The S&P 500 Index fell 2.8% on Tuesday.   Both indexes rebounded on Wednesday but gave up those gains and more Thursday and Friday.    Investor concerns surrounding already-high tech share valuations,  Covid-19 infections, U.S.  –China tensions and upcoming U.S. elections all worked to pressure U.S. stock markets lower.  At week's end the S&P 500 Index decreased 2.5% to 3,340.97, the Nasdaq Composite index fell 4.1% to 10,853.54, the 10-year U.S. Treasury rate fell 5bps to 67 bps and the U.S. dollar (as measured by the ICE U.S. Dollar index - DXY) strengthened 0.7%.
WTI crude oil prices mirrored U.S. stock markets plunging over 7% on Tuesday, bouncing back over 3% on Wednesday and then declining about 2% Thursday through Friday.  Increasing demand concerns driven by renewed Covid-19 concerns, higher U.S. oil inventory levels, OPEC+ production cutback non-compliance and weaker China buying all weighed on crude oil markets. 
Supported by falling U.S. stock markets led by sharp declines in tech stocks, gold prices increased 1.6% through Thursday and closed the week 0.7% higher.  Renewed Covid-19 concerns, increased U.S.-China tensions and elections concerns all combined to support gold prices.  Gold prices retreated on Friday despite a higher-than-expected CPI release.
Base metal prices moved lower last week primarily as a result of increased U.S.-China tensions and a stronger U.S. dollar despite falling inventory levels in copper and other base metals.
Soybean and corn prices moved higher again last week supported by strong Chinese demand and smaller-than-expected harvests in the U.S.  A recovering hog herd and adverse weather affecting some Chinese crops have added to Chinese demand.  Wheat prices were pressured lower with reports indicating spring harvest completion nearing last year's level.
Reports of African swine fever in Germany on Thursday pushed lean hog prices significantly higher.
Coming up this week      
Busy data week highlighted by 2-day FOMC meeting beginning Tuesday.
Empire State Manufacturing Index and Import and Export Prices on Tuesday.
Retail Sales, Business Inventories, FOMC announcement and Fed Chairman press conference on Wednesday.
Jobless Claims, Housing Starts and Permits, Philadelphia Fed Manufacturing Index and Fed Balance Sheet on Thursday
Consumer Sentiment on Friday.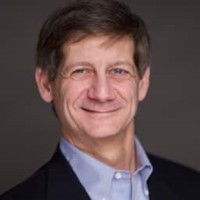 Who is Jeff Klearman in our research team? Jeff has over 20 years experience working as a trader, structurer, marketer and researcher. Most recently, Jeff was the Chief Investment Officer for Rich Investment Services, a company which created, listed and managed ETFs. Prior to Rich Investment Services, Jeff headed the New York Commodities Structuring desk at Deutsche Bank AG. From 2004 to 2007, he headed the marketing and structuring effort for rates based structured products at BNP Paribas in New York. He worked at AIG Financial Products from 1994 to 2004 trading rates-based volatility products as well as marketing and structuring. Jeff received his MBA in Finance from NYU Stern School of Business and his Bachelors of Science in Chemical Engineering from Purdue University.
More Research Related to
COMB