Commoditized Wisdom: Metals & Markets Update (September 18, 2020)
Posted: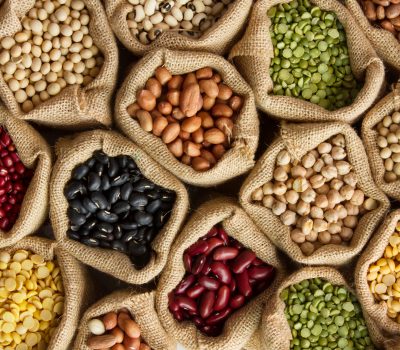 Key points
Energy prices, except for natural gas prices, moved sharply higher last week. WTI crude oil rose almost 10% and gasoline prices increased nearly 12%. Natural gas prices fell 4%.
Grain prices, too, were significantly higher. Wheat prices gained between 6% and 7% and soybean prices increased almost 5%.  Corn prices increased just under 3%.
Coffee prices plummeted just over 14%.
Base metal prices were mainly higher last week. Copper and zinc prices gained the most, increasing about 2.5%.  Nickel prices were lower on the week, falling just over 1%.
Gold, platinum and silver prices were all higher last week. Platinum and silver prices gained just over 1%. Gold futures prices increased about ¾ percent.
The Bloomberg Commodity index rose 1.97% mainly benefiting from higher grain and energy prices. The softs sector was the only negatively performing sector due to sharply lower coffee prices.
Commodity ETPs saw inflows of just over $600 million all due to gold ETP inflows. Gold ETP assets increased by almost 780 million while silver, crude oil and broad commodity ETP assets fell between $35 and $100 million each.
Commentary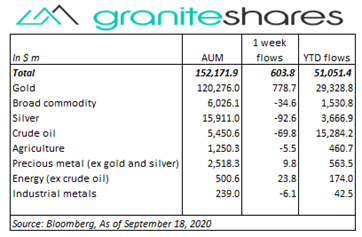 Up almost 2% through Tuesday on strong tech stock performance and increased hopes of a Covid-19 vaccine by year-end, U.S stock markets fell the remainder of the week following Wednesday's FOMC announcement and Chairman Powell's comments.   Announcing the U.S. Federal Reserve Bank would keep rates low through 2023, Chairman Powell also noted continued economic recovery was highly uncertain due to Covid-19 and, at a minimum, would require additional U.S. government fiscal stimulus.  At week's end the S&P 500 Index decreased 0.6% to 3,319..47, the Nasdaq Composite Index also fell 0.6% to 10,793,28, the 10-year U.S. Treasury rate increased 3bps to 69bps and the U.S. dollar (as measured by the ICE U.S. Dollar index - DXY) weakened 0.4%.
WTI crude oil prices moved higher throughout the week, bolstered  by falling U.S. inventory levels, Hurricane Sally related production cutbacks, OPEC+ moves to ensure cutback compliance and a weaker U.S. dollar.   Stronger-than-expected Chinese economic numbers also supported oil prices. 
A somewhat volatile week for gold prices.  Up over 1% through Wednesday in anticipation of a dovish FOMC announcement and Jerome Powell comments, gold prices fell nearly 1% on Thursday despite falling U.S. stock markets after market participants seemingly decided Fed Chairman Powell's comments were less-dovish-than-hoped and with the FOMC announcement providing no mention of new stimulus measures.   Gold prices moved higher on Friday, however, on the back of falling U.S. stock markets and continued U.S. dollar weakening.
Most base metal prices moved higher last week supported by stronger-than-expected Chinese economic reports, including retail sales, industrial production and new-home prices.    A weakening U.S. dollar also supported prices.
Lower through Tuesday on profit-taking and favorable weather forecasts, soybean, corn and wheat prices moved significantly higher the remainder of the week mainly on stronger-than-expected export numbers.  Strong Chinese buying buoyed corn and soybean prices while higher Black Sea wheat prices (reflecting strong export demand) helped push wheat prices higher.
Coffee prices moved sharply lower last week on overflowing bean supply and weaker demand.
Coming up this week      
Light data week highlighted by Jerome Powell testimony before the House and Senate.
Existing Home Sales on Tuesday.
Market Manufacturing and Services PMIs on Wednesday.
Jobless Claims and Fed Balance Sheet on Thursday.
Durable Goods Orders on Friday.
EIA petroleum report on Wednesday and Baker-Hughes rig count on Friday.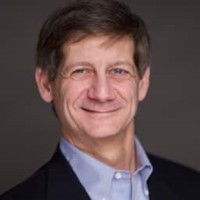 Who is Jeff Klearman in our research team? Jeff has over 20 years experience working as a trader, structurer, marketer and researcher. Most recently, Jeff was the Chief Investment Officer for Rich Investment Services, a company which created, listed and managed ETFs. Prior to Rich Investment Services, Jeff headed the New York Commodities Structuring desk at Deutsche Bank AG. From 2004 to 2007, he headed the marketing and structuring effort for rates based structured products at BNP Paribas in New York. He worked at AIG Financial Products from 1994 to 2004 trading rates-based volatility products as well as marketing and structuring. Jeff received his MBA in Finance from NYU Stern School of Business and his Bachelors of Science in Chemical Engineering from Purdue University.
More Research Related to
COMB