Commoditized Wisdom: Metals & Markets Update (Week Ending April 1, 2021)
Posted: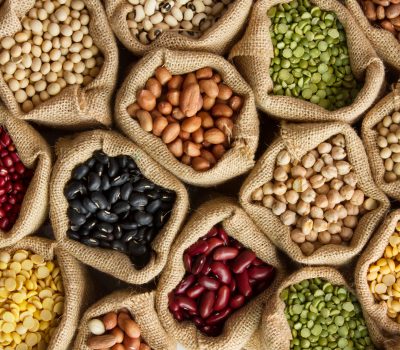 Key points
Energy prices were mainly higher last week. Crude oil prices increased just over ¾ percent and gasoline prices rose a little over 2.5%.  Natural gas prices increased ¾ percent.
Grain prices were mixed with wheat prices lower and soybean and corn prices higher. Corn prices rose 1 ¼ percent and soybean prices edged higher, increasing 0.1%.   Wheat prices were down about ½ percent.
Base metal prices were all lower with aluminum prices falling the most, losing over 3%. Copper and zinc prices decreased 2% and nickel prices fell just over 1%.
Gold and silver prices were lower with gold prices down 1/3 percent and silver prices lower by 2/3 percent. Platinum prices increased over 3%.
Coffee and sugar prices ended the week lower, falling 5.5% and 3.25%, respectively.
The Bloomberg Commodity Index decreased 0.4% last week hurt primarily from falling base metal and softs prices. Positive performance in the energy and grains sectors helped offset declines in the base metal and softs sectors.
$1.1 billion outflows from commodity ETPs last  week with most of the outflows from gold ETPs.   Gold ETPs saw outflows of almost $750 million and silver and crude oil ETPs saw outflows of about $220 million and $140 million, respectively.  There were no significant inflows last week.
Commentary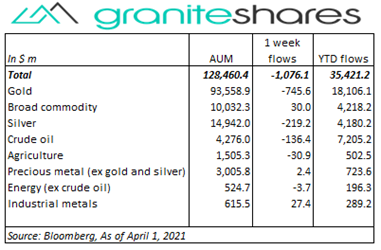 Mainly lower early in the week on hedgefund Archegos Capital fallout concerns and on higher longer-term U.S. Treasury rates, U.S. stock markets moved higher Wednesday and Thursday supported by President Biden's $2 trillion infrastructure package.  The S&P 500 Index closed at a record high Thursday, finishing above 4,000 for the first time.  Stronger-than-expected economic data also supported stock prices with the ISM Manufacturing Index, released Thursday, hitting 37-year highs. 10-year U.S. Treasury rates, 6bps higher through Wednesday, fell 7bps  Friday on no real news to end the week 1bp lower. For the week, the S&P 500 Index increased 1.1% to 4,019.87, the Dow Jones Industrial Average increased 0.2% to 33,153.21, the Nasdaq Composite Index decreased 2.6% to 13,480.11, the 10-year U.S. Treasury rate fell 1bp to 1.68% and the U.S. dollar  (as measured by the ICE U.S. Dollar index - DXY) strengthened 0.2%.
Another volatile week for oil prices.  The re-opening of the Suez Canal, coronavirus-related European oil demand concerns and OPEC+ lowering their demand estimates for 2021 pushed WTI crude oil prices down 3% through Wednesday.  The decrease came even as the EIA reported an unexpected drop in U.S. oil inventories on Wednesday.  OPEC+, expected to leave production levels unchanged, surprised markets Thursday announcing production would be increased gradually starting in May.   Crude oil prices rallied almost 4% on the news as traders discerned little difference between a gradual increase and a potentially larger increase in June.    For the week, WTI crude oil prices increased 0.8%.
Gold prices mirrored U.S. stock markets, moving lower early in the week and then rallying into the close.  A stronger U.S. dollar and rising longer-term U.S. interest rates pressured gold prices lower Monday and Tuesday while a reversal of those two factors Thursday and Friday pushed gold prices higher.  President Biden's announcement of his $2 trillion infrastructure package may have also supported gold prices.    Platinum prices down 2% through Tuesday rallied over 4% over Wednesday and Thursday.  Concerns surrounding palladium supply may have supported platinum prices.
Base metal prices moved lower last week hurt by a strengthening U.S. dollar and rising long-term interest rates.  The decline occurred despite strong manufacturing reports out of China, Europe and the U.S. and despite President Biden's announcement of his $2 trillion infrastructure plan.  Copper, down almost 2% on the week, also suffered from increased LME inventory levels.
A volatile weak for grain prices, with prices moving sharply lower through Tuesday, sharply higher Wednesday and then lower again Thursday. Prices moved lower early in the weak on improved weather conditions in the U.S. and South America and in anticipation of  Wednesday's USDA Prospective Plantings Report showing increased planting acreage for corn and soybean crops.   Lower-than-expected forecasted acreage plantings (in Wednesday's report) caused May and July soybean and corn futures contracts to settle limit up Wednesday only to see some of those gains reversed Thursday. 
Coffee and sugar prices moved lower last week hurt by a weakening Brazilian real and coronavirus-related demand concerns in Europe.
Coming up this week    
Fairly busy week with manufacturing and services index and FOMC minute releases and Jerome Powell speaking on Thursday.
Markit Composite and Services PMIs, Factory Orders and ISM Non-Mfg Index on Monday.
Intl Trade in Goods and Services and FOMC Minutes on Wednesday.
Jobless Claims, Jerome Powell Speaks and PMI Mfg Index on Thursday.
PPI on Friday.
EIA petroleum status report on Wednesday and Baker-Hughes rig count on Friday.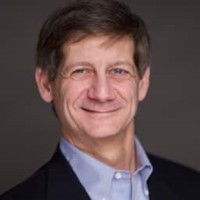 Who is Jeff Klearman in our research team? Jeff has over 20 years experience working as a trader, structurer, marketer and researcher. Most recently, Jeff was the Chief Investment Officer for Rich Investment Services, a company which created, listed and managed ETFs. Prior to Rich Investment Services, Jeff headed the New York Commodities Structuring desk at Deutsche Bank AG. From 2004 to 2007, he headed the marketing and structuring effort for rates based structured products at BNP Paribas in New York. He worked at AIG Financial Products from 1994 to 2004 trading rates-based volatility products as well as marketing and structuring. Jeff received his MBA in Finance from NYU Stern School of Business and his Bachelors of Science in Chemical Engineering from Purdue University.
More Research Related to
COMB