Commoditized Wisdom: Metals & Markets Update (Week Ending April 21, 2023)
Posted: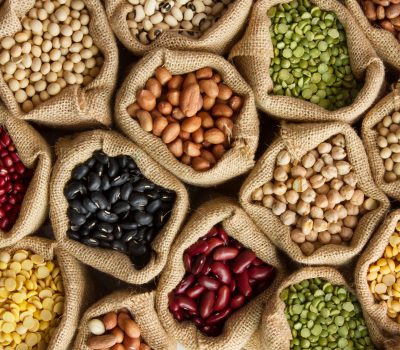 Key points
Energy prices, except for natural gas prices, were all lower. Brent and WTI crude oil prices fell 5% as did gasoil and heating oil prices.  Gasoline prices dropped 7%.  Natural gas prices increased 2%.
Grain prices were all lower. Chicago and Kansas City wheat prices fell between 3% and 4%, corn prices 3% and soybean prices 1%.
Spot gold and silver prices fell 1%. Spot platinum prices increased 8%. Palladium prices rose 6%.  
Base metal prices were mixed. Copper prices fell 3%, zinc prices lost 5% and lead prices decreased less than ½ percent. Aluminum and nickel prices increased 1%.
The Bloomberg Commodity Index fell 2% with the energy sector responsible for half of the decline. The grains sector was responsible for another 25% and the base and precious metals sector accounted for the remaining 25%.
Small net outflows from commodity ETPs last week. Outflows from silver, crude oil and energy (ex-crude oil) ETPS were mostly offset by inflows into gold and broad commodity ETPs.
Commentary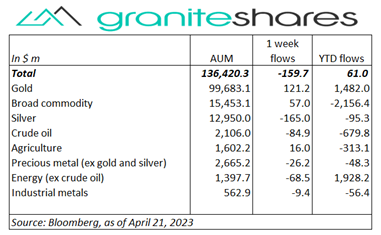 Major stock-market indexes moved slightly lower last week with investors attempting to divine the market direction amongst mixed economic/earnings reports and Fed rate-hike concerns.  Monday's much better-than-expected Empire State Manufacturing Index release was countered by Thursday's unexpectedly sharply weaker Philadelphia Fed Manufacturing Index which in turn was countered by Friday's S&P Global US Composite PMI release showing much stronger-than-expected manufacturing and services activity throughout the U.S.   Initial jobless claims came in higher than expected, adding to concerns of a slowing economy.  Earnings reports added to market uncertainty with mixed bank and retailer results.  Fed rate-hike concerns and expectations, muddled by the week's seemingly conflicting data points, added to market uncertainty.     For the week, the S&P 500 Index decreased 0.1% to 4,133.52, the Nasdaq Composite Index dropped 0.4% to 12,072.46, the Dow Jones Industrial Average fell 0.2% to 33,809.33, the 10-year U.S. Treasury rate increased 6bps to 3.57% and the U.S. dollar (as measured by the ICE U.S. Dollar index – DXY) strengthened 0.2%.
Oil prices moved lower last week pressured by recession-related demand concerns and the likely resumption of Kurdistan exports.  WTI Crude oil prices, down every day but Friday, fell prey to Fed rate-hike demand destruction as well as reports of increased Russia oil sales to India and China.  Prices fell despite a stronger-than-expected Chinese GDP release and stronger-than-expected U.S. manufacturing and services activity as well as much better-than-expected euro zone services activity.  Natural gas prices ended the week 2% higher (July futures contract).
A volatile week for gold prices with spot gold prices alternatively falling and rising at least ½ percent each day. Fluctuating expectations of future Fed action and the possible concomitant results on the U.S. economy see-sawed both Treasury rates and the level of the U.S. dollar throughout the week and, as a result, affected gold prices likewise.  Spot gold prices, unchanged through Thursday, fell 1% Friday following a much stronger-than-expected S&P Global Composite PMI release.  Silver prices fared the same as gold prices.  Platinum prices finished the week 8% higher, affected by South African production disruptions due to power outages. 
Copper prices fell last week, hurt by a stronger U.S. dollar resulting from growing Fed rate-hike expectations.   While Chinese GDP expanded more than expected (boosting copper demand expectations), Chinese manufacturing and property-related activity was weaker-than-expected. 
Initially sharply higher (Monday) on supply and weather concerns, grain prices fell the remainder of the week on reports of fund selling, disappointing exports  and reports China is working to reduce soybean meal in animal feed.  Corn and soybean prices, originally supported by continued downgrading of Argentina crops, fell on upgrades to Brazil's already-bumper crop.  Wheat prices ended the week lower despite freezing weather forecasts in the U.S. and continued uncertainty surrounding Russia's desire to extend the Black Sea export agreement.
Coming Up This Week
Decent data week with pending and new home sales data, the first estimate Q1 GDP (Thursday) and, perhaps most importantly, the PCE Price Index on Friday.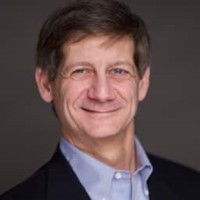 Who is Jeff Klearman in our research team? Jeff has over 20 years experience working as a trader, structurer, marketer and researcher. Most recently, Jeff was the Chief Investment Officer for Rich Investment Services, a company which created, listed and managed ETFs. Prior to Rich Investment Services, Jeff headed the New York Commodities Structuring desk at Deutsche Bank AG. From 2004 to 2007, he headed the marketing and structuring effort for rates based structured products at BNP Paribas in New York. He worked at AIG Financial Products from 1994 to 2004 trading rates-based volatility products as well as marketing and structuring. Jeff received his MBA in Finance from NYU Stern School of Business and his Bachelors of Science in Chemical Engineering from Purdue University.
More Research Related to
COMB