Commoditized Wisdom: Metals & Markets Update (Week Ending August 18, 2023)
Posted: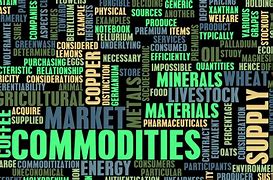 Key points
Energy prices were all lower though heating oil prices eked out a small gain. WTI and Brent crude oil prices decreased 2%, gasoline prices fell 3% and gasoil prices 1%.  Natural gas prices dropped 5%.
Wheat prices fell between 1% and 2%, while corn prices increased 1% and soybean prices rose 4%. Soybean oil prices gained 6%.
Spot gold prices decreased 1%. Spot silver and platinum prices rose less than ½ percent.
Aluminum and zinc prices fell 2% and 4%, respectively. Copper and nickel prices decreased 1%. Lead prices increased 2%.
The Bloomberg Commodity Index decreased 1.2%. Losses in the energy and base and precious metals sectors were partially offset by gains in the grains sector.
Another week of outflows and again predominantly from gold ETPs. Broad Commodity and silver ETPs also experienced outflows as well.  Energy ETPs were the only ETPs with inflows.
Commentary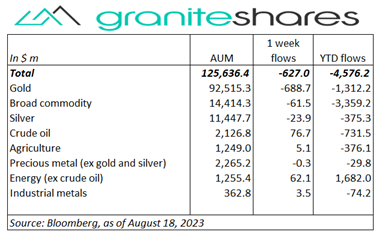 All 3 major stock market indexes moved noticeably lower last week pressured by growing "higher-rates-for-longer" concerns.  Good economic data released last week, including better-than-expected retail sales and initial jobless claims, added to rate concerns pushing both nominal and real 10-year Treasury rates higher and, as a result, pressuring stock prices lower.   Wednesday's FOMC Minutes release also contributed to expectations of continued Fed vigilance, revealing most FOMC members continue to be worried about current and prospective inflation levels.   The Atlanta Fed's revision higher to its Q3 GDP growth forecast (also on Wednesday) added to higher-rate concerns as well.  Reflecting higher-rate concerns, the 10-year Treasury rate rose 9bps with 10-year real rates rising 16bps and 10-year inflation expectations falling 7bps.  For the week, the S&P 500 Index fell 2.1% to 4,369.71, the Nasdaq Composite Index dropped 2.6% to 13,290.78, the Dow Jones Industrial Average decreased 2.2% to 34,501.88, the 10-year U.S. Treasury rate increased 9bps to 4.25% and the U.S. dollar (as measured by the ICE U.S. Dollar index – DXY) strengthened 0.6%.
Oil prices finished the week lower, breaking a streak of weekly increases.  Prices moved lower the first half of the week, falling on weak Chinese economic data and concomitant demand concerns.  The BoC's move to support China's flailing property market as well as a drawdown in China crude oil inventories pushed prices higher Thursday while a drop in oil and gas rigs for the 6th consecutive week (as reported by the Baker-Hughes Rig Count Report) bolstered prices Friday.   Falling gasoline stocks, indicating strong gasoline demand, also supported prices.
Spot gold prices finished the week lower, pressured by rising rates and an appreciating U.S. dollar.  "Higher-rates-for-longer" concerns dominated markets last week, with stronger-than-expected retail sales and lower-than-expected initial jobless claims increasing expectations of continued Fed vigilance.  FOMC minutes, released Wednesday, added to these expectations showing most members continue to be concerned about current and prospective inflation levels.  Silver and platinum prices, in contrast, ended the week higher, increasing about 1/3rd percent.       
Copper prices moved lower again last week as well, once again adversely affected by rising rates, a stronger U.S. dollar and a faltering Chinese economy.  China's flailing property market and reduced GDP growth projections/forecasts as well as a stronger U.S. dollar helped move copper prices almost 2% lower through Wednesday. Thursday's BoC's liquidity injection, however, buoyed prices, pushing copper prices over 1% higher over Thursday and Friday.   Zinc and aluminum prices fell more sharply than copper prices while lead prices increased.   
Wheat prices ended the week lower but off Thursday's lows.  Prices moved lower through Thursday affected by increased Russian crop projections and a significantly weaker Russian ruble. Prices increased sharply Friday following forecasts for falling Australian yield, India's large purchase of Russian wheat and an extended El Nino forecast (acting negatively on crops).     Soybean and corn prices finished the week higher mainly due to short-range weather forecasts for hot, dry U.S. weather.  Soybean prices also were supported by rising bean oil prices.
Coming Up This Week
Moderate week with existing and new home sales data releases, durable goods orders, PMI Composite release and Friday's Jerome Powell speech.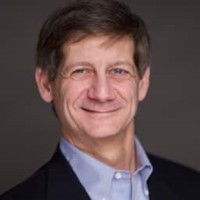 Who is Jeff Klearman in our research team? Jeff has over 20 years experience working as a trader, structurer, marketer and researcher. Most recently, Jeff was the Chief Investment Officer for Rich Investment Services, a company which created, listed and managed ETFs. Prior to Rich Investment Services, Jeff headed the New York Commodities Structuring desk at Deutsche Bank AG. From 2004 to 2007, he headed the marketing and structuring effort for rates based structured products at BNP Paribas in New York. He worked at AIG Financial Products from 1994 to 2004 trading rates-based volatility products as well as marketing and structuring. Jeff received his MBA in Finance from NYU Stern School of Business and his Bachelors of Science in Chemical Engineering from Purdue University.
More Research Related to
COMB