Commoditized Wisdom: Metals & Markets Update (Week Ending August 20, 2021)
Posted: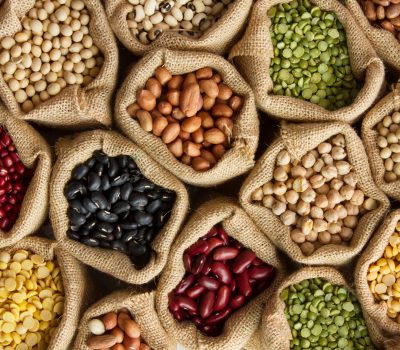 Key points
Energy prices, except for natural gas prices, were all sharply lower. WTI and Brent crude oil prices fell 9% and 8%, respectively, and gasoline prices fell 10.5%.  Natural gas prices were down ½ percent.
Grain prices were all lower as well.  Wheat prices fell between 5% and 6%, corn prices were down over 6% and soybean prices fell 5.5%.  Soybean oil prices dropped 10.5%.
Gold prices rose while silver and platinum prices fell. Gold prices increased 1/3 percent.  Platinum and silver prices fell 5% and 3%, respectively.
Base metal prices, too, were all lower. Copper and nickel prices fell the most, with both falling 6%.  Aluminum prices decreased 2% and zinc prices fell 3.5%.
The Bloomberg Commodity Index decreased 4.2% with the energy sector responsible for almost half the decline. No sectors had positive returns last week.
$800 million ETP outflows last week with almost all of it coming from gold (-$710m) and silver (-$126m) ETPs. Broad commodity ETPs saw inflows of $75 million.  
Commentary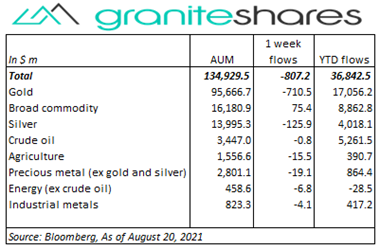 Slowing U.S and Chinese growth fears, Afghanistan-related geopolitical and Delta variant concerns and Fed minutes increasing expectations the Fed may taper asset purchases before the end of this year pushed U.S. stock markets lower last week.   All three major stock indexes moved higher Friday, gaining between ¾ percent and over 1 percent, buoyed by strong earnings reports and amid investor re-thinking of Fed taper timing.  The U.S. dollar strengthened over 1 percent while the 10-year U.S. Treasury rate fell 4bps, perhaps reflecting expectations the Fed will tighten monetary policy sooner than later resulting in slower economic growth going forward.   For the week, the S&P 500 Index decreased 0.6% to 4,441.67, the Nasdaq Composite Index decreased 0.7% to 14,714.66, the Dow Jones Industrial Average fell 1.1% to 35,120.08, the 10-year U.S. Treasury rate decreased 4bps to 1.26% and the U.S. dollar  (as measured by the ICE U.S. Dollar index - DXY) strengthened 1.1% percent.
WTI crude oil prices fell every day last week, dropping no less than 1% each day and over 2% Thursday and Friday.  Surging Delta-variant Covid-19 cases, weaker Chinese economic growth and declining Chinese oil demand, growing U.S. shale oil output and fears the Fed may tighten monetary policy before year end all acted to move prices lower.    A significantly stronger U.S. dollar and OPEC+ oil production increases also weighed on prices while falling U.S. oil inventory levels had little effect.
Gold prices moved higher Monday and then edged lower the remainder of the week.  Falling U.S. and global stock markets, geopolitical and Covid-19 concerns, weaker-than-expected Chinese economic data, a greater-than-expected decline in U.S. retail sales and reports of central bank buying helped support gold prices. Wednesday's FOMC minutes indicating the Fed may tighten monetary policy before year end and a strengthening U.S. dollar worked to cap gains.   Silver and platinum prices moved sharply lower following falling base metal prices.
Base metal prices all moved lower last week with copper and nickel prices falling the most.   Weakening Chinese economic growth driven by Covid-19-related restrictions as well as policies implemented to restrain growth and limit commodity price increases, helped move copper prices almost 8% lower through Thursday.  FOMC minutes indicating the Fed may tighten monetary policy before year end and a strengthening U.S. dollar also contributed to price weakness.  Striking copper miners in Brazil, production issues in Canada and threats of strikes in Peru had little effect on prices.
Grain prices ended the week considerably lower affected by risk-off sentiment in equity and commodity markets.  Surging Covid cases and weaker-than-expected Chinese economic data stressed global asset markets including grain markets.   Indications the Fed may tighten monetary policy before year end, driving up the U.S. dollar, and expectations of favorable weather is the U.S. Midwest also helped to move prices lower.
Coming up this week    
A data week weighted toward Friday releases, included the PCE Price Index, but with PMI and Markit index releases Monday and home sales data Monday and Tuesday. 
PMI Mfg Index, Markit Mfg, Composite and Services Indexes and Existing Home Sales on Monday.
New Home Sales on Tuesday.
Durable Goods Orders on Wednesday.
Jobless Claims and GDP on Thursday.
PCE Price Index, Personal Income and Spending, Retail Inventories and Consumer Sentiment on Friday.
EIA Petroleum Status Report on Wednesday and Baker-Hughes Rig Count on Friday.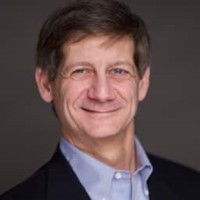 Who is Jeff Klearman in our research team? Jeff has over 20 years experience working as a trader, structurer, marketer and researcher. Most recently, Jeff was the Chief Investment Officer for Rich Investment Services, a company which created, listed and managed ETFs. Prior to Rich Investment Services, Jeff headed the New York Commodities Structuring desk at Deutsche Bank AG. From 2004 to 2007, he headed the marketing and structuring effort for rates based structured products at BNP Paribas in New York. He worked at AIG Financial Products from 1994 to 2004 trading rates-based volatility products as well as marketing and structuring. Jeff received his MBA in Finance from NYU Stern School of Business and his Bachelors of Science in Chemical Engineering from Purdue University.
More Research Related to
COMB