Commoditized Wisdom: Metals & Markets Update (Week Ending August 27, 2021)
Posted: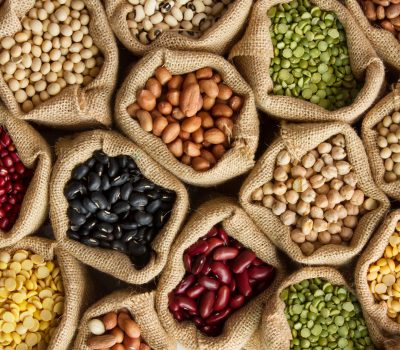 Key points
Energy prices were all sharply higher last week. Natural gas prices increased the most, rising almost 13%, followed by gasoline prices up over 11%.  WTI and Brent crude oil prices both increased 10 ¾ percent.
Grain prices were all higher as well.  Wheat prices rose about 1%, corn prices increased 3% and soybean prices gained 2.5%.  Soybean oil prices increased 6.5%.
Precious metal prices ended the week higher, too. Gold prices increased 1%, silver prices rose 4% and platinum prices gained 1.5%.
Base metal prices also moved higher last week with copper prices increasing the most. Copper prices rose 5%, aluminum prices 4%, nickel prices 3% and zinc prices 2.5%.
The Bloomberg Commodity Index powered higher last week, increasing 7.1%. All sectors had positive returns with the energy sector contributing over half this week's increase.
$930 million ETP outflows last week with over half coming from gold ETPs and with every sector reporting outflows. Broad commodity, silver and crude oil ETPs each had outflows of over $100 million.
Commentary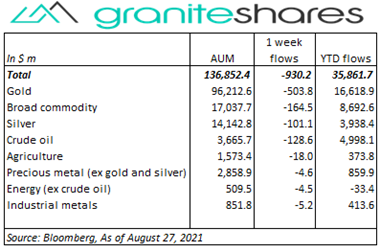 U.S. stock markets moved higher last week buoyed by strong earnings reports, as- or better-than-expected economic data and by temperate comments from Fed Chairman Jerome Powell.   All three major U.S. stock indexes rose every day but Thursday last week, faltering on Thursday in anticipation of Jerome Powell's Jackson Hole speech Friday morning and on news of the Kabul airport attack.  Both the S&P 500 Index and Dow Jones Industrial Average closed the week at record highs.  Fed Chairman Jerome Powell's prepared remarks on Friday confirmed the Fed wanted to begin tapering its Treasury and mortgage-backed buyback program before year end but also qualified those comments with a need for careful and moderate implementation citing concerns of "temporary fluctuations in inflation".  The 10-year U.S. Treasury rate finished the week higher but well off its Thursday's high of 1.36%, falling over 4bps after Jerome Powell's comments.  Similarly, the U.S. dollar, weaker by ½ percent through Thursday, weakened almost another ½ percent Friday. For the week, the S&P 500 Index increased 1.5% to 4,509.37, the Nasdaq Composite Index rose 2.8% to 15,129.50, the Dow Jones Industrial Average gained 1.0% closing at  35,454.81, the 10-year U.S. Treasury rate increased 5bps to 1.31% and the U.S. dollar  (as measured by the ICE U.S. Dollar index - DXY) weakened 0.9% percent.
Oil prices steamrolled higher last week jumping nearly 6% Monday, and 3% Tuesday.  Prices only fell Thursday.   The strong performance was partly a rebound from the previous week's sharp selloff but also a result of sharply decreasing U.S. gasoline and oil inventories, a PEMEX oil production platform shutdown and production and refinery shutdowns along the Gulf Coast due to approaching Hurricane Ida.   A weaker U.S. dollar and lessening Covid concerns also supported oil prices.  Natural gas prices moved higher as a result of Hurricane Ida but also on below normal reserve injections.
Gold futures prices rose last week increasing over 1 ¼ percent Monday and Friday and only falling Wednesday.  Prices rose in part reflecting overall investor sentiment that risks of significant changes in the U.S. Federal Reserve Bank's monetary policy were minimal.   Friday's prepared remarks by Fed Chairman Jerome Powell confirmed this sentiment with Powell commenting the Fed would begin tapering its buyback program before year end while cautioning against setting policy based upon "a temporary fluctuation in inflation".  
Based metal prices all moved higher last week bolstered by sharply reduced Chinese Covid concerns following China reporting no new cases.  Increased Chinese buying propelled copper prices higher while Chinese restrictions on aluminum smelters helped move aluminum prices higher.  Fed Chairman Powell's comments on Friday reduced concerns of major changes in Fed monetary policy, weakening the U.S. dollar, supporting base metal prices as well.
Falling crop-condition concerns moved corn and soybean prices higher last week despite some rain and short-term forecasts for wetter weather.  Expectations forecasted rain will only reach a small portion of soybean growing areas and may be too late to significantly alter harvest yields supported grain prices throughout the week.  Rising oil prices also supported corn and oil prices, increasing demand expectations for ethanol and biofuels.  
Coming up this week    
Busy week with home price and sales data, consumer confidence, PMI and ISM manufacturing indexes and capped with the non-farm payroll report Friday.
Pending Home Sales on Monday.
Case-Shiller Home Price Index, Chicago PMI and Consumer Confidence on Tuesday.
PMI and ISM Manufacturing Indexes and Construction Spending on Wednesday.
Intl Trade in Goods and Services, Jobless Claims, Productivity and Costs and Factory Orders on Thursday.
Employment Situation Report, PMI Composite and ISM Services Indexes on Friday.
EIA Petroleum Status Report on Wednesday and Baker-Hughes Rig Count on Friday.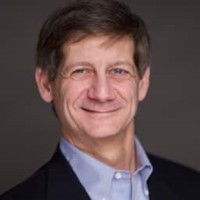 Who is Jeff Klearman in our research team? Jeff has over 20 years experience working as a trader, structurer, marketer and researcher. Most recently, Jeff was the Chief Investment Officer for Rich Investment Services, a company which created, listed and managed ETFs. Prior to Rich Investment Services, Jeff headed the New York Commodities Structuring desk at Deutsche Bank AG. From 2004 to 2007, he headed the marketing and structuring effort for rates based structured products at BNP Paribas in New York. He worked at AIG Financial Products from 1994 to 2004 trading rates-based volatility products as well as marketing and structuring. Jeff received his MBA in Finance from NYU Stern School of Business and his Bachelors of Science in Chemical Engineering from Purdue University.
More Research Related to
COMB