Commoditized Wisdom: Metals & Markets Update (Week Ending December 23, 2022)
Posted: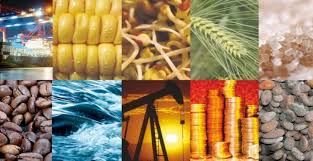 Key points
Oil and derivative prices were markedly higher last week while natural gas prices plunged. WTI and Brent crude oil prices increased between 6% and 7%, heating oil prices rose 7% and gasoline prices jumped 11%.  Natural gas prices (March futures contract) dropped precipitously, falling 21%
Grain prices were mostly higher. Wheat prices increased between 3% and 5% and corn prices increased 2%. Soybean prices were unchanged. Soybean oil prices increased 4%.  
Precious metal prices were all higher.  Spot gold prices ended the week up about 1/3 percent, spot silver prices increased 2% and spot platinum prices gained 3%.  Spot paladium prices rose 2%.
Base metal prices were mixed. Aluminum and copper prices were up around 1% and nickel prices increased 4%.   Zinc prices fell 2%.
The Bloomberg Commodity Index was practically unchanged.  Gains in oil and derivative prices and in all other sectors were offset by sharply lower natural gas prices.
Small net inflows into commodity ETPs last week with gold and energy (ex-crude oil) inflows mainly offset by crude oil and agriculture outflows.
Commentary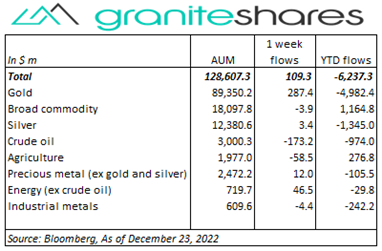 Marked divergence in the weekly performance of the 3 major stock market indexes last week.  The NASDAQ Composite Index strongly underperformed both the S&P 500 Index and the Dow Jones Industrial Average while the S&P 500 noticeably lagged the Dow Jones Industrial Average.  Index levels were buffeted during the week by uncertainty regarding Fed monetary policy in the face of seemingly falling inflation but with data indicating a resilient job market and optimistic consumer.   Stock markets fell sharply Monday, reacting to a weak retail sales release (a departure from the "bad news is good news" regime), rising Chinese Covid cases and growing recession concerns.   Index levels surged Wednesday with a strong Consumer Confidence number, a much better-than-expected Nike earning report and falling existing homes sales and prices, only to see those gains reversed Thursday on a revised-higher Q3 GDP release and continued low initial jobless claims.   Friday's PCE Price Index release moved stock prices higher with inflation levels coming in both lower than expected and lower than the previous month.  Nonetheless, stock price gains were somewhat muted with prices for services continuing to show strong increases, supporting expectations of unchanged Fed monetary policy.   The 10-year Treasury rate rose 26bps last with 60% of the increase coming from rising 10-year real rates.  10-year real rates now stand at 1.52% and 10-year inflation expectations at 2.23%.     The U.S. dollar continued to be volatile, falling sharply on Tuesday (following the BoJ's decision to widen the interest range on the 10-year note to +/- 50bps from +/- 25bps) and then strengthening the remainder of the week.  At week's end, the S&P 500 Index decreased 0.2% to 3,844.82, the Nasdaq Composite Index dropped 1.9% to 10,497.86, the Dow Jones Industrial Average gained 0.9% to close at 33.204.26, the 10-year U.S. Treasury rate rose 26bps to 3.75% and the U.S. dollar (as measured by the ICE U.S. Dollar index – DXY) weakened 0.4%.
Oil prices moved higher again last week.  Prices rose sharply Wednesday following the release of the EIA petroleum status report showing a much greater-than-expected drawdown in U.S. oil inventories and an unexpected decline in distillate inventories.  A severe winter storm and sub-freezing temperatures throughout most of the U.S. helped move heating oil prices higher on increased demand expectations  Gasoline prices also moved higher, despite the demand depressing effect of the sever weather, due to expectations of reduced refining production.  Prices did move lower Thursday on increased Fed-induced recession fears following a revised-higher Q3 GDP and continued low initial jobless claims.  Surging Chinese Covid cases partially offset easing Chinese Covid curbs also pressuring prices lower.  Reports Friday that Russia would reduce oil production due to EU and G7 implemented price caps, supported prices.  Natural gas prices plunged last week despite frigid temperatures, falling in reaction to unusually warm weather forecasts in the last week of December and early next year.
Gold prices ended the week slightly higher powered mainly by a sharply weaker dollar following the BoJ's decision to widen the range on the 10-year rate 25bps to +/- 0.5%.     Nearly 2% higher Tuesday following the BoJ announcement, gold prices fell south of 1% Thursday after a greater-than-expected revision to U.S. Q3 GDP and continued low level of initial jobless claims.   Silver and platinum prices moved higher with gold prices but with larger gains on the week.     
Base metal prices, mainly higher on the week, moved similarly to precious metal prices.  Generally higher early in the week on a markedly weaker U.S. dollar following the BoJ's announcement (see just above), base metal prices fell Thursday after stronger-than-expected job and GDP data releases increased expectations of a Fed-induced recession.   China's move to ease Covid-related curbs helped support prices but was partially negated by rising Covid cases (in China).   
Corn and wheat prices registered gains last week while soybean prices were unchanged.  Corn and soybean prices, initially lower on favorable Argentina weather forecasts, moved higher – for the most part – the remainder of the week on revised, adverse Argentina weather forecasts and a weaker U.S. dollar.  Wheat prices, also lower Monday, benefited from concerns of a sub-freezing temperatures and snow in the Plains states as well as uncertainty surrounding Black Sea-related exports resulting from Ukraine President Zelensky visiting the U.S.    Soybean oil prices moved higher as well benefiting from rallying oil prices.
Coming up this week      
Very light week featuring home prices and sales index/data releases, jobless claims and the Chicago PMI.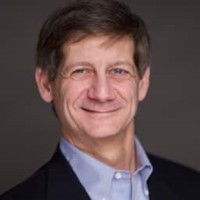 Who is Jeff Klearman in our research team? Jeff has over 20 years experience working as a trader, structurer, marketer and researcher. Most recently, Jeff was the Chief Investment Officer for Rich Investment Services, a company which created, listed and managed ETFs. Prior to Rich Investment Services, Jeff headed the New York Commodities Structuring desk at Deutsche Bank AG. From 2004 to 2007, he headed the marketing and structuring effort for rates based structured products at BNP Paribas in New York. He worked at AIG Financial Products from 1994 to 2004 trading rates-based volatility products as well as marketing and structuring. Jeff received his MBA in Finance from NYU Stern School of Business and his Bachelors of Science in Chemical Engineering from Purdue University.
More Research Related to
COMB