Commoditized Wisdom: Metals & Markets Update (Week Ending December 30, 2022)
Posted: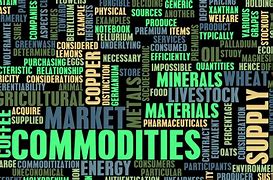 Key points
Once again, oil and refined product prices were higher last week while natural gas prices moved sharply lower. WTI and Brent crude oil increased between 1% and 2%. Heating oil prices rose 2% and gasoline prices increased 3%.  Natural gas prices (March futures contract) fell 7%.
Grain prices were all higher. Wheat and corn prices increased 2% and soybean prices rose 3%. Soybean meal prices increased 4%.
Precious metal prices were all higher.  Spot gold prices increased almost 2% percent, spot silver prices increased 1% and spot platinum prices gained 5%.  Spot palladium prices rose almost 3%.
Base metal prices again were mixed. Aluminum price decreased ½ percent and copper prices were practically unchanged. Zinc prices were only slightly higher, increasing about ¼ percent.  Nickel prices rose 2%.
The Bloomberg Commodity Index increased 0.3%.  Gains in oil and derivative prices as well as in grain prices were offset by falling natural gas prices.
More small net flows into commodity ETPs last week with gold and energy (ex-crude oil) and broad commodity inflows mainly offset by crude oil and agriculture outflows.
Commentary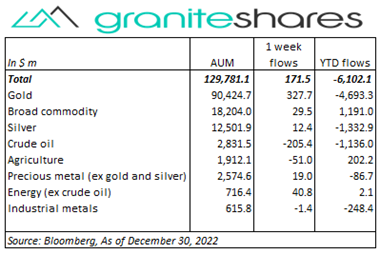 Stock markets moved marginally lower last week belying a relatively volatile week.  Lighter, holiday-related trading volumes seemingly brought about decent sized daily moves in all 3 major stock market indexes despite a dearth of market-moving news.  Uncertainty surrounding China's easing Covid curbs in the face of surging cases seemed to be the major influence on market sentiment last week.  The 10-year Treasury rate rose 14bps to 3.88% last week with increasing real rates and inflations expectations contributing equally.  10-year inflation expectations closed the year at 2.30%.     For the year, the S&P 500 Index fell 19.4%, the Nasdaq Composite Index dropped 33.1% and the Dow Jones Industrial average gave up 8.8%.   At week's end, the S&P 500 Index decreased 0.1% to 3,839.5, the Nasdaq Composite Index decreased 0.3% to 10,466.48, the Dow Jones Industrial Average decreased 0.2% to 33.147.28, the 10-year U.S. Treasury rate rose 13bps to 3.88% and the U.S. dollar (as measured by the ICE U.S. Dollar index – DXY) weakened 0.8%.
Oil prices moved similarly to equity markets ending the week slightly higher and experiencing higher volatility due to light trading volumes.  Prices mainly were affected by demand uncertainty surrounding China's move away from its zero-Covid policy in the face of surging cases.  Prices moved lower through Thursday as refineries began to reopen following severe storms and cold weather last week and after an unexpected increase in U.S. oil inventories.  Prices moved over 2% higher Friday on no new news though Russia's announcement earlier in the week that it would not sell oil to countries supporting the price may have been partially responsible.  For the year spot WTI crude oil prices rose 6.5% and spot Brent crude oil prices gained 9.8%.   
Precious metal prices moved higher last week buoyed by a weaker U.S. dollar and increased demand expectations resulting from China's easing Covid curbs.   Silver and platinum prices moved higher with gold prices but with larger gains on the week.    For the year spot gold prices were down marginally, falling 0.2%. spot silver prices increased 0.8% and spot platinum prices climbed 11.1%.
Base metal prices were mainly higher last week supported by China's continued easing of Covid curbs.   Gains experienced early last week were considerably offset, however, by demand uncertainty resulting from surging Covid cases in China.   For the year, copper prices and aluminum prices were down around 15% while nickel prices surged over 40%.  
Grain prices were all higher last week.  Soybean and corn prices benefited from adverse weather concerns in South America and on China's continued easing of Covid curbs.  Soybean prices were also bolstered by strong soybean meal demand. Wheat prices, lower through Thursday, moved higher Friday apparently on year-end buying to close short positions.  Russia's stepped-up missile and drone attacks on Ukraine may have also supported prices.  For the year, soybean and corn prices rose approximately 26% and 20%, respectively, while wheat prices fell almost 5%.
Coming up this week      
Mfg and Services PMI throughout the week, FOMC minutes Wednesday and, the highlight of the week, the Employment Report Friday.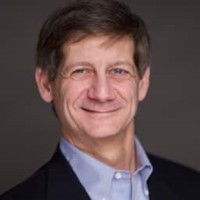 Who is Jeff Klearman in our research team? Jeff has over 20 years experience working as a trader, structurer, marketer and researcher. Most recently, Jeff was the Chief Investment Officer for Rich Investment Services, a company which created, listed and managed ETFs. Prior to Rich Investment Services, Jeff headed the New York Commodities Structuring desk at Deutsche Bank AG. From 2004 to 2007, he headed the marketing and structuring effort for rates based structured products at BNP Paribas in New York. He worked at AIG Financial Products from 1994 to 2004 trading rates-based volatility products as well as marketing and structuring. Jeff received his MBA in Finance from NYU Stern School of Business and his Bachelors of Science in Chemical Engineering from Purdue University.
More Research Related to
COMB