Commoditized Wisdom: Metals & Markets Update (Week Ending December 9, 2022)
Posted: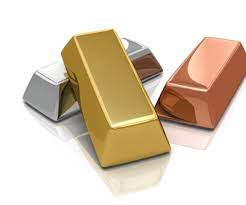 Key points
Energy prices were all lower. WTI and Brent crude oil and heating oil prices fell 11%. Gasoline prices dropped 10% and natural gas prices decreased 1%.
Grain prices were mixed. Wheat prices fell 4% and corn prices lost less than ½ percent. Soybean prices increased 3% and soybean meal prices surged 11%  
Precious metal prices were mainly higher.  Spot gold prices ended the week slightly lower, decreasing 0.1%.  Spot silver prices rose 1.3% and spot platinum prices gained 1%.
Base metal prices were mixed. Aluminum prices fell 3%.  Copper prices increased 1%, zinc prices rose 6% and nickel prices were up almost 2%.
The Bloomberg Commodity Index decreased 2.3% dragged down by falling energy prices.
Small inflows into commodity ETPs. Inflows into gold and energy ETPs were offset by outflows from broad commodity, silver and agriculture ETPs.  The largest inflows were into crude oil and gold ETPs.  The largest outflow was from broad commodity ETPs.
Commentary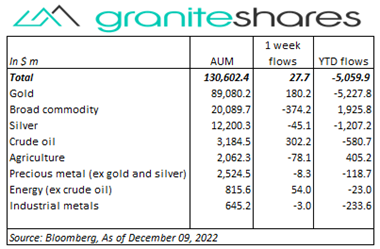 A down week for major stock indexes, reversing some of last month's strong gains.   Investor trepidation in front of this week's FOMC meeting combined with strong economic  data soured investor sentiment, pushing stock prices lower.   Monday's stronger-than-expected ISM Services Index and Factory Output releases set the tone for the rest of the week, driving all 3 major stock indexes 1.5% lower or more on the day.  Stock prices moved higher Thursday on no news only to see those gains reversed by a higher-than-expected PPI release Friday.  It was a volatile week for the 10-year Treasury rate, climbing 9bps higher Monday, falling 16bps over Tuesday and Wednesday and then adding almost 17bps over Thursday and Friday.   The volatility, interestingly, was caused by fluctuations in 10-year inflation expectations and not by fluctuations in 10-year real rates.  10-year real rates gained 26bps over the week, increasing – for the most part - steadily over the week.  At week's end, the S&P 500 Index decreased 3.4% to 3,934.38, the Nasdaq Composite Index dropped 4.0% to 11,004.62, the Dow Jones Industrial Average lost 2.8% to close at 33.475.60, the 10-year U.S. Treasury rate rose 10bps to 3.59% and the U.S. dollar (as measured by the ICE U.S. Dollar index – DXY) appreciated 0.3%.
Oil prices moved lower every day last week with demand concerns overriding supply concerns.  Monday's stronger-than-expected U.S. ISM Services and factory orders releases renewed expectations of continued aggressive Fed rate policy, in turn increasing expectations of U.S. and European recessions.   OPEC+'s decision to not further reduce production also weighed on oil prices as did Wednesday's much larger-than-expected increase in gasoline and distillate inventories and Friday's higher-than-expected PPI release.   WTI crude oil prices fell more than 11% last week, forfeiting all year-to-date gains resulting from the Russian invasion of Ukraine. The losses came despite China's relaxation of Covid-related restrictions, higher Chinese oil imports, the implementation of the G7 Russian oil price cap and the EU's Russian oil import ban.    Natural gas prices, though almost unchanged, experienced high volatility last week.  Down 13% through Tuesday on very bearish, warm-weather forecasts, prices rallied more than 4% each day the remainder of the week as those forecasts reversed, primarily affected by forecasted storms and frigid weather in the U.S. West.
Spot gold prices edged slightly lower last week, recovering from a sharp selloff Monday.  Monday's move lower was precipitated by a much stronger-than-expected ISM Services Index release, spurring renewed expectations of continued aggressive Fed monetary policy, sharply strengthening the U.S. dollar.  Gold prices moved higher the remainder of the week, however, with Fed policy expectations slowly reversing (from Monday's) and with the U.S. dollar weakening.  Silver and platinum prices moved similarly to gold prices but ended the week with larger gains.    
Base metal prices were mostly higher last week.  Price increases were predominantly powered by China's easing Covid-related restrictions with expectations of stronger Chinese demand for base metals.  Monday's stronger-than-expected ISM Services Index release pushed prices lower but prices moved higher the remainder of the week
Mixed week for grains.  Corn and wheat prices ended the week lower primarily affected by weak exports (corn) and oversupply (wheat).  Soybean prices moved higher on strong exports to China and strong demand for soybean meal.
Coming up this week      
The focus this week is on CPI (Tuesday) and the FOMC announcement (Wednesday).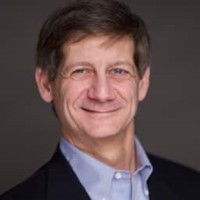 Who is Jeff Klearman in our research team? Jeff has over 20 years experience working as a trader, structurer, marketer and researcher. Most recently, Jeff was the Chief Investment Officer for Rich Investment Services, a company which created, listed and managed ETFs. Prior to Rich Investment Services, Jeff headed the New York Commodities Structuring desk at Deutsche Bank AG. From 2004 to 2007, he headed the marketing and structuring effort for rates based structured products at BNP Paribas in New York. He worked at AIG Financial Products from 1994 to 2004 trading rates-based volatility products as well as marketing and structuring. Jeff received his MBA in Finance from NYU Stern School of Business and his Bachelors of Science in Chemical Engineering from Purdue University.
More Research Related to
COMB