Commoditized Wisdom: Metals & Markets Update (Week Ending February 10, 2023)
Posted: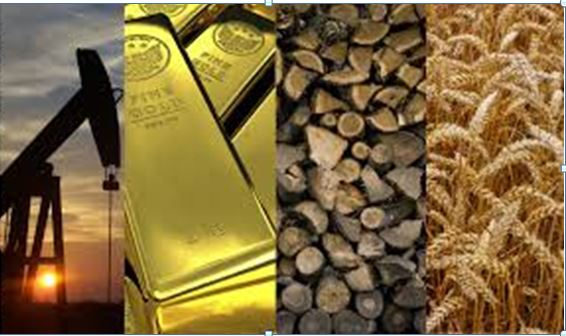 Key points
Energy prices were higher last week.  WTI and Brent crude oil prices rose between 8% and 9%.  Gasoline prices also rose 8% and heating oil and gasoil prices increased 3%.  Natural gas prices (March futures contract) increased 4%.
Grain prices were higher too. Wheat prices were up 4%.  Corn and soybean prices increased less than 1%.  
Precious metal prices were mixed.  Spot gold prices were practically unchanged while silver and platinum prices fell 2% and 3%, respectively.
Base metal prices were lower. Zinc and aluminum prices lost 6% and 5%, respectively.  Copper prices were down 1% and nickel prices fell 3%.
The Bloomberg Commodity Index increased 1.6%.  Gains in the energy and grains sectors were partially offset by losses primarily in the base metals sector.
About $120 million outflows from commodity ETPs last week.  Outflows from gold and broad commodity ETPs were partially offset by inflows primarily into silver and energy (ex-crude oil) ETPs.
Commentary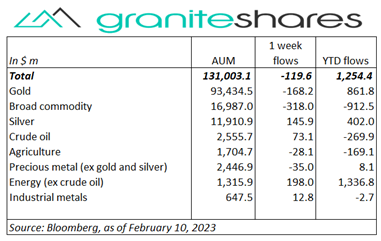 All three major stock market indexes moved lower last week with the Nasdaq Composite Index markedly underperforming the other two.  Market direction and sentiment was mainly determined by investors' evolving expectations of Fed monetary policy going forward.  Concerns of continued tight monetary policy eminating from the very strong jobs report released the previous Friday continued into Monday pushing stock prices lower and Treasury rates and the U.S. dollar sharply higher.  Tuesday's comments from Fed Chair Powell, basically reiterating comments following the FOMC announcement the previous week, were interpreted positively by the market, focusing more on Powell's message that the disinflationary process has begun and less on his statements rates will likely need to move higher and remain there for a while, boosting stock prices.  That sentiment, however, was reversed over Wednesday and Thursday with Fed-induced recession concerns rising to the forefront, pushing stock prices lower again.   The S&P 500 Index, for example, up 0.7% through Tuesday, was down 1.8% through Thursday.   Markets were mixed Friday, with the Nasdaq Composite Index moving lower and the S&P 500 Index and the Dow Jones Composite Index moving higher as investors moved into the weekend and prepared for this week's CPI release.   The 10-year Treasury rate increased significantly over the week, rising every day but Wednesday, ending the week 22bps higher.  The increase came from real rates (up 10bps) and inflation expectations (up 12bps).   The U.S. dollar ended the week stronger keeping gains registered Monday.  At week's end, the S&P 500 Index decreased 1.1% to 4,090.46, the Nasdaq Composite Index fell 2.4% to 11,718.12 the Dow Jones Industrial Average edged slightly lower, falling 0.2% to 33,869.40, the 10-year U.S. Treasury rate rose 22bp to 3.74% and the U.S. dollar (as measured by the ICE U.S. Dollar index – DXY) strengthened 0.6%.
Oil prices reversed the previous week's losses, increasing sharply this week.  Whiles hopes of less aggressive Fed monetary policy initially helped move prices higher, the earthquake-related port shutdown in Turkey combined with a North Sea oilfield shutdown was the primary impetus for price gains through midweek.   In the background, hopes of revived Chinese demand also supported prices.   Thursday saw prices move lower (the only day last week prices moved lower) on diminished earthquake-related concerns, growing expectations of continued central bank tightening and on an EIA report that oil production reached levels not seen since April 2020.    Russia's announcement Friday that it would curtail production by 500,000 bpd beginning in March drove oil prices about 2% higher, leaving WTI crude oil prices up just shy of 9% on the week.   Natural gas prices increased last week, gaining a little over 4% on cold-weather forecasts over the next week.
Spot gold prices finished the week almost unchanged.   Hopes of looser Fed monetary policy, supported by the investor interpretation of Fed Chair Powell's comments Tuesday, moved gold prices ½ percent higher through Wednesday.  That sentiment changed Thursday, directly affected by Fed officials' comments calling for continued restrictive monetary policy, sending spot gold prices ¾ percent lower despite the U.S. dollar slightly weakening.   Prices moved higher Friday perhaps on renewed expectations of a more benign Fed with the market preparing for this week's CPI release.    Silver and platinum prices were down 1.5% and 2.5%, respectively, falling with base metal prices.
An up-and-down week for copper prices with prices vacillating higher and then lower throughout the week.  Uncertainty regarding Chinese demand, a stronger U.S. dollar and hawkish Fed officials' comments acted to move copper and other base metal prices lower while hopes of a less aggressive Fed and other central bank monetary policy and indications of reviving Chinese demand worked to move prices higher.   For the week copper prices were down 1%, outperforming nickel, aluminum, lead and zinc prices over the same period. 
Grain prices were all higher last week.  Corn prices moved higher on continued Argentina dry-weather forecasts and on Brazil harvest difficulties caused by excessive rain.  Soybean prices benefited from the USDA WASDE report showing lowered Argentinian production and lower world stocks as well as from rising soybean meal and oil prices.  Wheat prices, only slightly higher through Thursday, increased sharply Friday on the back of increased concerns regarding Russian escalation in Ukraine.
Coming up this week      
Somewhat busy week but mostly concentrated in Wednesday and Thursday.  All eyes on Tuesday's CPI release.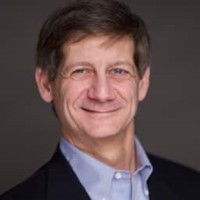 Who is Jeff Klearman in our research team? Jeff has over 20 years experience working as a trader, structurer, marketer and researcher. Most recently, Jeff was the Chief Investment Officer for Rich Investment Services, a company which created, listed and managed ETFs. Prior to Rich Investment Services, Jeff headed the New York Commodities Structuring desk at Deutsche Bank AG. From 2004 to 2007, he headed the marketing and structuring effort for rates based structured products at BNP Paribas in New York. He worked at AIG Financial Products from 1994 to 2004 trading rates-based volatility products as well as marketing and structuring. Jeff received his MBA in Finance from NYU Stern School of Business and his Bachelors of Science in Chemical Engineering from Purdue University.
More Research Related to
COMB