Commoditized Wisdom: Metals & Markets Update (Week Ending January 20, 2023)
Posted: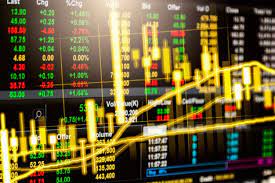 Key points
Energy prices, except for natural gas prices, were all higher again last week.  WTI and Brent crude oil prices rose 2% and 2.5%, respectively.  Gasoline and gasoil prices increased 6% and heating oil prices gained 4%.  Natural gas prices (March futures contract) fell 5%.
Grain prices were all mixed. Chicago wheat prices decreased ½ percent while Kansas wheat prices gained ½ percent.  Corn prices were up less than ½ percent and soybean prices fell 1.5%.
Precious metal prices were mixed.  Spot gold prices increased 1/3 percent while spot silver prices fell 1 ¼ percent.  Platinum prices lost 2%.
Base metal prices, except for lead prices, were all higher. Nickel prices rose 7%, zinc prices 3% and aluminum and copper prices 1%.  Lead prices fell 8%.  
The Bloomberg Commodity Index increased 0.6%.  Gains were driven by the energy and base metals sectors. 
Almost no change to commodity ETP assets last week. Decent inflows into gold ETPs were canceled by outflows from broad commodity, silver and crude oil ETPs.
Commentary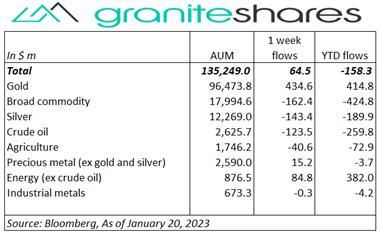 A mixed week for major stock market indexes with the Nasdaq Composite index strongly outperforming both the Dow Jones Industrial Average and the S&P 500 Index.   Increased recession fears prompted by some prominent weaker-than-expected earnings report (eg, Goldman Sachs, Travelers), extremely weak Chinese GDP growth, hawkish Fed officials' comments, an unexpected drop in retail sales and a lower-than-expected PPI (interpreted as an indication of weak business activity) pushed all 3 major indexes more than 2% lower through Thursday.  Google's layoff announcement and Netflix's surprise beat moved stock prices higher Friday perhaps assisted by investor "oversold" sentiment.   The 10-year Treasury rate, belying its intraweek volatility (rates fell sharply Wednesday on the back of the retail sales and PPI releases), was almost unchanged with a less than 10bp decline in 10-year real rates offset almost entirely by a rise in 10-year inflation expectations.  At week's end, the S&P 500 Index finished 0.7 lower to close at 3,972.61 the Nasdaq Composite Index gained 0.6% to 11,140.43, the Dow Jones Industrial Average fell 2.7% to 33,375.49 the 10-year U.S. Treasury rate fell 2bps to 3.48% and the U.S. dollar (as measured by the ICE U.S. Dollar index – DXY) weakened 0.2%.
Oil prices rose last week with expectations of revived Chinese demand overcoming hawkish Fed comments, another large build in U.S. oil inventories and weak U.S. economic data.   A decline in the U.S. rig count as reported by Baker Hughes and the IEA's increased oil demand forecast also supported prices.  Natural gas prices, down 5% on the week, suffered from warm weather, moderate demand and increased inventories.
Gold prices moved higher once again last week though prices fell every day but Thursday.   Prices, which have been supported by growing expectations of sooner-than-expected Fed easing, moved lower early last week on hawkish Fed comments and perhaps on some profit taking.  Wednesday's weaker-than-expected retail sales release and falling PPI combined with a sharp drop in equity markets Wednesday and Thursday, moved gold prices markedly higher Thursday on increased recession fears and, as a result, increased expectations of a more benign Fed monetary policy.    Silver and platinum prices ended the week lower, perhaps on profit taking, though also moved higher at week's end.
Expectation of increased Chinese demand once again bolstered base metal prices last week.   Price gains, however, were capped by hawkish Fed comments, weaker-than-expected U.S. economic data and lower demand expectations due to the Chinese New Year holiday.  
A lackluster week for grains.  Expectations of a record Brazilian soybean crop, some precipitation in Argentina and the U.S. Plains states and continued aggressive Russian wheat pricing acted to either cap gains or move prices lower.  Corn prices, which ended the week marginally higher, may have benefited from reports of Egypt buying.      
Coming up this week      
A relatively busy data-week with releases concentrated on Thursday and Friday.  Focus will be on the PCE Price Index release Friday morning.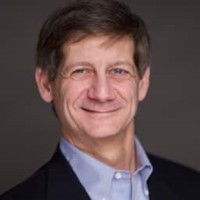 Who is Jeff Klearman in our research team? Jeff has over 20 years experience working as a trader, structurer, marketer and researcher. Most recently, Jeff was the Chief Investment Officer for Rich Investment Services, a company which created, listed and managed ETFs. Prior to Rich Investment Services, Jeff headed the New York Commodities Structuring desk at Deutsche Bank AG. From 2004 to 2007, he headed the marketing and structuring effort for rates based structured products at BNP Paribas in New York. He worked at AIG Financial Products from 1994 to 2004 trading rates-based volatility products as well as marketing and structuring. Jeff received his MBA in Finance from NYU Stern School of Business and his Bachelors of Science in Chemical Engineering from Purdue University.
More Research Related to
COMB