Commoditized Wisdom: Metals & Markets Update (Week Ending July 16, 2021)
Posted: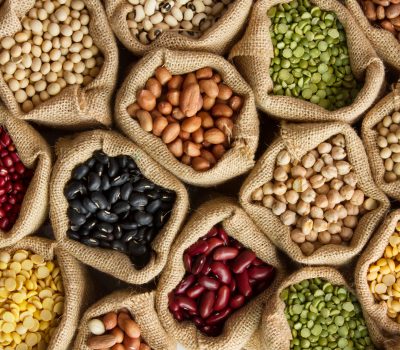 Key points
Energy prices were lower again last week. WTI crude oil prices fell 3% and Brent crude oil and gasoline prices fell 2%. Natural gas prices were unchanged. 
Grain prices reversed course and moved sharply higher.  Chicago and Kansas wheat prices rose 13% and 10%, respectively.   Corn and soybean prices gained 5%.
Base metal prices were mixed with aluminum and copper prices falling and zinc and nickel prices rising. Copper and aluminum prices fell about ½ percent.  Zinc prices increased 1% and nickel prices rose 1 ¾ percent.
Gold and platinum prices increased last week while silver prices fell. Gold prices gained about 1%, platinum prices rose over 4% and silver prices lost about 1 ¾ percent.
The Bloomberg Commodity Index increased 1%, primarily due to rising grain and softs prices.  The energy sector was the primary detractor from performance.
Over $700 million of outflows from commodity ETPs last week almost all from gold ETP outflows.  Agriculture ETPs saw $55m outflows while base metal ETPs experienced $33m inflows.
Commentary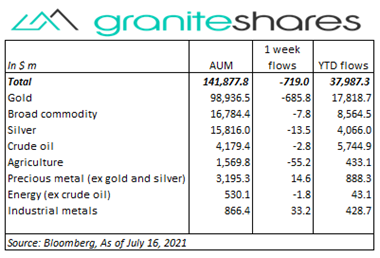 U.S. stock markets ended the week lower pressured by increasing concerns of fallout from rising inflation and of climbing Delta-variant Covid-19 infections.   Tuesday's CPI and Wednesday's PPI releases surprised markets coming in at much higher-than-expected levels but initially had little  effect on stock market levels while mixed earnings reports seemed to cap market increases.  Fed Chairman Powell's testimony before congress held true to the Fed's ongoing message that rising inflation was transient, the economy, while growing, had further room for improvement and that interest rates would remain near zero for the foreseeable future.  Friday's lower-than-expected consumer sentiment report and China's slightly lower-than-expected Q2 GDP growth tipped markets over the edge with all three major U.S. stock markets falling around ¾ percent.   The 10-year U.S. Treasury rate fell 6bps over the week, driven by growing expectations the Fed would need to raise rates sooner than later resulting in slower economic growth and, as a result, lower longer-term rates.   The U.S. dollar strengthened last week, reflecting similar views.  For the week, the S&P 500 Index decreased 1.0% to 4,327.16, the Nasdaq Composite Index fell 1.9% to 14,427.24, the Dow Jones Industrial Average decreased 0.5% to 34,897.02, the 10-year U.S. Treasury rate fell 6bps to 1.30% and the U.S. dollar  (as measured by the ICE U.S. Dollar index - DXY) strengthened 0.6% percent.
Oil prices continued to decline last week, falling even as Saudi Arabia and the UAE resolved their dispute regarding the UAE's production quota.   A much larger-than-expected increase in U.S. gasoline inventories overshadowed a decline in U.S. oil stocks, pushing WTI crude oil prices lower nearly 3% Wednesday.  On Tuesday the IEA reiterated its call for OPEC+ to increase production, warning there would be a supply deficit by year end without the increase.   A growing number of Delta-variant Covid-19 infections, potentially dampening demand, also helped move prices lower.
Gold prices moved higher again last week rising as much-larger-than-expected CPI and PPI releases were dismissed by Fed Chairman Powell as he testified before congress.  Chairman Powell stayed on message saying inflation pressures were transitory, that the economy still had room for improvement and that monetary policy would remain unchanged for the foreseeable future.   Gold futures prices fell ¾ percent Friday moving off of intraweek highs on no real news but perhaps as a result of increasing expectations the Fed will tighten sooner than later.   A stronger U.S. dollar, perhaps also reflecting the soon-than-later expectations, helped cap gold price gains.
Copper prices moved lower last week pressured by seasonal Chinese smelter closings and continued Chinese efforts to limit rising prices.  Down 1.8% through Wednesday, copper prices rallied almost 1.5% Thursday following a weaker-than-expected Chinese GDP release giving rise to sentiment China may increase fiscal stimulus to shore up growth.  Nickel prices reached a 5-month high, buoyed by strong stainless steel demand and tight supply conditions.
Grain prices continued their move higher last week.  Wheat prices, up between 10% and 13%,  were bolstered by USDA reports showing a 40% drop in spring wheat crop ending stocks versus last year.  Corn and soybean prices, up about 5%, were supported by adverse weather forecasts over the next couple of weeks and expectations of strong Chinese demand.
Coming up this week    
Light data-week peppered with home and housing data and ending the week with the PMI Composite Flash.
Housing Market Index on Monday.
Housing Starts and Permits on Tuesday.
Jobless Claims and Existing Home Sales on Thursday.
PMI Composite Flash on Friday.
EIA petroleum status report on Wednesday and Baker-Hughes Rig Count on Friday.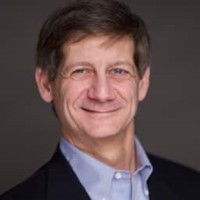 Who is Jeff Klearman in our research team? Jeff has over 20 years experience working as a trader, structurer, marketer and researcher. Most recently, Jeff was the Chief Investment Officer for Rich Investment Services, a company which created, listed and managed ETFs. Prior to Rich Investment Services, Jeff headed the New York Commodities Structuring desk at Deutsche Bank AG. From 2004 to 2007, he headed the marketing and structuring effort for rates based structured products at BNP Paribas in New York. He worked at AIG Financial Products from 1994 to 2004 trading rates-based volatility products as well as marketing and structuring. Jeff received his MBA in Finance from NYU Stern School of Business and his Bachelors of Science in Chemical Engineering from Purdue University.
More Research Related to
COMB