Commoditized Wisdom: Metals & Markets Update (Week Ending June 2, 2023)
Posted: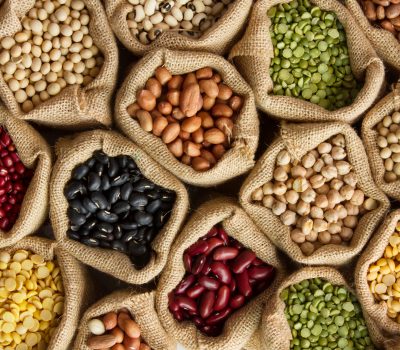 Key points
Energy prices moved lower last week. Natural gas prices dropped 10%. Brent and WTI crude oil prices decreased 1% and gasoline prices fell 4%. Heating oil and gas oil prices were practically unchanged.
Grain prices were mainly higher. Kansas City wheat prices, the sole exception, fell about 1%.  Chicago wheat, Corn and soybean prices rose 1%. 
Spot gold edged slightly higher and spot silver prices increased 1%. Spot platinum prices fell 2%.
Base metal prices were mixed. Aluminum and copper prices increased 1%.  Zinc and lead prices fell 2%.  Nickel prices were unchanged.
The Bloomberg Commodity Index decreased 0.2%. Losses in the energy sector were mostly offset by gains in the grains and metals sectors. 
About $265 million net outflows from commodity ETPs mainly from gold and broad commodity ETPs. Crude oil and energy (ex-crude oil) recorded decent inflows, offsetting some of the outflows.   
Commentary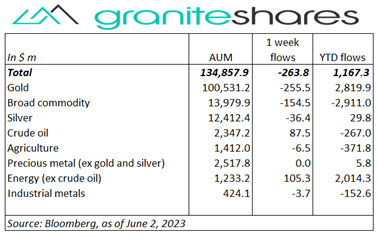 The 3 major stock market indexes recorded gains for the week, rising higher on increased expectations of a Fed pause, the resolution of the debt ceiling impasse and the strong performance of tech stocks.  Comments from Fed officials espousing a wait-and-see approach regarding future rate hikes limited losses Wednesday (following a stronger-than-expected JOLTS report) and then helped move markets higher the remainder of the week despite continued historically low initial jobless claims and a strong (in certain regards) jobs report.     The passage of the debt ceiling bill by both houses of congress also strongly contributed to last week's gains.  10-year Treasury yields fell last week, reacting not only to increased expectations of a Fed pause but also to seemingly waning wage pressures (as shown in Friday's jobs report).  The U.S dollar, however, finished the week only slight weaker, strengthening ½ percent Friday following the jobs report.  For the week, the S&P 500 Index increased 1.8% to 4,282.37, the Nasdaq Composite Index gained 2.0% reaching 13,240.77, the Dow Jones Industrial Average rose 2.0% to 33,762.76, the 10-year U.S. Treasury rate fell 11bps to 3.70% and the U.S. dollar (as measured by the ICE U.S. Dollar index – DXY) weakened 0.2%.
Oil prices ended the week slightly over 1% lower but rebounded sharply Thursday and Friday from steep declines registered Tuesday and Wednesday.   Weaker-than-expected Chinese manufacturing activity and debt ceiling resolution concerns drove WTI crude oil prices over 6% lower through Wednesday.  Those losses, however, were mostly reversed Thursday and Friday following passage by the House and Senate of the debt ceiling bill, a stronger-than-expected Caixin/S&P Global PMI release and growing expectations of a pause in Fed rate hikes.    Gains may have been capped by uncertainty surrounding the June 4th OPEC+ meeting. Natural gas prices again fell sharply, losing 10% (July futures contract) on temperate weather forecasts and ample supply levels.
Up over 1.6% through Thursday on debt ceiling concerns and growing expectations of a Fed rate-hike pause, spot gold prices fell nearly 1.5% Friday following a somewhat strong jobs report.  Friday's job report showing a much stronger-than-expected gain in jobs, also revealed a greater-than-expected drop in the unemployment rate and high-but-moderating wage inflation.    Nonetheless, concerns of the Fed maintaining current rate levels longer than previously expected (and perhaps even increasing them) weighed on gold prices.
Mirroring U.S. stock market performance, copper prices moved higher rallying from Wednesday's intraweek low.   Initially lower on debt ceiling resolution uncertainty and weaker-than-expected Chinese manufacturing activity, copper prices rose following Congress' passage of the debt ceiling bill and a stronger-than-expected Caixin/S&P Global PMI release.  Relatively strong U.S. economic data in the face of dovish Fed comments also supported prices.
Grain prices mainly finished the week higher (except for Kansas City wheat prices), recovering from sharp losses registered Tuesday (the first day of the holiday-shortened trading  week).   Grain prices, especially wheat prices, fell sharply Tuesday on improved longer-term weather forecasts, debt ceiling resolution concerns and weaker-than-expected Chinese manufacturing activity.   Prices moved higher the remainder of the week, however, reacting to drought concerns in the U.S. Midwest states, Black Sea export concerns, a resolution of the U.S. debt ceiling impasse and a stronger-than-expected Caixin/S&P Global PMI release. 
Coming Up This Week
Very light data week. ISM services index and jobless claims highlight the week.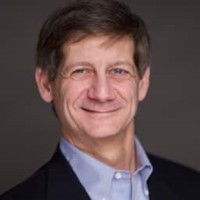 Who is Jeff Klearman in our research team? Jeff has over 20 years experience working as a trader, structurer, marketer and researcher. Most recently, Jeff was the Chief Investment Officer for Rich Investment Services, a company which created, listed and managed ETFs. Prior to Rich Investment Services, Jeff headed the New York Commodities Structuring desk at Deutsche Bank AG. From 2004 to 2007, he headed the marketing and structuring effort for rates based structured products at BNP Paribas in New York. He worked at AIG Financial Products from 1994 to 2004 trading rates-based volatility products as well as marketing and structuring. Jeff received his MBA in Finance from NYU Stern School of Business and his Bachelors of Science in Chemical Engineering from Purdue University.
More Research Related to
COMB