Commoditized Wisdom: Metals & Markets Update (Week Ending June 23, 2023)
Posted:
Key points
Energy prices, except for natural gas prices, moved lower. WTI and Brent crude oil prices fell 4% and gasoline and heating oil prices dropped 5%. Natural gas prices rose 4%.
Grain prices were mixed. Chicago and Kansas City wheat prices rose 6% and 3%, respectively.  Corn and soybean prices fell 2%.  Soybean oil prices decreased 5%.
Spot gold and silver prices fell 2% and 7%, respectively. Platinum prices dropped 6%.
Base metal prices were all lower. Lead prices decreased 1%, copper prices lost 2% and aluminum and zinc prices fell 4%. Nickel prices gave up 7%.
The Bloomberg Commodity Index fell 2.6%. All sectors moved lower last week with the energy, softs and base and precious metals sectors each dropping close to 0.6%.
Larger outflows last week. Gold ETPs lost just under $600 million AUM followed by broad commodity and crude oil ETPs, each losing over $160 million.  Silver ETPs saw almost $160 million inflows, the only ETP category to see inflows.
Commentary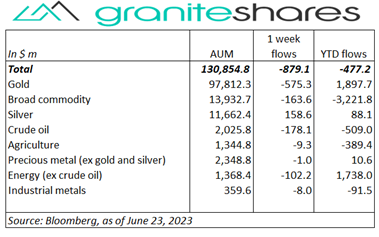 A holiday-shortened trading week with all 3 major stock market indexes relinquishing a portion of previous week's gains, each falling about 1.5%.  Fed Chair Powell's testimony before Congress (Wednesday and Thursday) concretizing the Fed's ongoing fight against inflation (with Powell saying there's a long way to go) as well as introducing additional banking system stress due to poor performing commercial real estate assets was the primary reason for last week's decline.  The prospect of higher rates and reduced expectations of an imminent rate cut in the face of weaker-than-expected manufacturing and services activity and continued relatively high jobless claims, also added downward pressure on index levels.  While 10-year Treasury rates were slightly lower, the U.S. dollar reversed some of last week's weakening, strength just over ½ percent, reflecting renewed higher-rate sentiment.  For the week, the S&P 500 Index decreased 1.4% to 4348.33, the Nasdaq Composite Index declined 1.4% to 13,492.52, the Dow Jones Industrial Average fell 1.7% to 33,728.69, the 10-year U.S. Treasury rate decreased 3bps to 3.74% and the U.S. dollar (as measured by the ICE U.S. Dollar index – DXY) strengthened 0.6%.
Oil prices moved lower last week, falling sharply on Thursday following the BoE's rate decision.  Weak Chinese demand concerns, hawkish testimony from Fed Chair Powell and a surprise ½ point rate increase by the BoE all acted to mute demand expectations, pushing WTI and Brent crude oil prices over 3% lower last week.   Weaker-than-expected U.S. manufacturing and service activity, as indicated by the U.S. composite PMI released Friday, and a smaller-than-expected Chinese rate cut, also pressured prices lower.   Oil prices did manage to move higher Wednesday reacting to increased concerns regarding biofuel supply but markets seemingly ignored Thursday's large and unexpected drop in U.S. inventories.     Natural gas prices (September futures contract) rose another 4% last week in a volatile week that saw prices drop over 5% Tuesday and increase over 4% both Wednesday and Friday.  Prices rose on warm weather forecasts and a continued decrease in U.S. production rigs.
Spot gold prices moved about 2% lower last week reacting to a strong housing starts number and Fed Chair Powell's hawkish testimony before congress Wednesday and Thursday.  The BoE's surprise 50bp rate hike added to concerns of higher rates and failed to weaken the U.S. dollar, also pressuring gold prices lower.   Silver and platinum prices were sharply lower, falling 7% and 6%, respectively, on the week, moving lower with gold and base metal prices. 
Base metal prices all moved lower week, succumbing to growing demand concerns.  Hawkish testimony from Fed Chair Powell, a surprise 50bp BoE rate increase and lower-than-expected Chinese rate cuts increased expectations of slower economic growth globally, pressuring base metal prices lower.   Copper prices, down less than other base metals, may have been floored by sharply falling LME inventory levels.
Mixed week for grain prices with wheat prices increasing and corn and soybean prices falling. Wheat prices moved higher on a number of factors including declining U.S. crop ratings, adverse weather in the U.S. and China and reports Russia won't extend the Black Sea export agreement. Corn and soybean prices, noticeably higher Wednesday on deteriorating crop ratings, fell the remainder of the week, reacting to a lower-than-expected EPA updated biofuel mandate.
Coming Up This Week
Busy week with Fed Chair Powell speaking Wednesday, GDP on Thursday and the PCE Price Index release Friday.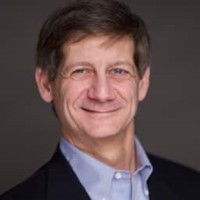 Who is Jeff Klearman in our research team? Jeff has over 20 years experience working as a trader, structurer, marketer and researcher. Most recently, Jeff was the Chief Investment Officer for Rich Investment Services, a company which created, listed and managed ETFs. Prior to Rich Investment Services, Jeff headed the New York Commodities Structuring desk at Deutsche Bank AG. From 2004 to 2007, he headed the marketing and structuring effort for rates based structured products at BNP Paribas in New York. He worked at AIG Financial Products from 1994 to 2004 trading rates-based volatility products as well as marketing and structuring. Jeff received his MBA in Finance from NYU Stern School of Business and his Bachelors of Science in Chemical Engineering from Purdue University.
More Research Related to
COMB