Commoditized Wisdom: Metals & Markets Update (Week Ending June 25, 2021)
Posted: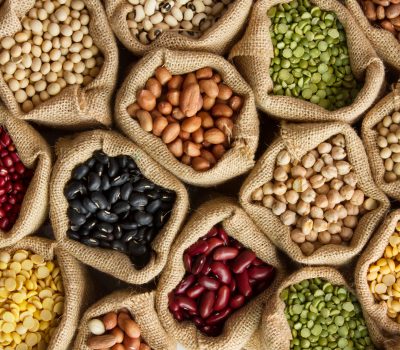 Key points
Energy prices all ended the week higher. Crude oil and gasoline prices increased between 3.5% and 4.0% and natural gas prices rose over 8.5%.
Grain prices again moved lower. Chicago and Kansas wheat prices fell 3.8% and 1.1%, respectively. Corn prices dropped another 8% and soybean prices fell over 3%. 
Base metal prices all moved higher last week. Nickel prices increased the most, rising 8%.  Aluminum prices increased about 4 ¼ percent and copper and zinc prices rose 3%.
Gold, platinum and silver prices were all higher last week. Gold prices increased ¾ percent and silver prices rose ½ percent. Platinum prices increased 3%.
The Bloomberg Commodity Index increased 1.7%, benefiting from higher energy, base metal and precious metal prices. The grains and livestock sectors detracted from the Index's performance.
Over $1 billion ETP outflows last week with the lion's share coming from gold (-$542m) and silver (-$472m) ETPs.  Smaller outflows from crude oil (-$119m) and agriculture (-$67m) ETPs.  No significant inflows last week.
Commentary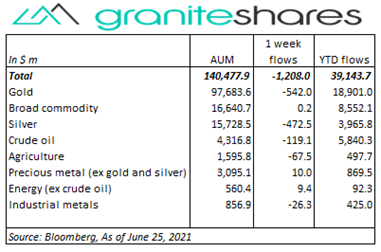 U.S. stock markets rebounded strongly from the previous week's downturn with the S&P 500 Index closing at record highs and the Nasdaq Composite Index closing slightly lower than the record highs it set Friday.  Fed Chairman Jerome Powell's testimony Tuesday insisting current high levels of inflation would be temporary added to NY Fed President John Williams' comments Monday asserting the current state of the economy did not warrant a change in Fed policy, pushed all three major stock indexes 1.5% to 2% higher through Tuesday.  President Biden's announcement of a bipartisan infrastructure agreement moved markets higher Thursday and Friday, with a record YoY increase in PCE having little effect on stock prices.   10-year U.S. Treasury rates increased 9bps reversing last week's declines reflecting strong economic growth with resulting inflationary pressures. At week's end, the S&P 500 Index increased 2.7% to 4,280.70, the Nasdaq Composite Index rose 2.4% to 14,360.39, the Dow Jones Industrial Average gained 3.4% to 34,433.84, the 10-year U.S. Treasury rate rose 9bps to 1.54% and the U.S. dollar  (as measured by the ICE U.S. Dollar index - DXY) weakened 0.5% percent.
Oil prices moved higher again last week approaching 3-year highs.  A larger-than-expected drawdown in U.S. oil inventories, increased uncertainty regarding the relaxation of sanctions on Iran and a weaker U.S. dollar all combined to push prices higher.   Expectations OPEC+, which meets next week, will increase production had little effect on prices with most market participants believing the increases will be restrained.  
See-saw week for gold prices with prices moving alternately higher then lower throughout the week.   Gold futures prices jumped ¾ percent Monday mainly on the back of a weaker U.S. dollar and ended the week up ½ percent.  Fed Chairman Jerome Powell's dovish testimony Tuesday and President Biden's announcement of an infrastructure agreement set the stage for higher prices while Friday's record YoY PCE release seemingly had little effect. Silver prices followed gold prices while platinum prices moved both with gold and base metal prices.
Copper prices moved higher last week regaining some of the previous week's losses.    A weaker U.S. dollar and comments by Fed Chairman Powell reduced concerns of Fed tightening helping prices move higher.   China released metal reserves Wednesday but the amounts were less than expected pushing prices up almost 2.5%.   Nickel prices surged 8% last week, buoyed by expectations of a Russian export tax.   Russia is the largest nickel exporter to Europe.
Grain prices were lower again last week.  Improved U.S. weather conditions and forecasts for corn and soybeans were the main impetus for lower prices.
Coming up this week    
Home price and sales data early in the week followed by PMI and ISM Manufacturing Indexes and then ending the week with the Payroll report.
Case-Shiller Home Price Index and Consumer Confidence on Tuesday.
ADP Employment Report, Chicago PMI and Pending Home Sales Index on Wednesday.
Jobless Claims, PMI and ISM Manufacturing Indexes and Construction Spending on Thursday.
Employment Situation Report, Intl Trade in Goods and Services and Factory Orders on Friday.
EIA petroleum status report on Wednesday and Baker-Hughes Rig Count on Friday.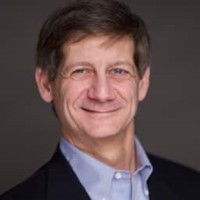 Who is Jeff Klearman in our research team? Jeff has over 20 years experience working as a trader, structurer, marketer and researcher. Most recently, Jeff was the Chief Investment Officer for Rich Investment Services, a company which created, listed and managed ETFs. Prior to Rich Investment Services, Jeff headed the New York Commodities Structuring desk at Deutsche Bank AG. From 2004 to 2007, he headed the marketing and structuring effort for rates based structured products at BNP Paribas in New York. He worked at AIG Financial Products from 1994 to 2004 trading rates-based volatility products as well as marketing and structuring. Jeff received his MBA in Finance from NYU Stern School of Business and his Bachelors of Science in Chemical Engineering from Purdue University.
More Research Related to
COMB