Commoditized Wisdom: Metals & Markets Update (Week Ending May 26, 2023)
Posted: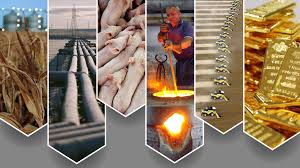 Key points
Energy prices were all higher except for natural gas prices. Natural gas prices dropped 11%.  Brent and WTI crude oil prices increased 2%, gasoline prices rose 4% and heating oil and gas oil prices increased less than ½ percent. 
Grain prices were mainly higher. Kansas City wheat prices, the sole exception, fell about 1%.  Chicago wheat and soybean prices rose 2%.  Corn prices gained 9%.
Spot gold and silver prices moved lower last week, each falling about 2%. Platinum prices fell 4% and palladium prices lost 6%.
Base metal prices were all lower. Aluminum and zinc prices fell 2% and 6%, respectively. Copper, nickel and lead prices fell 1%.
The Bloomberg Commodity Index decreased 0.9%. Losses in the energy and metals sectors were only partially offset by gains in the grains sector.  
Small net outflows from commodity ETPs last week.  Outflows were spread fairly evenly between gold, broad commodity, crude oil and energy (ex-crude oil) ETPs.
Commentary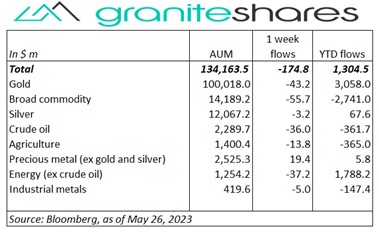 Major stock market index performances diverged last week with the tech-heavy Nasdaq Composite index strongly outperforming the Dow Jones Industrial Average and the S&P 500 Index. A combination of debt ceiling resolution concerns and hawkish comments from some Fed officials pushed all 3 major indexes at least 1% lower through Wednesday.  Nvidia's much better-than-expected earnings report (released after the close Wednesday) powered chip stocks (and in its wake, other tech stocks) higher Thursday and Friday, lifting both the Nasdaq Composite Index into the green (for the week) and providing upward impetus for the S&P 500 Index.   News of potentially significant progress in debt ceiling talks Friday added to Thursday's gains particularly for the Nasdaq Composite Index.  The Dow Jones Industrial Average was the laggard for the week, hurt by its low exposure to tech stocks and greater vulnerability to growing Fed tightening concerns.  Stronger-than-expected economic data, including a greater-than-expected core PCE Price Index release, continued low level of initial jobless claims and stronger-than-expected durable goods orders, raised expectations of a 25bps hike in June (and perhaps at the following meeting), increasing concerns of slowing growth/recessions and dampening the performance of Dow Jones Industrial Average.   Reflecting those concerns, the 10-year Treasury rate finished the week 13bps higher with almost all the increase coming from rising 10-year real rates.  The U.S. dollar behaved similarly, strengthening over the week.  For the week, the S&P 500 Index rose 0.3% to 4,205.45, the Nasdaq Composite Index gained 2.5% reaching 12,975.69, the Dow Jones Industrial Average decreased 1% to 33,093.34, the 10-year U.S. Treasury rate increased 13bps to 3.81% and the U.S. dollar (as measured by the ICE U.S. Dollar index – DXY) strengthened 1.0%.
Oil prices ended the week higher, rising every day but one during the week.  Rising gasoline prices (in front of Memorial Day Weekend) and falling oil, gasoline and distillate inventories helped move prices higher throughout the week.  Comments from Saudi Arabia's energy minister warning short sellers of potential "pain" and Friday's report of progress in debt ceiling talks also contributed to gains.   Prices fell Thursday (the only down day) following comments from Russian officials expressing doubts regarding additional production cutbacks (seemingly contradicting comments from Saudi's energy minister).  Natural gas prices reversed the previous week's sharp gains, falling almost 11% amidst strong production combined with weak weather-related demand.
Gold prices moved lower last week, falling on a mixture of hawkish comments from Fed officials and strong economic data.   Increased optimism regarding debt ceiling talks also helped move prices lower.   Interestingly, Friday's slightly greater-than-expected core PCE Price Index release seemingly had little effect on prices with spot gold prices ending the day higher.  
Weak Chinese demand, concerns of recessions in Europe and the U.S. along with a stronger U.S. dollar helped move base metal prices lower last week.  Zinc prices, down almost 6% on the week, suffered from both sharply rising inventories and weak stainless-steel demand.  Base metal prices did rise Thursday and Friday, reacting to reports of progress in debt ceiling talks and strong U.S. economic data.
Grain prices mostly moved higher last week (Kansas City wheat was the sole exception).  Corn prices, up almost 9% on the week, moved higher each day last week benefiting from short covering and unfavorable weather forecasts.  Soybean prices benefited from a surprise Philippines purchase and stronger bean oil prices, moving higher despite cheaper Brazil prices.   Wheat prices, the laggard of the group, moved higher on renewed concerns regarding Black Sea exports but suffered from a much greater-than-expected Illinois wheat yield tour result.
Coming Up This Week
Busy Thursday with PMI And ISM manufacturing indexes and jobless claims but the attention-getter is Friday's employment report.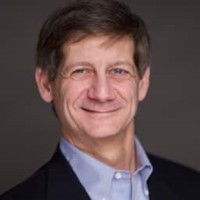 Who is Jeff Klearman in our research team? Jeff has over 20 years experience working as a trader, structurer, marketer and researcher. Most recently, Jeff was the Chief Investment Officer for Rich Investment Services, a company which created, listed and managed ETFs. Prior to Rich Investment Services, Jeff headed the New York Commodities Structuring desk at Deutsche Bank AG. From 2004 to 2007, he headed the marketing and structuring effort for rates based structured products at BNP Paribas in New York. He worked at AIG Financial Products from 1994 to 2004 trading rates-based volatility products as well as marketing and structuring. Jeff received his MBA in Finance from NYU Stern School of Business and his Bachelors of Science in Chemical Engineering from Purdue University.
More Research Related to
COMB