Commoditized Wisdom: Metals & Markets Update (Week Ending May 7, 2021)
Posted: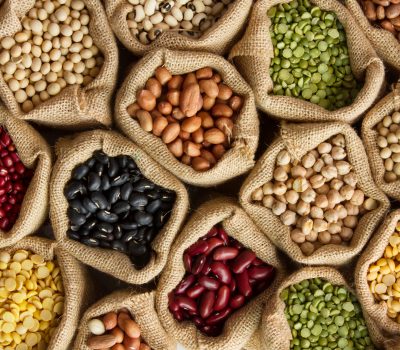 Key points
Energy prices were all higher last week. WTI and Brent crude oil rose a little over 2%, gasoline prices increased just under 3% and heating oil prices rose 4.5%.
Grain prices were all higher as well. Wheat and soybean prices increased about 4% and soybean prices rose almost 9%.
Base metal prices were all higher, too, with copper prices increasing the most. Copper and aluminum prices increased approximately 6%, zinc prices rose 3% and nickel prices gained 2%.
Precious metal prices all rose last week as well . Silver prices increased 6%, gold prices rose almost 4% and platinum prices gained just over 2%.
The Bloomberg Commodity Index had another positive week, increasing nearly 4%. The grains sector performed the strongest followed by the base metals, energy and precious metals sectors, respectively.  All sectors had positive performance last week.
Decent inflows last with broad commodity and gold ETPs primarily responsible.  Broad commodity ETPs led the way with almost $750 million inflows followed by gold ETPs with about $520 million inflows.  Silver and crude oil ETPs saw outflows of about $140 million and $115 million, respectively.
Commentary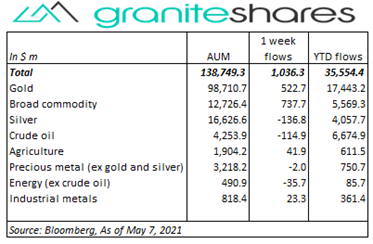 The value versus growth trade continued last week with both the S&P 500 Index and the Dow Jones Industrial Average ending the week at record highs while the Nasdaq Composite Index finished the week lower.  Strong earnings reports, continued expectations of a strong post-pandemic economic recovery along with growing inflation concerns - exacerbated by Treasury Secretary Yellen's comments on Tuesday and emphasized by Monday's ISM Manufacturing Index release - helped push cyclical stock prices higher while hindering tech stock prices last week.    Friday's much weaker-than-expected payroll report had limited negative effect on stock prices with some analysts attributing the weakness to labor shortages resulting from high unemployment benefits and a dearth of childcare facilities (benefiting value stocks) while others believed the weak report showed a need for continued fiscal and monetary stimulus (benefiting growth stocks). For the week, the S&P 500 Index increased 1.2% to 4,232.60, the Dow Jones Industrial Average increased 2.7% to 34,777.76, the Nasdaq Composite Index decreased 1.5% to 13,752.24, the 10-year U.S. Treasury rate fell 5bps to  1.58% and the U.S. dollar  (as measured by the ICE U.S. Dollar index - DXY) weakened 1.2%.
Increased demand expectations driven by easing pandemic-related restrictions in the U.S. and abroad, a larger-than-expected U.S. oil inventory drawdown and a weaker U.S. dollar pushed WTI and Brent crude oil prices higher last week.   Record number of Covid-19 infections in India capped oil price gains, however, with oil prices falling 1.5% from their intraweek highs reached Wednesday.
Gold prices moved higher last week only pausing on Tuesday after Treasury Secretary Yellen's comments suggesting interest rates may have to increase.  Following Secretary Yellen's comments Wednesday explaining she was not predicting higher inflation, gold resumed its rise finishing the week well above $1,800/troy ounce supported by aggressively accommodative monetary policy and, at the same time, growing inflation concerns.  Friday's much-weaker-than-expected payroll report added support to both inflation concerns as well as expectations of continued accommodative monetary and fiscal policy.  Silver prices performed similarly to but better than gold prices, closing above $27 per troy ounce. 
Copper prices increased sharply last week, rising to record highs Friday of $4.75/pound, propelled by expectations of sustainable-energy and government-led infrastructure-spending demand as well as by falling inventory levels and continued production concerns.   Aluminum prices also increased sharply last week.   A weaker U.S. dollar supported base metal prices as well.
Grain prices continued their move higher last week with corn prices increasing just shy of 9%.    Drought conditions in Brazil combined with strong Chinese demand help move corn prices to finish the week above 8-year highs.   Soybean and wheat prices moved higher as well last week supported by weather-related factors in the U.S. (for wheat) and in South America (for soybeans) as well as strong demand.
Coming up this week    
Relatively light data week with CPI, PPI and retail sales the main focus.
CPI on Wednesday.
Jobless Claims and PPI on Thursday.
Retail Sales, Industrial Production and Consumer Sentiment on Friday.
EIA petroleum status report on Wednesday and Baker-Hughes rig count on Friday.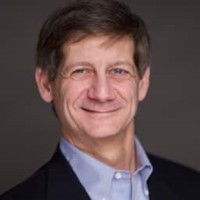 Who is Jeff Klearman in our research team? Jeff has over 20 years experience working as a trader, structurer, marketer and researcher. Most recently, Jeff was the Chief Investment Officer for Rich Investment Services, a company which created, listed and managed ETFs. Prior to Rich Investment Services, Jeff headed the New York Commodities Structuring desk at Deutsche Bank AG. From 2004 to 2007, he headed the marketing and structuring effort for rates based structured products at BNP Paribas in New York. He worked at AIG Financial Products from 1994 to 2004 trading rates-based volatility products as well as marketing and structuring. Jeff received his MBA in Finance from NYU Stern School of Business and his Bachelors of Science in Chemical Engineering from Purdue University.
More Research Related to
COMB