Commoditized Wisdom: Metals & Markets Update (Week Ending November 10, 2023)
Posted: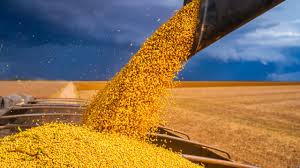 Key points
Energy prices all moved lower again last week. Gasoline prices dropped 1%, WTI and Brent crude oil prices declined 4%, heating oil prices fell 6% and gasoil prices lost 7%. Natural gas prices plunged 14%.
Grain prices were mixed. Corn prices fell 3% and soybean and Kansas City wheat prices fell about ½ percent. Chicago wheat prices rose under 1 percent and soybean oil prices gained 3%.  
Spot gold prices fell 3%, spot silver prices lost 4%, platinum prices dropped 10% and palladium prices gave up 14%.
Copper and aluminum prices fell 2% and nickel prices lost 5%. Zinc prices rose 2% and lead prices edged about ½ percent higher.
The Bloomberg Commodity Index fell 3.3% primarily due to losses in the energy and precious and base metals sectors.
Another week of good inflows primarily into gold and energy ETPs but also with smaller inflows into almost every other category.
Commentary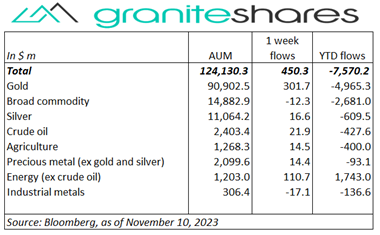 Another up week for major stock indexes with the Nasdaq Composite index strongly outperforming both the S&P 500 Index and the Dow Jones industrial Average.  Interestingly, most of the week's gains came Friday seemingly predicated on no real news. Longer-term Treasury rates were somewhat volatile last week, with falling rates mostly precipitating higher stock index levels and vice versa.  Through Wednesday, 10-year Treasury rates fell 11bps, supported by existing expectations of "peak rates" (based on weakish economic data (in the U.S. and globally) and a better-than-expected 10-year Treasury auction.   Rates reversed sharply Thursday after Fed Chair Powell's comments that further rate increases may be necessary and following a worse-than-expected 30-year Treasury auction.  Markets rallied sharply on Friday, moving all 3 major index levels higher on the week. For the week, the S&P 500 Index rose 1.3% to 4,415.24, the Nasdaq Composite Index gained 2.4% to 13,798.11 the Dow Jones Industrial Average increased 0.7% to 34,283.10, the 10-year U.S. Treasury rate rose 7bps to 4.65% and the U.S. dollar (as measured by the ICE U.S. Dollar index – DXY) appreciated 0.8%.
Oil prices moved lower again last week struggling against a background of continued weak Chinese and European economic data.    Hawkish comments from Fed Chairman Powell as well as from ECB and BoE officials also worked to pressure prices by dimming demand expectations.   Prices also suffered from a much larger-than-expected U.S. inventory build (according to the API) and from EIA forecasts of weaker demand and growing supply next year.  Natural gas prices moved sharply lower (down 14%), reeling from increased production, November warm-weather forecasts and weak LNG exports.
Spot gold prices moved lower again last week, falling both on diminished safe-haven demand and increased expectations of continued restrictive Fed monetary policy.   Platinum and palladium prices moved sharply lower, dropping primarily on increased EV production (versus lower ICE vehicle production).   Palladium prices, down 14% on the week, moved below $1,000/ounce for the first time in 5 years.
Base metal prices moved lower as well last week, pressured by weak Chinese and euro zone economic data, a stronger U.S. dollar and hawkish comments from BoE, ECB and Fed officials  
Grain prices mainly moved lower last week.  Continued good harvest progress and higher yield and inventory projects (released in last week's WASDE report) pressured corn prices lower.   Soybean prices also moved lower on higher-than-expected yield and inventory projections but benefited from strong export numbers as well.  Wheat prices, mixed on the week, were hurt as well by bearish WASDE projections but price declines may have been floored by historically low global inventory levels.
Coming Up This Week
CPI Tuesday is center stage, followed by PPI and retail sales Wednesday.    Also of interest are industrial production (Thursday) and housing starts and permits (Friday).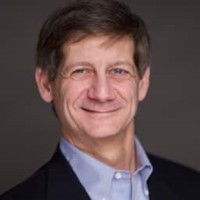 Who is Jeff Klearman in our research team? Jeff has over 20 years experience working as a trader, structurer, marketer and researcher. Most recently, Jeff was the Chief Investment Officer for Rich Investment Services, a company which created, listed and managed ETFs. Prior to Rich Investment Services, Jeff headed the New York Commodities Structuring desk at Deutsche Bank AG. From 2004 to 2007, he headed the marketing and structuring effort for rates based structured products at BNP Paribas in New York. He worked at AIG Financial Products from 1994 to 2004 trading rates-based volatility products as well as marketing and structuring. Jeff received his MBA in Finance from NYU Stern School of Business and his Bachelors of Science in Chemical Engineering from Purdue University.
More Research Related to
COMB