Commoditized Wisdom: Metals & Markets Update (Week Ending November 25, 2022)
Posted: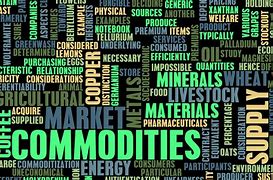 Key points
Energy prices, except for natural gas prices, were all lower – once again. WTI and Brent crude oil prices fell 5% and 3%, respectively.  Gasoline prices fell 3% and heating oil prices lost 7%. Natural gas prices increased 9%.  
Grain prices were mixed. Wheat prices fell between 1% and 3% while corn and soybean prices rose less than 1%.  
Spot gold, silver and platinum prices were all higher.  Spot gold prices rose less than 1%, spot silver prices increased 3% and spot platinum prices gained 1%.
Base metal prices were mainly lower. Aluminum and zinc prices fell 3%.  Copper prices dropped less than ½ percent and nickel prices were basically unchanged.
The Bloomberg Commodity Index increased 0.2% with losses in almost all sectors offset by surging natural gas prices.  
$300 million commodity ETP inflows last week. Gold, silver and crude oil ETP inflows were partially offset by broad commodity, agriculture and energy (ex-crude oil) ETP outflows
Commentary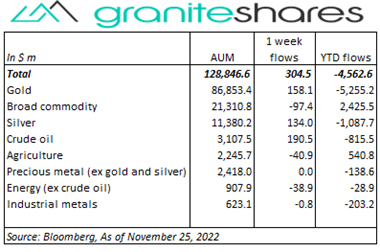 An up-week for major stock indexes with the Dow Jones industrial Average outperforming both the Nasdaq Composite and SP 500 Indexes.   Growing expectations of a more benign Fed provided support to stock prices with a growing number of investors expecting the Fed to slow its pace of rate increases beginning December when the FOMC meets next.  Wednesday's release of FOMC minutes helped firm those expectation with most members expressing the view smaller increases in rates may be appropriate.  Falling but better-than-expected consumer sentiment and much better-than-expected new home sales also boosted positive sentiment.    Friday saw the Dow Jones Industrial Average rise and the Nasdaq Composite and S&P 500 Indexes fall, perhaps as result of value stocks receiving a boost on hopes of strong black-Friday sales.  The 10-year Treasury rate fell 14bps with 10-year real rates responsible for the decline, reversing last week's gains and falling 14bps.   At week's end, the S&P 500 Index increased 1.5% to 4,026.12, the Nasdaq Composite Index gained 0.7% to close at 11,228.76, the Dow Jones Industrial Average rose 1.8% to  34,346.83, the 10-year U.S. Treasury rate dropped 14bps to 3.69% and the U.S. dollar (as measured by the ICE U.S. Dollar index – DXY) weakened 0.9%.
Oil prices moved lower again last week affected by Chinese demand concerns due to a surge in Covid cases and by reports of G7 countries and the EU weakening sanctions on Russian oil exports.  Crude oil prices fell sharply intraday Monday following reports of Saudi Arabia considering increasing production but then recovered to almost unchanged as those reports were denied.   Prices rose Tuesday after OPEC+ said it was considering additional production cuts but prices fell the remainder of the week on news of less restrictive G7 and EU sanctions and growing concerns of continued weak Chinese demand resulting from Covid-related restrictions.  Natural gas prices rose 9%, propelled by frigid temperatures and winter storms in the Pacific Northwest and supply/transport issues in the Northeast.
Spot gold prices moved slightly higher last week supported by growing expectations the Fed will slow its pace of rate increases.  Prices fell Monday on a sharply stronger U.S. dollar but then rallied Tuesday and Wednesday on hopes of a less aggressive Fed and following the release of FOMC minutes.  The U.S. dollar reversed its Monday's gains, weakening substantially, also supporting gold prices.   Spot silver and platinum prices also moved higher while palladium prices moved markedly lower.  Palladium prices fell on concerns of weak Chinese auto demand following reports of a surge of Covid cases. 
Base metal prices were generally lower last week, with prices weakened by Chinese demand-related concerns but supported by a weaker U.S. dollar and growing expectations of less aggressive Fed policy going forward.  Reports of a surge in Chinese Covid cases dampened hopes of an easing of Covid-related restrictions and, as a result, of increased economic activity.    
Grain prices were mixed with wheat prices lower and soybean and corn prices slightly higher.  Strong soybean exports and a flash corn sale to Mexico helped move soybean and corn prices higher while fund selling and weak export numbers hurt wheat prices.   
Coming up this week      
Full week of data including GDP, International Trade in Goods and PMI and ISM Manufacturing Indexes and topped off by the Employment Report Friday.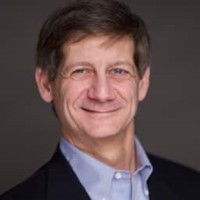 Who is Jeff Klearman in our research team? Jeff has over 20 years experience working as a trader, structurer, marketer and researcher. Most recently, Jeff was the Chief Investment Officer for Rich Investment Services, a company which created, listed and managed ETFs. Prior to Rich Investment Services, Jeff headed the New York Commodities Structuring desk at Deutsche Bank AG. From 2004 to 2007, he headed the marketing and structuring effort for rates based structured products at BNP Paribas in New York. He worked at AIG Financial Products from 1994 to 2004 trading rates-based volatility products as well as marketing and structuring. Jeff received his MBA in Finance from NYU Stern School of Business and his Bachelors of Science in Chemical Engineering from Purdue University.
More Research Related to
COMB