Commoditized Wisdom: Metals & Markets Update (Week Ending November 4, 2022)
Posted: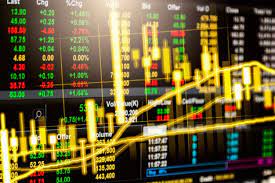 Key points
Energy prices were all higher. WTI and Brent crude oil prices increased north of 5%, gasoline prices rose 6% and heating oil prices gained 3%.  Natural gas prices surged over 13%.
Grain prices were higher or unchanged. Wheat prices increased 3% and soybean prices increased 4%.  Corn prices were unchanged.  Soybean oil prices rose 8%.
Spot gold, silver and platinum prices were all higher.  Spot gold prices increased 2.4%, spot silver prices jumped 8.5% and spot platinum prices gained 1.9%.
Base metal prices were higher, too. Copper and Nickel prices increased .5%, aluminum prices rose 6.5% and zinc prices increased 1.9%. 
Cotton prices surged 20%.
The Bloomberg Commodity increased 5.2%. 1/3 of the gain came from sharply higher natural gas prices with another 25% attributable to higher oil and oil derivative prices.   The grains and base metal sectors contributed another 40% to the index's increase.
$1.1 billion outflows from commodity ETPs last week with almost all coming from gold (-$1 billion). Smaller outflows from silver ETPs and small inflows into crude oil and energy ETPs.
Commentary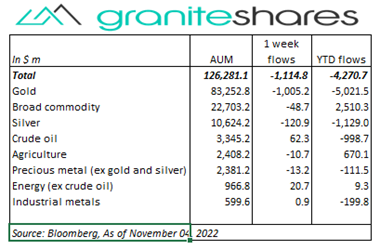 Major stock market indexes fell last week as investors waited apprehensively for Wednesday's FOMC rate decision and Friday's employment report with concerns of an ever-aggressive Fed pushing  stock prices lower every single day last week except for Friday.   Wednesday's as-expected FOMC decision raising rates 75bs initially drove stock markets higher as FOMC announcement language appeared to suggest the Fed was likely to adopt a  slower pace of increases to discern and examine the effects of its previous rate hikes.  Hopes of a "Fed pivot", however, were severely diminished following Fed Chair Jerome Powell's comments at his press conference held shortly after the rate hike announcement.  Powell's comments that the Fed had "a ways to go" before pausing rate hikes reversed index gains to sharp losses with the Nasdaq Composite Index faring the worst, finishing Wednesday down 3.4%.   Stock markets continued lower Thursday, further processing Wednesday's events and perhaps also affected by the BoE decision to raise rate 75bps.   Friday's employment report showing larger-than-expected gains in jobs but a higher-than-expected unemployment rate left markets somewhat uncertain with stock indexes fluctuating between losses and gains before finally ending higher on the day, the only up-day of the week.   At week's end,  the S&P 500 Index fell 3.3% to 3,770.55, the Nasdaq Composite Index increased dropped 5.6% to 10,465.25, the Dow Jones Industrial Average decreased 1.4% to 32,404.80, the 10-year U.S. Treasury rate rose  15bps to 4.16% and the U.S. dollar (as measured by the ICE U.S. Dollar index – DXY) was practically unchanged.
Oil prices waffled through Thursday pressured by changing supply/demand outlooks.  Concerns of weak Chinese demand stemming mainly from its zero-Covid policy, global recession fears due to central bank tightening and rising U.S. production competed with reports of loosening Chinese Covid restrictions, the soon-to-be-implemented European ban on Russian oil, falling OPEC production and a larger-than-expected drop in U.S. inventories with WTI crude oil rising and then falling 1.5% to 2% each day through Thursday.   Friday's reports of a major change to Chinese Covid policy pushed oil prices sharply higher Friday with WTI prices jumping nearly 5% to end the week over 5.5% higher.   Natural gas prices – also very volatile intraweek with prices rising 11% Monday, falling 8% Tuesday and then gaining 8% Wednesday - rose 13.5% last week bolstered by longer-range cold weather forecasts in the U.S. and Europe and the advent of cold weather in the Rockies and Pacific Northwest.   
Gold prices, slightly higher before the FOMC announcement and Powell press conference Wednesday, fell after Fed Chairman Powell's press conference remarks Wednesday and continued lower Thursday.  Powell dashed hopes of a "Fed pivot" saying it was way too early to change policy.   Friday's mixed employment report and weaker-than-expected ISM Services release, however, seemed to increase expectations of a less aggressive Fed, weakening the U.S. dollar, lowering 10-year Treasury rates and pushing gold prices over 3% higher.  (The employment report showed greater-than-expected job increases but a higher-than-expected unemployment rate.)  Gold prices ended the week almost 2.5% higher.   Silver prices surged climbing 8.5% and platinum prices, buoyed by growing expectations of increased "substitute for palladium" demand, rose 2%.  Palladium prices fell 1.5.
A volatile week for base metal prices, buffeted by quickly changing Fed policy expectations and China Covid policies reports. Lower Monday on increased Chinese Covid cases and weaker-than-expected Chinese manufacturing activity, prices rebounded Tuesday on unsubstantiated reports of a Chinese Covid policy change and hopes of a less aggressive Fed.  Wednesday's remarks by Fed Chairman Powell knocked prices lower through Thursday only to see prices increase sharply on a mixed U.S. employment report and re-emerging reports of a major change to Chinese Covid policy.  Copper prices, for example, rose 7.5% Friday to end the week up 7.5%. 
Grain prices, too, were volatile last week.   Wheat prices up 8% through Tuesday on news Russia would not renew the Ukraine export agreement, fell more than 6% over Wednesday and Thursday following reports Russia President Putin had reversed that decision.  Soybean prices moved higher early in the week on unsubstantiated reports of a Chinese Covid policy change and a trucking strike in Brazil and then fell Thursday on weaker-than-expected export numbers.  Prices then moved almost 2% higher Friday after re-emerging reports of a substantial Chinese Covid policy change.   Soybean prices also were supported by strong soybean oil demand.  Soybean prices ended the week up 4.5% and soybean oil prices closed the week over 8% higher.
h3>Coming up this week      
Very light data-week highlighted by CPI on Thursday..
CPI and Jobless Claims on Thursday.
Consumer Sentiment on Friday.
EIA Petroleum Status Report Wednesday and Baker-Hughes Rig Count on Friday.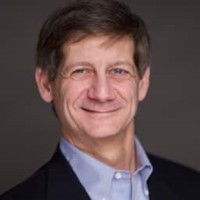 Who is Jeff Klearman in our research team? Jeff has over 20 years experience working as a trader, structurer, marketer and researcher. Most recently, Jeff was the Chief Investment Officer for Rich Investment Services, a company which created, listed and managed ETFs. Prior to Rich Investment Services, Jeff headed the New York Commodities Structuring desk at Deutsche Bank AG. From 2004 to 2007, he headed the marketing and structuring effort for rates based structured products at BNP Paribas in New York. He worked at AIG Financial Products from 1994 to 2004 trading rates-based volatility products as well as marketing and structuring. Jeff received his MBA in Finance from NYU Stern School of Business and his Bachelors of Science in Chemical Engineering from Purdue University.
More Research Related to
COMB