Commoditized Wisdom: Metals & Markets Update (Week Ending October 21, 2022)
Posted: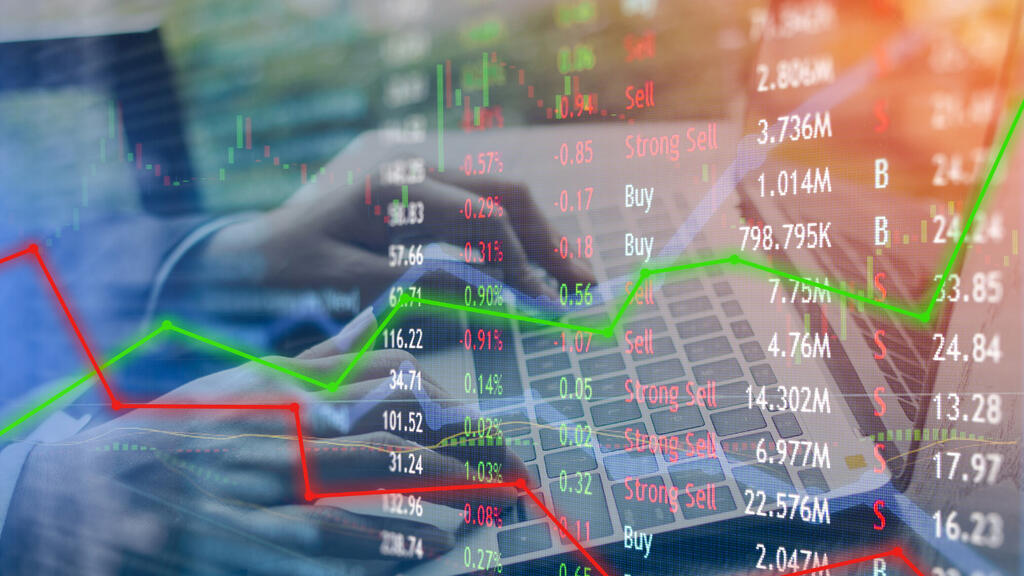 Key points
Energy prices were mixed last week. WTI and Brent crude oil prices increased 0.5% and 1.3%, respectively and gasoline prices rose 0.8%. Heating oil prices also fell 1.3% and natural gas prices plunged 18.3%.
Grain prices were mixed. Wheat and corn prices were down between 0.5% and 1%. Soybean prices rose 1% and soybean oil prices moved 8.4% higher.
Spot gold prices increased just under 1%, spot silver prices rose 6% and spot platinum prices increased 4%.
Base metal prices were mixed. Aluminum prices fell 4% and zinc prices edged less than ½ percent lower.   Copper and nickel prices were up about 1%.
The Bloomberg Commodity Index dropped 2.4%, falling as a result of an outsized decline in natural gas prices.
Larger ETP outflows last week primarily from gold ETPs. Gold (-$1,290m) and broad commodity (-$151m) were partially offset by small inflows into energy ETPs.. 
Commentary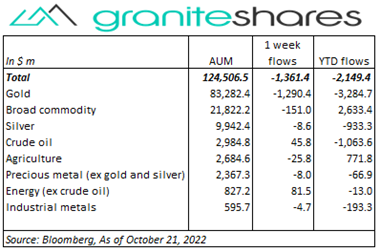 All 3 major stock market indexes ended the week sharply higher, increasing markedly at the beginning and at the end of the week.  Better-than-expected earnings reports along with the reversal of UK tax reduction/increased spending plans helped propel stock prices sharply higher through Tuesday.   Re-emerging concerns of continued aggressive Fed tightening leading to recession pushed the 10-year Treasury yield above 4.20% to an almost 15-year high (almost all the increase was due to rising real rates), pushing stock prices lower Wednesday and Thursday.     Reports Friday the Fed may consider slowing its pace of increases following November's FOMC meeting (when the Fed is expected to increase the Fed fund's target rate by 75bps) along with better-than-expected earnings reports propelled the major stock indexes over 2% higher, despite the 10-year Treasury rate remaining unchanged near 4.2%.  At week's end, the S&P 500 Index rose 4.7% to 3,752.15, the Nasdaq Composite Index gained  5.2% to close at  10,859.72, the Dow Jones Industrial Average increased 4.9% to 31,083.02, the 10-year U.S. Treasury rate rose 19bps to 4.22% and the U.S. dollar (as measured by the ICE U.S. Dollar index - DXY) weakened 1.3%.
A see-saw week for oil prices with WTI crude oil prices rising 2.6% Tuesday only to relinquish those gains Wednesday with prices falling 2.6%.   Concerns of central bank-induced recessions and slowing Chinese economic growth moved prices lower Tuesday while Wednesday's surprise drawdown in crude oil inventories (as reported by the EIA) moved prices higher.   The move higher Wednesday came despite Biden administration plans to release more oil from the SPR and as Permian Basin output reached record highs.   Reports China was lessening Covid restrictions for visitors moved prices higher Friday, leaving WTI crude oil prices about ½ percent higher for the week.  Natural gas prices plummeted, falling just over 18% with a warm-weather forecast for the U.S. and Europe for the next 2 weeks sharply reducing demand expectations. 
Gold prices moved higher last week, increasing early in the week, falling mid-week and then rallying Friday.   A weakening U.S. dollar  was the main impetus for higher gold prices Monday and Tuesday though that dynamic changed Wednesday and Thursday with hawkish comments from Fed officials driving up expectations of continued large rate increases.   Those comments propelled 10-year Treasury rates to 14-year highs and significantly strengthened the U.S. dollar, pushing gold and other precious metal prices lower.    Friday's move higher in gold prices also resulted from comments from Fed officials but this time from a dovish perspective.  San Francisco Federal Reserve Bank President May Daly opined the Fed should strongly consider slowing the pace of rate hikes to avoid a pronounced economic slowdown.   Those comments noticeably weakened the U.S. dollar, driving gold prices almost 2% higher Friday.
Base metal prices were mixed again last week.   Initially pushed lower on faltering demand expectations due to aggressive central bank tightening and slowing Chinese economic activity, copper prices reversed course, ending the week higher, on reports China had lessened Covid-related restrictions.   Aluminum prices, down over 4% on the week, suffered from slowing-demand concerns and a large increase in LME inventories.  The inventory increase was believed to be mostly Russian sourced product deposited in LME approved warehouses in the face of a potential U.S. import ban.   
Grain prices were mixed.  Soybean prices, higher on the week, benefited from strong Chinese buying and overall strong export demand.  Soybean prices were also supported by strong soybean oil demand.  Soybean oil prices were up 8% on lower-than-expected inventories and Russia's destruction of large supplies of Ukrainian sunflower seed oil.  Corn prices moved lower, hurt by good harvest weather and slowing export demand. Wheat prices, also lower on the week, fell on reports Russian is considering renewing the Ukraine export deal and on better-than-expected U.S. weather forecasts.
Coming up this week      
Busy data-week with PMI index releases, home sales data and, most importantly, Q3 GDP (Thursday) and the PCE Price Index (Friday).  
Mfg and Services PMI on Monday.
Consumer Confidence on Tuesday.
Retail Inventories and New Home Sales on Wednesday.
Durable Goods Orders, Q3 GDP and Jobless Claims on Thursday.
PCE Price Index, Consumer Sentiment and Pending Home Sales on Friday.
EIA Petroleum Status Report Wednesday and Baker-Hughes Rig Count on Friday.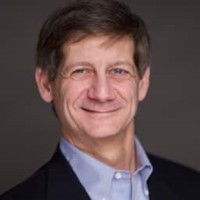 Who is Jeff Klearman in our research team? Jeff has over 20 years experience working as a trader, structurer, marketer and researcher. Most recently, Jeff was the Chief Investment Officer for Rich Investment Services, a company which created, listed and managed ETFs. Prior to Rich Investment Services, Jeff headed the New York Commodities Structuring desk at Deutsche Bank AG. From 2004 to 2007, he headed the marketing and structuring effort for rates based structured products at BNP Paribas in New York. He worked at AIG Financial Products from 1994 to 2004 trading rates-based volatility products as well as marketing and structuring. Jeff received his MBA in Finance from NYU Stern School of Business and his Bachelors of Science in Chemical Engineering from Purdue University.
More Research Related to
COMB