Commoditized Wisdom: Metals & Markets Update (Week Ending October 27, 2023)
Posted: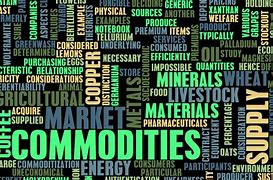 Key points
Energy prices, except for natural gas prices, moved lower last week. WTI and Brent crude oil and gasoline prices declined 2%, heating oil prices fell 3% and gasoil prices lost 6%. Natural gas prices rose 6%.
Grain prices were mainly lower. Kansas City wheat prices fell 4%, corn prices dropped 3%, Chicago wheat prices decreased 2% and soybean prices were basically unchanged. Soybean meal prices rose 3%.
Spot gold and platinum prices rose 1% while spot silver prices fell 1%.
Copper and aluminum prices increased 2% and zinc and lead prices rose 1%. Nickel prices fell 1%.
The Bloomberg Commodity Index was practically unchanged (down 0.1%). Gains in the base metals sector were offset by losses in the energy and grains sectors.
Small net inflows last week with gold ETP outflows offset by energy and broad commodity ETP inflows.
Commentary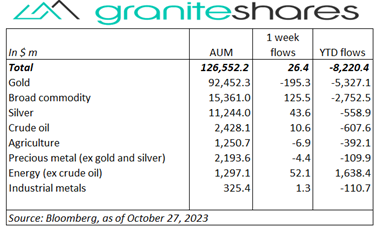 Stock markets moved lower again last week affected by rising interest rates, a slew of disappointing earnings results and, in a world where good news is bad news, stronger-than-expected GDP growth and consumer spending.   Higher-rates-for-longer concerns surfaced early in the week, driving 10-year Treasury rates to the 5% level and while rates moved lower over the course of the week, the concerns remained embedded in market sentiment following a much stronger-than-expected GDP release, continued low initial jobless claims and a strong PMI Composite Index release.   Alphabet's disappointing cloud revenues/earnings (released Wednesday) added to downward market pressure, especially in the tech sector. Those losses were partially reversed Friday with Amazon earnings markedly exceeding analyst projections.   Geopolitical concerns, centered in the Mid East, powered haven buying, lifting gold, Treasury rates and the U.S. dollar higher while increasing risk-off sentiment. For the week, the S&P 500 Index fell 2.6% to 4,113.05, the Nasdaq Composite Index dropped 2.9% to 12,611.58 the Dow Jones Industrial Average decreased 0.9% to 32,418.05, the 10-year U.S. Treasury rate fell 7bps to 4.84% and the U.S. dollar (as measured by the ICE U.S. Dollar index – DXY) strengthened 0.4%.
A volatile week for oil prices moving at least 2% (higher and lower) each day.   Prices moved almost 5% lower through Tuesday on receding Mid-East concerns and on weak economic data from the euro zone (in particular, Germany) and the UK.  China's stimulus announcement Wednesday moved oil prices higher on hopes of increased Chinese demand. Those gains were erased Thursday following much stronger-than-expected U.S. GDP growth and, as a result, increased demand concerns due to "higher rates for longer".    Finally, prices rebounded sharply Friday on increased concerns surrounding the Israel-Hamas war following a U.S. attack on Iranian-backed targets in Syria.
Spot gold prices moved higher again last week primarily on haven-based buying.   Prices fell through Tuesday with lessened Mid-East concerns but then moved higher the remainder of the week as though concerns increased, especially on Friday.   Silver prices ended the week about 1% lower while platinum prices moved higher by about 1%.
Copper prices moved higher last week buoyed by China's implementation of additional stimulus.  Prices also benefited from improved Chinese industrial profits and low LME inventories. Aluminum, zinc and lead prices moved higher as well while nickel prices ended the week lower.
Wheat and corn prices fell last week while soybean prices finished the week unchanged.  Wheat prices suffered from lower (continued) Russian prices and beneficial rainfall in the Plains states and in Argentina.   Corn prices suffered primarily from good harvest progress in the U.S. and despite decent export demand.    Soybean prices moved lower through Thursday, influenced mainly by good harvest progress and declining soybean meal prices.  Prices rallied Friday, pushing prices to unchanged on the week, buoyed by sharply rising soybean meal prices.
Coming Up This Week
A slew of economic releases headlined with Wednesday's FOMC announcement and Friday's Jobs Report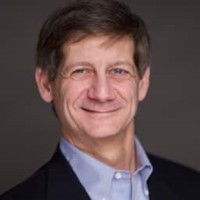 Who is Jeff Klearman in our research team? Jeff has over 20 years experience working as a trader, structurer, marketer and researcher. Most recently, Jeff was the Chief Investment Officer for Rich Investment Services, a company which created, listed and managed ETFs. Prior to Rich Investment Services, Jeff headed the New York Commodities Structuring desk at Deutsche Bank AG. From 2004 to 2007, he headed the marketing and structuring effort for rates based structured products at BNP Paribas in New York. He worked at AIG Financial Products from 1994 to 2004 trading rates-based volatility products as well as marketing and structuring. Jeff received his MBA in Finance from NYU Stern School of Business and his Bachelors of Science in Chemical Engineering from Purdue University.
More Research Related to
COMB