Commoditized Wisdom: Metals & Markets Update (Week Ending September 17, 2021)
Posted: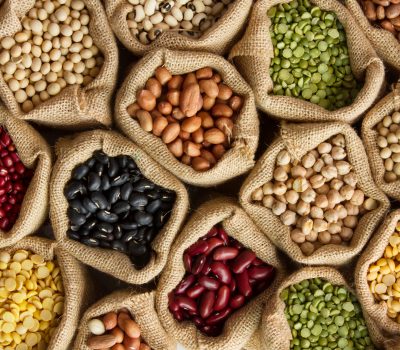 Key points
Energy prices were all higher last week. Natural gas and WTI crude oil prices increased 3.5% and gasoline and Brent crude oil prices rose a little over 1%.
Grain prices were mainly higher with only soybean prices falling slightly.  Chicago and Kansas wheat increased between 3% and 4.5% and corn prices rose almost 2%.  Soybean prices edged slightly lower, falling less than ¼ percent.
Precious metal prices all finished lower again last week. Gold prices decreased a little over 2%, platinum prices fell 2.5% and silver prices dropped 6.5%.
Base metal prices were all lower. Copper and nickel prices fell at or near 5% and aluminum and zinc prices fell a little over 1%.
The Bloomberg Commodity Index increased 0.5%. Gains in the energy and grains sectors were offset by losses in the base metal and precious metals sectors.
Practically no net ETP outflows last week with gold ($281m) ETP inflows offset by silver (-$31m), broad commodity (-$171m) and crude oil (-$88m) ETP outflows
Commentary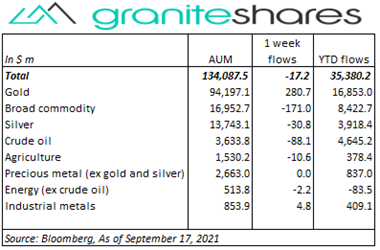 Another volatile week for U.S. stock markets with conflicting economic data adding uncertainty in the face of this week's FOMC meeting.  President Biden's tax-hike plan, weakening Chinese growth, possible Evergrande contagion, continued Covid concerns, a slightly lower-than-expected increase in CPI and much stronger-than-forecasted retail sales left markets unsettled and increased uncertainty regarding possible Fed actions at the 2-day FOMC meeting beginning Tuesday this week. All three major U.S. indexes, up around 0.4% through Thursday,  ended the week in the red after falling between ½ and 1 percent on Friday.  10-year U.S. Treasury rates reflected this uncertainty, too, falling 6bps through Tuesday (following the CPI release) and then increasing 8bps the remainder of the week.  Similarly, the DXY Dollar Index, unchanged through Wednesday, strengthened almost ¾ percent over Thursday and Friday.   For the week, the S&P 500 Index fell -0.6% to 4,432.99, the Nasdaq Composite Index dropped 0.5% to 15,044.00, the Dow Jones Industrial Average fell 0.1% to 34,584.88, the 10-year U.S. Treasury rate increased 2bps to 1.36% and the U.S. dollar  (as measured by the ICE U.S. Dollar index - DXY) strengthened 0.7% percent.
Oil prices moved sharply higher last week bolstered by slow restoration of Hurricane Ida-related shutdowns and a much larger-than-expected drawdown in U.S. oil inventories as reported by the EIA Wednesday.  Concerns Hurricane Nicholas could disrupt production fell by the wayside after the storm passed without affecting production or mining capabilities. Up over 4% through Thursday, WTI crude oil prices fell ¾ percent Friday following reports Gulf of Mexico production was increasing.  Oil prices gains also were capped by weaker Chinese demand, an increase in shale oil rigs and production and a stronger U.S. dollar.
Up slightly through Wednesday following Tuesday's slightly weaker-than-expected CPI release, gold prices fell over 2% Thursday reacting to a much stronger-than-forecasted retail sales number.  Uncertainty surrounding this week's 2-day FOMC meeting unsettled gold markets while a stronger U.S. dollar helped move prices lower as well.
A volatile week for base metals with prices buffeted by lessening supply concerns and uncertainty surrounding changes in the Fed's monetary policy in the near future.  Resolution of labor disagreements in Chile and China vowing to release more base metals from its reserves outweighed a weaker-than-expected CPI release Wednesday with copper and nickel prices falling at or near 5%.  Chinese steel production cutbacks pressured nickel prices lower  while a stronger U.S. dollar also helped move all base metal prices lower.
Wheat prices bounced off of last week's lows increasing between 3% and 4% on no real news.   Corn prices, up about 2% on the week, were buoyed by better-than-expected export numbers and South America weather-related concerns   Soybean prices, almost unchanged on the week, gave up all their gains Friday after an as-expected export report.
Coming up this week    
A full week dominated by housing data and the 2-day FOMC meeting beginning Tuesday. Also, Jerome Powell speaks Friday morning.
Housing Market Index on Monday.
FOMC Meeting Begins and Housing Starts and Permits on Tuesday.
Existing Home Sales, FOMC Announcement and Jerome Powell Press Conference on Wednesday.
Jobless Claims and PMI Composite Flash on Thursday
New Home Sales and Jerome Powell Speaks on Friday.
EIA Petroleum Status Report on Wednesday and Baker-Hughes Rig Count on Friday.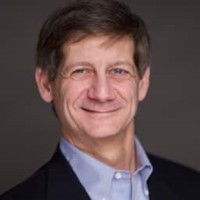 Who is Jeff Klearman in our research team? Jeff has over 20 years experience working as a trader, structurer, marketer and researcher. Most recently, Jeff was the Chief Investment Officer for Rich Investment Services, a company which created, listed and managed ETFs. Prior to Rich Investment Services, Jeff headed the New York Commodities Structuring desk at Deutsche Bank AG. From 2004 to 2007, he headed the marketing and structuring effort for rates based structured products at BNP Paribas in New York. He worked at AIG Financial Products from 1994 to 2004 trading rates-based volatility products as well as marketing and structuring. Jeff received his MBA in Finance from NYU Stern School of Business and his Bachelors of Science in Chemical Engineering from Purdue University.
More Research Related to
COMB